The Importance of Human Resource Management in the Modern Workplace
The Importance of Human Resource Management in the Modern Workplace
The Importance of Human Resource Management in the Modern Workplace
Human resource (HR) managers take on a variety of roles, including recruitment and retention of quality employees, supporting collaboration, managing conflict, and even working with leaders to set company goals. HR management professionals bring tremendous value to their organizations with advanced skills in mentorship and coaching, and by offering other kinds of professional support in addition to managing benefits and social opportunities.
What is human resource management?
Human resource management is the practice of supporting and managing employees through every aspect of their jobs, from recruitment and hiring to professional development and retirement benefits.
What does an HR manager do? Human resource management job description
HR specialists have a variety of day-to-day responsibilities associated with the areas they work on and oversee. In all that they do, HR professionals must have strong interpersonal skills, since they are in charge of working directly with employees and managers. Human resource employees must also have great organizational skills, as they often juggle multiple duties at once. In addition, they need to clearly understand their organization's values to be able to effectively advance them.
Some typical responsibilities listed in a human resource management job description include:
Recruiting employees
HR managers are often the face of an organization for potential employees; they may attend job fairs or other recruitment events looking for new team members. Once prospective employees have applied, HR managers schedule and help conduct interviews. When desired candidates are identified, HR managers call references and run background checks.
Handling employee concerns, disputes, or conflicts
In addition to recruiting new employees, HR managers handle conflicts between employees or between employees and supervisors. They are often in charge of discussing payroll and benefits with employees, helping to resolve any issues. They may also lead training sessions on conflict resolution in the workplace. The human resource department also responds to issues related to equity, sexual harassment, and workplace discrimination.
Administering compensation and benefits for employees
HR managers maintain payroll and handle compensation and benefits for employees. They may set a position's salary, and research and share benefit package options. They also manage retirement accounts and pensions. They may institute new employee benefits and notify the organization at large about them, holding informational sessions as needed.
A human resource manager's day-to-day tasks can vary based on the size of their organization and other factors. The larger the company, the more likely that the HR manager will oversee other HR specialists in areas such as benefit management and recruitment. In smaller organizations, human resource managers may juggle all of these tasks themselves.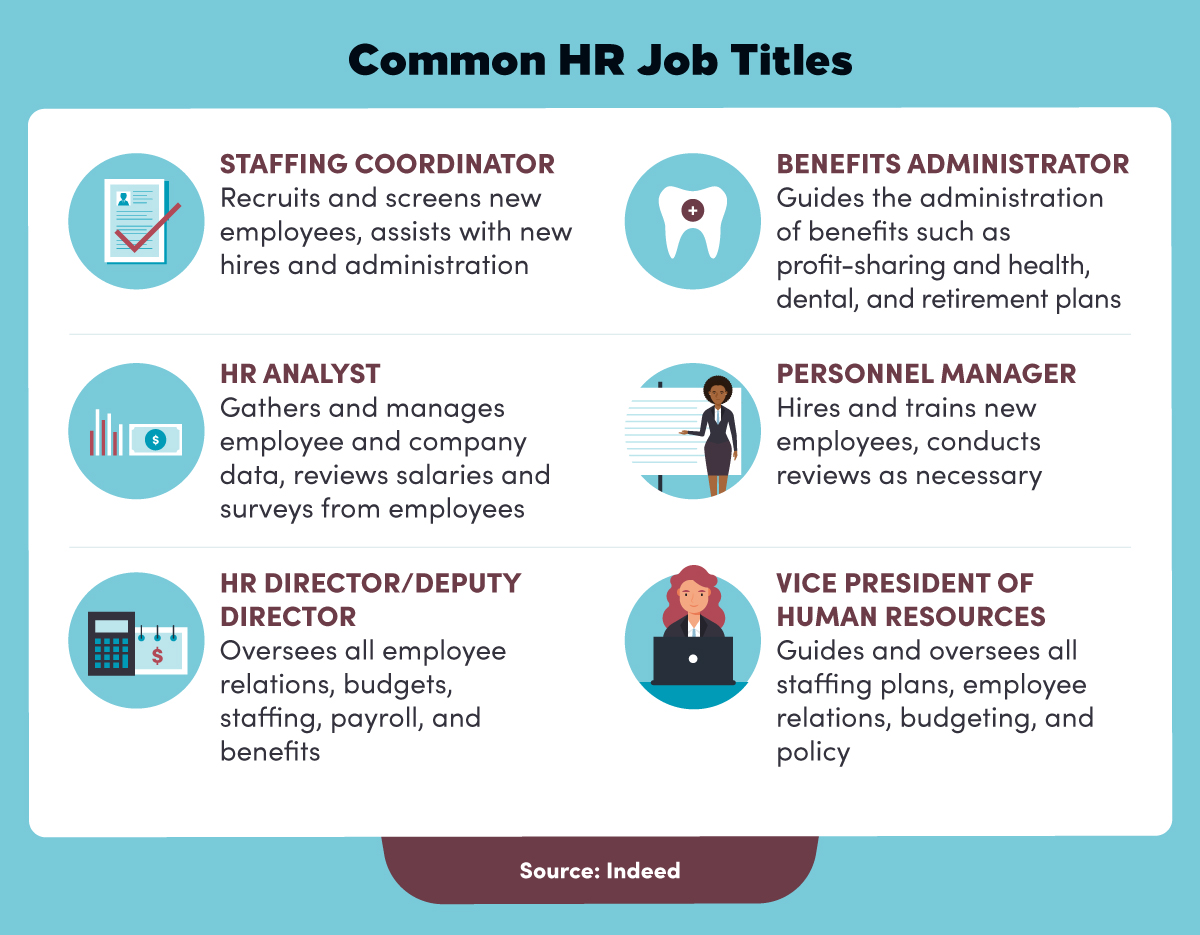 Functions of human resource management in an organization
Human resource management has evolved over the past several decades. It emerged in the mid-20th century in response to competitive pressures, globalization, and technological change. When HR first became integrated into business, it primarily focused on employee hiring and benefits. Over time, more companies saw the value of aligning all the moving parts of their organization to support overall effectiveness and to maintain growth.
In the modern workplace, the human resource department is seen as an important internal asset that helps the organization achieve growth. The HR manager role has evolved as well, becoming a leadership position that oversees employee satisfaction, engagement and efficiency, and critical aspects of management.
The functions of human resource management are often far-reaching and vary depending on the organization and its specific needs. These are some key areas that a company's human resource department may address:
Company culture
HR departments work with upper management to create a vision and action plan for a positive company culture. For example, they may institute weekly social activities or create a company soccer team to foster social connection, or they may focus on wellness by encouraging a healthy work-life balance. Without these essential contributions to company culture, many organizations would struggle with interpersonal issues and conflict.
Talent management
"Talent" refers to high-quality employees and workers. After a qualified, skilled candidate is selected for a position, the HR team provides onboarding and employee orientation. They then work to retain those employees, making sure their needs are met and that they continue to grow within the company. Once new team members are thriving in their positions, the HR department works to make sure they have opportunities for professional growth and development.
HR departments also organize ongoing training to make sure employees keep up with current trends and tools. They handle the scheduling and logistics behind outside professional development opportunities and work within the organization to assign coaches or mentors to employees.
Competitive benefits
HR departments choose and manage benefit programs that meaningfully serve all employees. To do this, they may survey their employees to find out what benefits are most valuable to them, or they may analyze market data to find out which benefits are most used or most cost-effective. Once they have conducted this research, they make decisions with other company leadership about benefits and communicate options to all employees.
Advocacy
Effective and strategic human resource management involves advocating for employees' interests while protecting the company from liability. HR managers must make sure employee concerns are heard and handled in a timely fashion while also representing the company's position. In this role, HR managers may push back against management and policies, in support of employees. They may also help resolve disputes individual employees have with the organization as a whole.
Staff reductions
One of the most difficult parts of a human resource professional's job is advising the company on workforce reduction issues, from layoffs to performance-based terminations. An HR professional is often tasked with making sure layoffs and terminations are based on fair, equitable criteria and adjusting these criteria as necessary. An HR team member may meet with an employee and manager together to explain the termination process, including severance or benefits packages.
Employee enrichment and coaching
A key function of human resource management positions is organizing enrichment and ongoing training for employees. Professional enrichment involves making jobs more meaningful and increasing employees' autonomy. In this process, the HR department works to remove menial tasks from an employee's everyday duties so they can focus on challenging, rewarding tasks suited to each person's unique talents.
In addition to advising and training employees, HR team members coach supervisors to be more effective in their relationships with others in the company. Coaching goals may include improving communication and conflict resolution skills, or developing strategies for building and maintaining a positive workplace culture.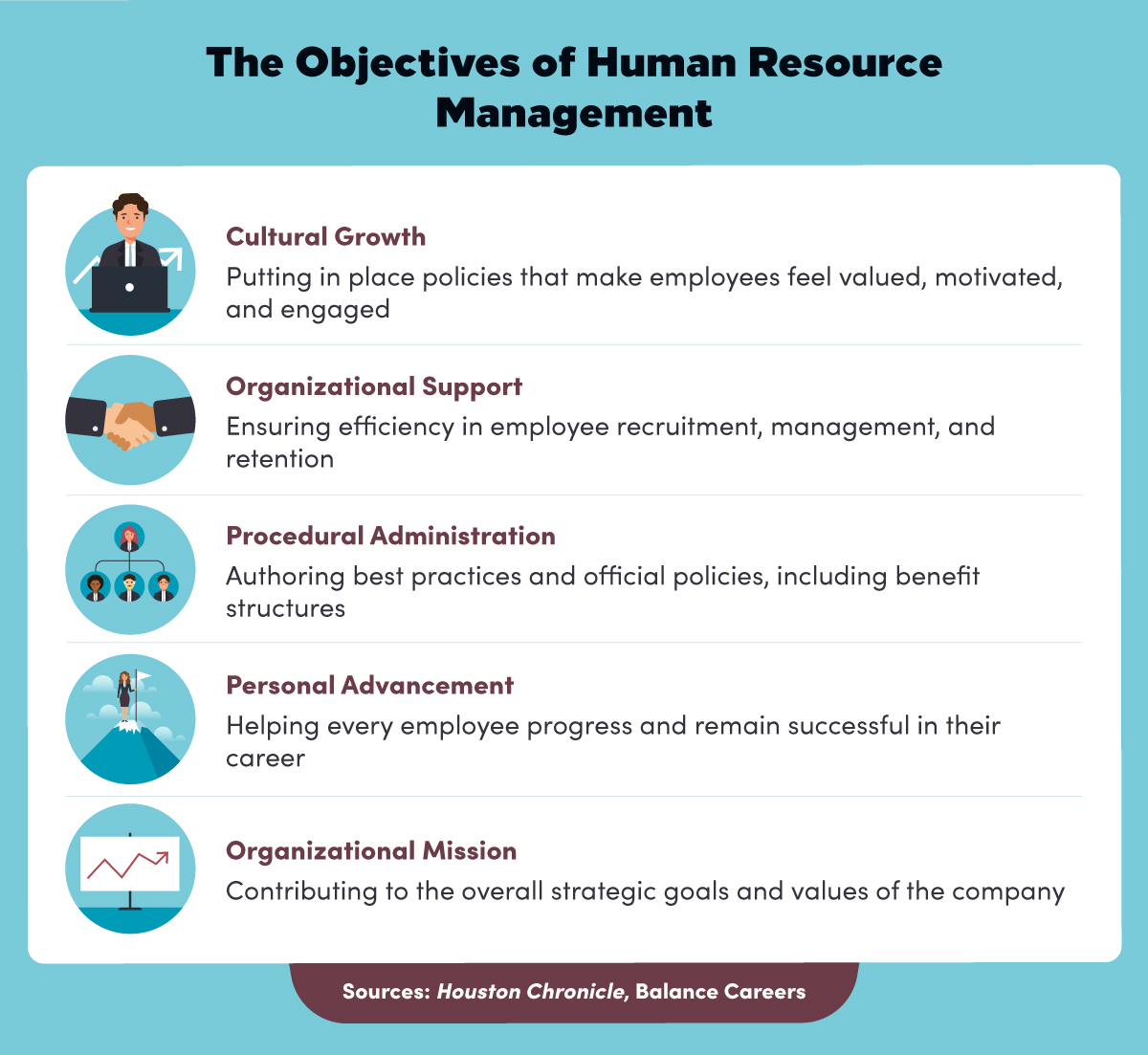 Strategic Human Resource Management: How HR Impacts an Organization
From nonprofits to Fortune 500 companies, these days human resource management is a vital business function that affects a company's bottom line. Gone are the days in which HR managers only dealt in "hiring and firing"; now they are an essential part of an organization's long-term growth. In modern workplaces, HR managers are often involved in the process of strategic planning. When these professionals have a seat at the table during planning sessions, they can help the entire company work together more seamlessly and move forward as a whole.
To effectively execute strategic human resource management, a company may follow a set of specific protocols. HR managers use these strategies to support their organizations' objectives and goals, planning the company's next moves.
Before strategic planning can occur, a company must assess its current state of affairs. Leadership comes together to identify current processes and structures, assess what is working well, and outline areas with room for improvement. HR managers can offer insight into the state of the company from the employees' point of view.
Some HR managers gather data using a system called SWOT analysis, which assesses a company's strengths, weaknesses, opportunities, and threats. After taking stock of these four areas, company leaders brainstorm specific ways to capitalize on strengths and opportunities while avoiding threats and minimizing weaknesses. For example, if a company identifies its small staff and their limited skills as a weakness, it can set the goal of hiring more staff or offering training to expand current employees' skill sets.
Following the initial assessment phase, a company discusses its goals and which areas it would like to develop. Leadership and the HR department work to envision the organization's ideal future. This may involve writing or revising a mission or vision statement, or clarifying the company's underlying values. This step is frequently overlooked, but a strong vision statement can serve to guide an organization through transitions and inspire employees.
Once a vision has been established, the HR department works to create a specific, measurable strategy with concrete goals that align with the organization's mission. HR departments may also work to create action items and delegate them to employees, or communicate changes to the entire company. This part of the process often involves adjusting funding allocations or introducing new positions to meet certain goals.
Finally, the company must create a process to continue improvement by asking what happens next. This step involves creating clear metrics to measure progress and clear systems for sharing and analyzing data. Once that data has been analyzed, the company may decide to continue moving forward with the current action plan, or may stop and rework its goals.
Resources for strategic human resource management
A variety of professional organizations exist to support and develop human resource professionals. These include:
Human Capital Institute (HCI): HCI provides training, certification, research, education, and events. It views employees as "capital," or company assets.
HR Certification Institute (HRCI): HRCI provides a variety of certifications for HR professionals at various stages of their careers. HR employees can use these certifications to enrich their current jobs or to help them advance in the field.
International Foundation of Employee Benefit Plans (IFEBP): The IFEBP helps HR departments research and find the best, most cost-effective benefits for their employees. They provide education and research to help HR managers make the best decisions for their companies.
National Association of African Americans in Human Resources (NAAHR): NAAHR provides networking and career advancement opportunities for African Americans who work in human resource management.
Society for Human Resource Management (SHRM): SHRM offers education, networking, and certification opportunities to HR professionals and also acts as a policy advocate for issues related to labor management.
Human resource management salary
Salaries for the two main job titles in the human resource management field, human resource specialist and human resource manager, may differ.
According to the U.S. Bureau of Labor Statistics (BLS), the median annual salary for human resource specialists was $61,920 in May 2019. The median annual salary for human resource managers was $116,720 in May 2019. For both roles, wages were higher for human resource professionals who worked in professional, scientific, or technical fields, and lower for those who worked in healthcare and social assistance. Wages can also vary based on geographic location and the size of an organization. HR personnel in cities tend to earn more than those in rural areas, and workers in larger organizations typically earn more than those in smaller ones.
Often, professionals pursuing careers in HR begin as human resource specialists and work their way up to human resource manager once they have a thorough understanding of their organization and a firm grasp of regulatory compliance needs. Most roles require that candidates have earned a bachelor's degree, but HR professionals can advance their careers by pursuing voluntary certifications or earning a master's degree in HR or business administration.
Salaries for other human resource jobs
Benefits specialist: The median salary for a benefits specialist was around $51,000 annually as of August 2020, according to PayScale. Benefits specialists manage benefits programs for employees, find new benefits packages, and communicate what the company offers to workers. They also manage stock options, pension plans, and retirement options, and often lead information sessions regarding all aspects of employee benefits.
Payroll specialist: Payroll specialists earned a median salary of approximately $51,000 annually, according to August 2020 PayScale data. They operate payroll and keep up databases of employee salaries and pay. They may also participate in creating a company's budget. Payroll specialists are also the first line of questioning for employees who wish to change their tax withholdings or have questions about their pay.
Recruiter: Recruiters earned a median salary of $51,000 annually in August 2020, according to PayScale. They recruit and evaluate new candidates as well as create new positions based on a company's needs. Recruiters work with company management to identify appropriate job requirements that align with the company's goals.
Importance of human resource management
Human resource management should not be underestimated as a field. It plays a vital role in company operations and provides numerous benefits to organizations, including:
Developing an engaged workforce: Without HR, employees can lose sight of their purpose or role in the company. HR can provide strategic coaching, professional development, and mentorships that help each employee engage and grow.
Enhancing collaboration and improving communication: The "soft skills" of HR have an enormous impact on companies. Employees may use HR's conflict resolution training to help solve problems, or managers could use HR training to assist them in communicating with their employees more effectively.
Helping employees develop a deeper commitment to business objectives: Through their role as partners in strategic planning, HR managers gain a clear vision of the company's current goals and ideal future. Once they have that understanding, they can communicate the strategic plan to employees and help them gain a deeper comprehension of and commitment to the business's objectives.
Boosting employee morale: Through managing benefits such as gym memberships and mental health services, HR professionals are at the core of company culture. When HR institutes social activities such as a company sports team or a weekly outing, it brings employees together as people and improves morale.
Navigating conflict effectively: HR managers offer supervisors and employees alike a tool kit for dealing with conflict. They may conduct workshops for all staff or mediate conflicts between specific staff members.
Making team members feel supported and valued: From providing mentors to new employees to offering training to seasoned employees, HR supports employees at every level. Since they are in charge of making sure all staff have what they need to work well, HR professionals have a unique opportunity to get to know each employee as an individual and ensure that everyone feels seen and valued.
For these reasons and countless others, human resource departments and HR managers are vital components of business operations today, and will maintain an important place in workplaces around the world in the future.
Infographic Sources
Houston Chronicle, "Objectives in Human Resources"
Balance Careers, "What Is Human Resource Management?"
Be Brave
Bring us your ambition and we'll guide you along a personalized path to a quality education that's designed to change your life.