How to Become a Health Information Manager
How to Become a Health Information Manager
How to Become a Health Information Manager
If you're wondering how to become a health information manager (HIM), you might have heard it's an expanding and vital profession. Opportunities in this field are growing steadily as rapid advances in healthcare technology have led hospitals and other healthcare facilities to modernize their information systems. Indeed, students who have an interest in the healthcare management field, and possess strong analytical and organizational skills, may find a career as an HIM rewarding and potentially lucrative.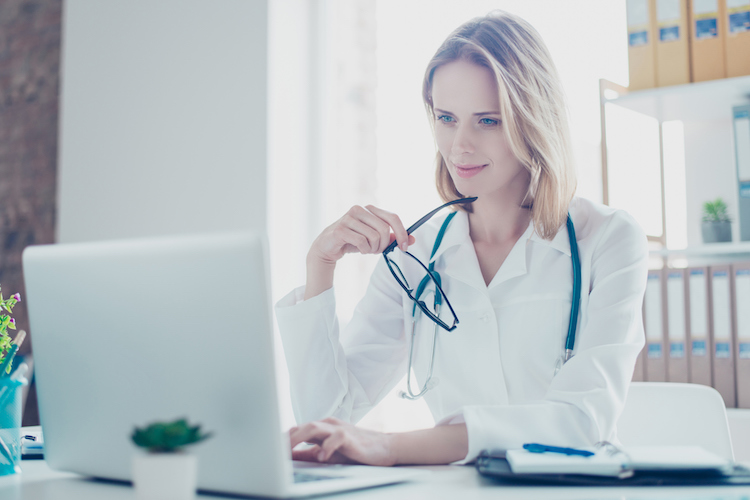 Health information managers work with administrators, insurance companies, and doctors. They are problem solvers who possess technical skills, as they must stay current with the latest developments in electronic health records (EHR) software.
What Does a Health Information Manager Do?
The primary function of a health information manager is to control the data related to patients' medical information. This information includes diagnoses and symptoms, along with completed and recommended procedures and anticipated outcomes.
HIMs also manage patients' medical histories, so healthcare practitioners can monitor the progress of their patients over time. This information is used largely in two ways: to populate and inform a larger data set, as well as to offer the medical community a wide snapshot of current and future healthcare needs for the broader population.
What else does a health information manager do? While analyzing and acquiring patient data, HIMs must ensure patient medical histories are protected from violations of the Health Insurance Portability and Accountability Act (HIPAA). If patient data is breached or stolen, HIMs must report and document the theft.
Interested candidates should understand that being able to merge science, business, and information technology skills are critically important to success at this job.
Where Does a Health Information Manager Work?
Health information managers can build careers in a range of different settings. According to the U.S. Bureau of Labor Statistics (BLS), the largest employers of medical and health services managers, such as HIMs, in 2018 were the following.
State, local, and private hospitals (33%)
Physicians' offices (11%)
Residential care and nursing facilities (10%)
Government organizations (8%)
Outpatient care centers (7%)
Most professionals in these management positions work full time in office settings, though they may be on-call for emergency situations.
Steps to Become a Health Information Manager
Certain experiences and health information management education requirements can lead to a successful career in this field. Learn how to become a health information manager with these steps.
Earn a Bachelor's Degree in a Relevant Field
A four-year degree from an accredited university is generally the minimum education requirement for an HIM position, according to the BLS. Earning a degree such as an online Bachelor of Science in Healthcare Management can provide students with a foundational understanding of healthcare practices, business operations, and professional standards, as well as issues such as medical law, compliance, and risk management. Students can also take courses in healthcare informatics to learn about software and technologies they may use in their future careers.
Those who successfully complete a BS in Healthcare Management program are often equipped with many of the necessary skills and the educational background to pursue a career as an HIM.
Gain Professional Experience
Prior to becoming an HIM, candidates will also need to obtain relevant professional experience. Health services managers often have prior administrative experience in a doctor's office, hospital, or other type of healthcare setting, according to the BLS. Candidates who have worked as a health services financial clerk or medical records technician may also be eligible to advance to an HIM role.
Obtain Certification (Optional)
Although most HIM positions do not require additional certification, the American Health Information Management Association (AHIMA) reports that obtaining a professional credential can help candidates perform as leaders within the HIM community. Professionals must meet several eligibility requirements and pass an exam to qualify for AHIMA certifications, such as the Registered Health Information Administrator (RHIA).
Health Information Manager Salary
The median annual salary for health information managers and other types of medical and health services managers was $100,980 in 2019, according to the BLS. The median annual wage for those working in state, local, or private hospitals was $110,430, while those working in government settings earned a median of $111,520. Managers in outpatient care centers and physicians' offices earned annual salaries of $95,320 and $91,600 respectively, while those working in nursing and residential care facilities earned a median annual salary of $86,820.
Health Information Management Career Outlook
The growth in healthcare employment is expected to continue, and the job outlook for HIM candidates is also positive. The BLS forecasts employment of medical and health services managers — including HIMs — to grow by 18% from 2018 to 2028.
The reason for this favorable outlook is multifold. First, the widespread and growing use of electronic healthcare records should continue to create demand for both HIMs and the health information technology (HIT) professionals who support them. Second, qualified professionals will be needed to replace managers who plan to retire in the near future. Candidates who have a master's degree in health administration, along with those who have advanced knowledge of healthcare IT systems, are more likely to have enhanced career opportunities.
Learn More About Careers in Health Management
The online bachelor's in healthcare management program at Maryville University provides students with the fundamental building blocks to be successful in this career. Visit the program website for more information on class offerings, credit requirements, and beyond.
Recommended Reading:
A Mental Health Crisis Guide for Schools
Sources:
American Health Information Management Association, Registered Health Information Administrator
American Health Information Management Association, "What Is Health Information"
American Health Information Management Association, "Why Get Certified"
CNBC, "Health-care companies use technology and data to boost primary care services"
Maryville University, Bachelor of Science in Healthcare Management Careers
U.S. Bureau of Labor Statistics, Medical and Health Services Managers
U.S. Department of Health & Human Services, Health Information Privacy
U.S. News & World Report, Medical and Health Services Manager Overview
Be Brave
Bring us your ambition and we'll guide you along a personalized path to a quality education that's designed to change your life.