Healthcare Careers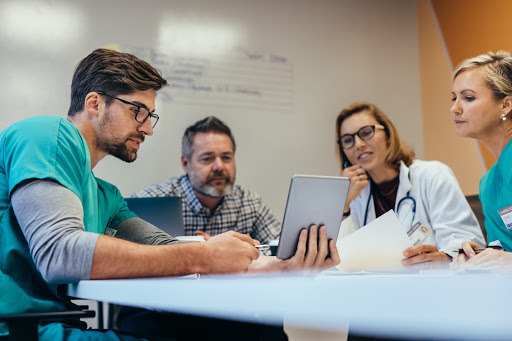 The healthcare industry is changing more rapidly than almost any other sector according to the American College of Healthcare Executives (ACHE). Thanks to the continuing need to provide excellent delivery of treatments and patient care, there's a growing diversity in the types of healthcare careers available for business and health professionals alike. ACHE estimates there are 100,000 professionals in careers who specialize in the management of healthcare organizations. The demand for talented leaders is growing, and it's an exciting time for professionals who are examining careers in the medical field outside a clinical setting.
 

Careers for Those with a Bachelor of General Studies with a Concentration in Healthcare
According to a recent article in The Atlantic, healthcare has become the nation's largest employer, so there are many careers for professionals interested in the business aspects of healthcare. Students of a Bachelor of General Studies in Healthcare program take courses such as healthcare systems, ethics, public health, and communications. The skills students learn in these courses could help graduates succeed in a variety of roles and settings, such as those described below.
Community Health Worker
Community health workers implement programs to promote, maintain, and improve individual and overall community health in the areas they serve. They may also provide resources and support to community members to encourage better health behaviors. According to PayScale, community health workers earn an average median salary of $32,000. In addition to having a bachelor's degree, they obtain on-the-job training to successfully implement health outreach programs in underserved communities. Since community health workers work with a diverse clientele, they can act as cultural mediators between individuals, communities, and health care systems.
Medical or Health Services Manager
According to the Bureau of Labour Statistics (BLS), there is a 20 percent expected increase in medical and health services manager roles by 2026, 14 percent over the average national job growth rate. These managers are responsible for planning, directing, and coordinating medical and health services and can look after entire health facilities or specific departments. Most medical and health services managers must have a bachelor's degree before entering the role, in addition to work experience in a management setting. Having a master's degree is also commonly required for higher-level manager roles. According to BLS, the median annual wage for medical and health services managers is $98,350. However this varies by industry and experience. Medical or health services managers that work in nursing and residential care facilities may only earn a median annual salary up to $82,950, according the BLS. Nurse managers that have under three years experience can earn up to $83,524 per year according to Glassdoor, while managers with between 7-10 years experience can earn up to $88,293 per year.
Community Health Advisor
Community or public health advisors are responsible for analyzing data to improve activities and health programs for the public. They may assist in enhancing programs focused on quality of life and well-being to help achieve federal and state health goals. Advisors work with a variety of professionals, such as physicians, nurses, and government officials, to interpret and present health data results. According to PayScale, the average annual salary for community health advisors is $62,000 with entry-level health advisors earning an average annual salary of $51,946.While a master's degree is not a requirement to start an an entry-level position, employers do prefer job candidates to have several years' experience to move into higher-level positions.
Health Educator
The role of health educator is a fast-growing career with good pay potential in the medical field. BLS reported a median annual salary of $45,360 for this career in 2017 and anticipates 16 percent growth in the number of jobs over the next decade. By developing and implementing strategies to improve the health of individuals and communities, health educators teach people about the appropriate behaviors needed for wellness. To begin work, many organizations require health educators to obtain the Certified Health Education Specialist (CHES) certification in addition to a bachelor's degree.
Careers for Those with a Bachelor's in Healthcare Management
Healthcare facilities continue to improve the quality of health initiatives at the lowest cost possible to ensure patients can continue to access appropriate and inclusive care. A Bachelor's in Healthcare Management prepares students for healthcare careers where they can  run fiscally responsible organizations that allow for the adoption of new technologies and patient partnerships. Graduates with this degree often work in the positions described below.
Clinic Director
Clinic directors are responsible for hiring, evaluating, scheduling, and supervising health professionals in a clinic. Clinic directors must assess their current service strategies to meet the clinic's needs, such as providing training to staff and updating billing procedures. While some directors have a clinical background, it is not required. However, most clinic directors have previous experience in management and staff supervision. Clinic directors often earn up to $73,218 per year with five years' experience, according to PayScale.
Health Manager
Health managers are responsible for planning and implementing programs and services in a healthcare facility or business. They provide expertise in reimbursement policies, managing information, and formulating business strategies for better daily operations. Most health managers must have a bachelor's degree before entering the workforce in addition to having work experience in clinical or management positions. Having a master's degree could be required for higher-level manager roles. Health managers with a master's degree may be able to earn a higher median annual salary which according to the BLS is $98,350, although this can vary by industry.
Healthcare Practice Manager
Healthcare practice managers are responsible for the daily operations of private medical practices or public medical clinics. They are responsible for staffing the entire clinic, including front office staff, nurses, and medical assistants. A healthcare practice manager ensures the schedule can meet the demands of patients and correctly maintain medical records. According to PayScale, a practice manager can earn an average salary of $58,220 per year after obtaining a bachelor's degree healthcare management, and gaining experience in an office or medical setting.
Program Manager
A program manager is responsible for the efficient and successful delivery of health programs and services to patients in a facility. A person in this role uses project management skills to direct employees, finances, equipment, and other clinical activities to meet program goals. To communicate effectively with healthcare participants and leaders, a program manager should have at least five years' prior experience in a managerial setting. According to PayScale, a manager can earn an average salary of $74,000 per year although this can vary based on years of experience. Entry-level program managers with under five years experience may earn an average salary of $69,000.
Careers for Those with a Master's in Health Administration
While many healthcare careers require only a bachelor's degree, a master's degree can provide the necessary credentials for nursing professionals to accelerate their careers. Graduates with a Master's in Health Administration have the expertise to be decisive leaders in a rapidly evolving industry and have the potential to advance to the following careers in the medical field.
Hospital Administrator
Hospital administrators are at the top of the management organization chart in a healthcare facility. They are responsible for making sure that a hospital's operations are running smoothly and delivering adequate care to patients. The role is responsible for setting goals for the organization while adhering to budgets and local and federal laws. While hospital administrators haves master's degrees, they may also benefit from obtaining a Certified Healthcare Facility Manager (CHFM) certification. Hospital Administrators are the chief executives of their hospitals with pay that is in line with that occupation. According to O*Net, top executives like hospital administrators or hospital presidents can expect to earn an average of $183,270 annually. However, for hospital administrators that are just beginning their career, may have a starting annual salary of $79,300, according to PayScale.
Nursing Home Administrator
Nursing home administrators are responsible for all the activities in a long-term care facility. They work with established policies based on federal and state care guidelines and recommend changes in nursing home procedures to provide better care for residents. The licensing requirements for nursing home administrators vary from state to state. However, certification bodies, such as the National Association of Long Term Care Administrator Boards (NAB), administer licensing exams. According to Salary.com, the average salary for entry-level nursing home administrators with a master's degree is $104,862. However, salaries can vary for administrators who have additional years of experience or hold a doctorate degree.
Start Today
The healthcare industry is growing, and medical employers need top-performing leaders to set clear goals to adapt to changes in patient demographics and health technologies. To that end, there are many opportunities for professionals to advance their careers in the medical field. To learn more about preparing for an exciting job in the medical field, please visit Maryville University's online healthcare degree programs page.