How to Become a Digital Forensics Investigator
How to Become a Digital Forensics Investigator
How to Become a Digital Forensics Investigator
As crime and technology increasingly intersect, sleuths who use digital evidence to solve crimes — formally known as digital forensics investigators — are in growing demand. These professionals track down criminals who use technology to commit crimes or leave behind a trail of digital evidence that can lead to their conviction.
In a case known as the "Fitbit murder," Richard Dabate is accused of murdering his wife Connie. Dabate, who maintains his innocence, tells police that when he returned home after receiving an alert from the couple's home alarm system, an intruder attacked him and tied him up. He claims the intruder then shot and killed Connie when she returned home from the gym. Based on evidence stored on the victim's Fitbit, investigators believe Connie was inside the house when Richard claims she was at the gym. What's more, the Fitbit data showed she had stopped moving one minute before the alarm system went off.
The ubiquitous use of connected devices creates digital trails that can be used to investigate and solve crimes. Digital evidence can place a suspect at a crime scene, help uncover motives, or highlight criminal connections. An understanding of human behavior — gained through education in a field such as forensic psychology — combined with investigative techniques is a powerful crime-fighting tool. Without experts in digital forensics, law enforcement would be unable to effectively fight crime in today's tech-driven society.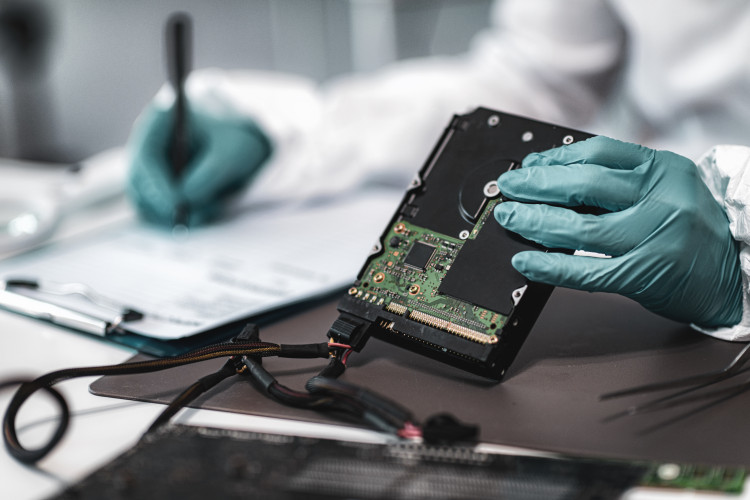 What Does a Digital Forensics Investigator Do?
In law enforcement, forensics is a department or laboratory responsible for performing tests used in the detection of crime. Digital forensics investigators — working in labs or at crime scenes — specialize in computer-based crimes or crimes where digital evidence is present. Digital evidence left behind by suspects can include data from wearables (fitness trackers and smart watches), emails, text and instant messages, mobile phone and GPS systems, social media posts, and files on computers and other devices.
Also called forensic computer examiners or computer forensic criminal investigators, digital forensics investigators are professionals who deter crime and fraud by recovering and analyzing data, breaking codes, and investigating digital evidence. They collect and analyze data to uncover and prosecute such crimes as electronic fraud, online scams, and identity theft, as well as criminal acts against property and persons in the physical world. Depending on their position, a digital forensics investigator might also be called upon to testify in court in civil or criminal trials as an expert witness.
According to a job description provided by the U.S. Bureau of Labor Statistics (BLS), digital forensics investigators must follow the same strict standards of evidence gathering found in general forensic science because criminal cases depend on the integrity of evidence.
Beyond law enforcement, digital forensics investigators may work in the corporate world or for a government agency, where they focus on uncovering white-collar or cyber crimes, such as hacking and ransomware attacks.
Steps to Become a Digital Forensics Investigator
Education followed by on-the-job training is the foundation required to become a digital forensics investigator.
Digital Forensics Investigator Education Requirements
Because the field of digital forensics is relatively new, educational requirements may vary. The typical entry-level degree is a bachelor's, such as an online bachelor's in forensic psychology, computer science, or cybersecurity.
Whether working in law enforcement, private enterprise, or government, individuals who aspire to careers as digital forensics investigators should explore the value a keen understanding of human behavior can bring to the job. By pursuing a degree in forensic psychology, such as Maryville University's online Bachelor of Arts in Forensic Psychology, students can acquire the psychological expertise needed to understand the criminal mind and help solve crimes.
Maryville University's curriculum takes an interdisciplinary approach by including courses in psychology and criminal justice to provide students with an understanding of criminal behavior and investigations. Students can also take courses to develop their research, analytical, and presentation skills to help them in their future careers as digital forensics investigators.
Also, digital forensics investigators who work for police departments may be sworn police officers and have to meet educational requirements necessary for admittance into a police academy.
Develop Key Job Skills
The job of a digital forensics investigator includes both hard skills, such as knowledge of computer hardware and operating systems, and soft skills, such as communication and presentation capabilities. Important qualities and skills for a digital forensics investigator include:
Communication: Digital forensics investigators need to effectively communicate their findings in written reports and may be called upon to testify in court. They often collaborate on investigations with other law enforcement officials and specialists, so strong communication skills are a must.
Critical thinking: Investigators must use sound judgment when evaluating and creating a chain of digital evidence. They must be able to recognize and extract digital evidence that's relevant to a case from a sea of otherwise meaningless data.
Technology: Investigators must be proficient with computers and other digital devices and understand how data is stored and transmitted. Knowledge of programming and software, networks, and how they're connected and interact is important.
Problem-solving: Investigating and recovering materials and information stored on digital devices requires the ability to problem solve, especially if a criminal has attempted to cover their tracks.
Attention to detail: Sorting through troves of digital data to identify, collect, and analyze what's relevant to a case requires patience and dedication.
Gain Work Experience
Like other forensic technicians and investigators, individuals who specialize in digital forensics generally receive on-the-job training in preparation for working their own cases. Whether they work in labs or at crime scenes, new hires typically work under experienced investigators to learn the proper procedures and methods for collecting and documenting evidence to build a winning case.
Because digital technology is advancing rapidly — and cyber crime along with it — digital forensics investigators need to keep up with advances in technology and devices that improve the collection or analysis of digital evidence.
Digital Forensics Investigator Salaries
According to PayScale, the median digital forensics investigator salary was about $65,000 as of November 2021. Factors such as level of experience, work location, and type of employer can affect salary. Earners in the lowest 10% made about $42,000 per year, while those in the highest 10% earned about $100,000 annually. The local demand for talent can also impact salary. States where salaries are higher for digital forensics investigators include California, Connecticut, and New York, according to location data collected by ZipRecruiter.
The BLS groups digital forensics investigators under the heading of forensic science technicians, who made a median annual wage of $60,590 as of May 2020.
Employment Outlook for Digital Forensics Investigators
Police departments, prosecutor's offices, and other branches of law enforcement employ digital forensics investigators. Government agencies, including the FBI, CIA, National Security Agency, IRS, and U.S. Postal Service, also hire these professionals.
The BLS projects job growth of 16% for forensic science technicians (including digital forensics investigators) between 2020 and 2030, much faster than average (8%). This equates to 2,700 new jobs. As more law enforcement agencies incorporate the collection and analysis of digital evidence, the demand for digital forensic specialists will grow.
Use Your Psychology Degree to Fight Crime
An in-depth understanding of human behavior is a valuable tool for investigating and solving crime. Students who are interested in applying psychology to the criminal justice system may want to explore pursuing a career as a digital forensics investigator and learn more about Maryville University's online Bachelor of Arts in Forensic Psychology.
Our program provides students with experiential learning opportunities and coursework in the areas of psychology, criminal justice, and social science. As a result, graduates are ready to work in law enforcement, social services, and the private sector helping to protect communities from crime.
Recommended Reading
Forensic Psychology vs. Clinical Psychology
How to Become a Forensic Psychologist
Introduction to Forensic Psychology
Sources
Control Risks, "Five Case Studies with Digital Evidence in Corporate Investigations"
Houston Chronicle, "Forensics Computing Careers"
Journal Inquirer, "Judge: Fitbit Evidence to Remain Part of Dabate Case"
National Institute of Justice, "Digital Evidence and Forensics"
National Institute of Justice, "New Approaches to Digital Evidence Acquisition and Analysis"
PayScale, Average Digital Forensic Investigator Salary
Police1, "Digital Forensics in Law Enforcement"
U.S. Bureau of Labor Statistics, Forensic Science Technicians
Be Brave
Bring us your ambition and we'll guide you along a personalized path to a quality education that's designed to change your life.