How to Become a Sports Equipment Sales Rep
How to Become a Sports Equipment Sales Rep
How to Become a Sports Equipment Sales Rep
If you're interested in a career that combines a passion for sports with the fast-paced world of sales, you should consider working as a sports equipment sales representative. In addition to working for sports equipment brands such as CCM and Dunlop, professionals in the field also work at sports apparel companies, sporting goods companies, and equipment manufacturers, for example.
Aspiring sports equipment sales reps need to develop expertise in the products they're selling and the area of the industry they're interested in selling to, along with broad knowledge about sports, exercise science, and general athletics. A bachelor's degree in a field such as exercise science can help prepare graduates with the industry-specific knowledge they'll need to compete.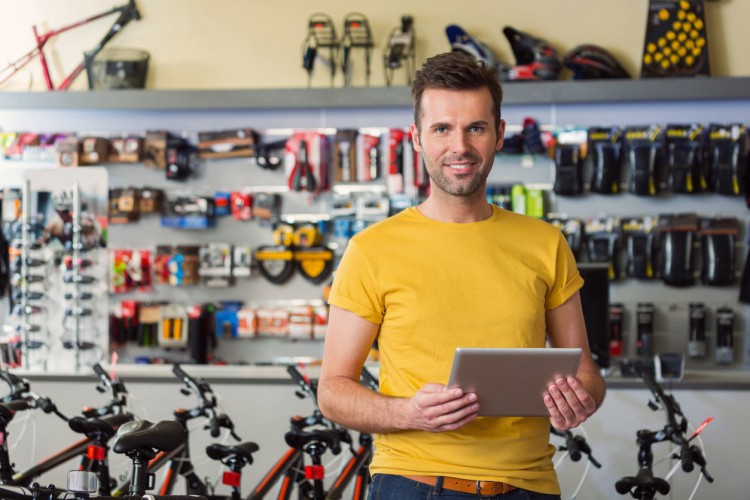 What Does a Sports Equipment Sales Representative Do?
Most sports sales representatives work full time, Monday through Friday, although evening and weekend work may sometimes be necessary. Depending on the nature of their positions, some sales reps may travel to meet with clients, work trade shows, and attend networking events. Although a sports equipment sales rep's duties can vary widely based on their employer and the equipment they sell, common duties may include the following:
Meeting with clients in person, by phone, or via video conferencing software
Developing strategies to move potential clients through the sales funnel
Preparing and updating sales records
Preparing monthly and quarterly sales reports
Negotiating contracts and payment terms
Monitoring market conditions and staying up to date with competitors' products and pricing
Training customers on how to use pieces of equipment, being mindful to point out their features, advantages, and benefits
Scheduling product demonstrations at tradeshows, industry events, and clients' locations
Steps to Become a Sports Equipment Sales Rep
Sporting goods manufacturers may prefer to hire candidates who have completed a bachelor's degree in a sports-related field, such as exercise science.
Maryville University's online Bachelor of Science in Exercise Science program, for example, covers topics such as exercise physiology, adaptive physical activity, and movement in health and exercise. The curriculum offers aspiring sports equipment sales reps concrete expertise in the science of athletics, which helps them explain how using certain equipment can impact the health and fitness of users. Sports sales reps may also hold degrees in areas such as business or marketing.
Other common steps toward becoming a sports sales rep may include the following:
Gain entry-level work experience. Students interested in pursuing a career in sports equipment sales can gain experience by pursuing entry-level positions with sports and exercise equipment retailers. Internship opportunities with larger organizations may also be available.
Pursue relevant certifications. Although not required, some sales reps choose to pursue various certifications, such as Certified Inside Sales Professional or Certified Professional Salesperson. Coursework for certification programs covers topics such as how to qualify potential customers, strategies for overcoming client objections, trial-closing techniques, how to move clients through the sales funnel, and active listening techniques. Professional certifications help job applicants demonstrate they're highly skilled and knowledgeable within their profession.
Expand your professional network. Successful sales representatives understand the importance of networking. Expanding your network on LinkedIn, joining relevant industry associations such as the Sports & Fitness Industry Association, and attending industry-specific conferences and seminars can all help your career.
Sports Sales Rep Salary and Job Outlook
The U.S. Bureau of Labor Statistics (BLS) reports that as of May 2020, the median annual salary for wholesale and manufacturing sales representatives, including sports equipment sales reps, was $62,070, with those in the top 10th percentile reporting annual earnings of more than $129,200. Salary ranges vary widely based on several factors, such as an individual's experience level, the position's geographic region, and a company's commission and bonus structure, among others.
The BLS projects the number of jobs in the field to grow by 5% between 2020 and 2030 — with about 169,000 openings expected each year due to occupational growth and retirements in the profession.
Fundamental Skills for Sports Equipment Sales Reps
Aspiring sports equipment sales reps should work to develop a variety of skills and competencies, including:
Communication skills: Successful sales reps understand the importance of mirroring their clients' communication styles, body language, and vocabulary. Professionals with strong communication skills are likely to have the best job prospects.
Organizational skills: Sales professionals juggle many clients and prospects at any given moment. Strong organizational skills help them keep track of meetings and follow-ups while moving prospective clients through the sales funnel.
Problem-solving skills: Problem-solving skills help sales professionals identify clients' pressure points so they can pitch the best solution. This skill also helps sales reps identify a prospect's possible objections to counter them.
Negotiation skills: Closing a sale is often about give and take. Therefore, professionals with strong negotiation skills often have the best closing rates.
Pursue Your Goal of Working in the Sports Industry
Working in sports industry sales can be rewarding, fulfilling, and lucrative for the right candidates. Are you ready to take the first brave step toward your goal of becoming a sports industry sales rep? Discover how Maryville's online Bachelor of Science in Exercise Science program can help you develop the industry-specific knowledge and skills you'll need to become a powerhouse closer.
Recommended Reading
Types of Coaching Styles for Athletes
Athletic Trainer Salary and Job Description
Recreation Coordinator: Salary and Job Description
Sources
AA-ISP, CISP Certification Process
Indeed, Top Certifications for Sales Professionals
National Association of Sales Professionals, Certified Professional Sales Person
PayScale, Average Sales Representative Salary
Sports & Fitness Industry Association
U.S. Bureau of Labor Statistics, Wholesale and Manufacturing Sales Representatives
Be Brave
Bring us your ambition and we'll guide you along a personalized path to a quality education that's designed to change your life.