What Is an Athletic Trainer? Salary and Job Description
What Is an Athletic Trainer? Salary and Job Description
What Is an Athletic Trainer? Salary and Job Description
Athletic trainers work with athletes of all ages and capabilities, from elementary school children to professional and Olympic athletes. Their primary function is to help athletes overcome injuries or improve sports performance. While some work at hospitals and fitness centers, others work at clients' homes, in schools, or with professional sports teams.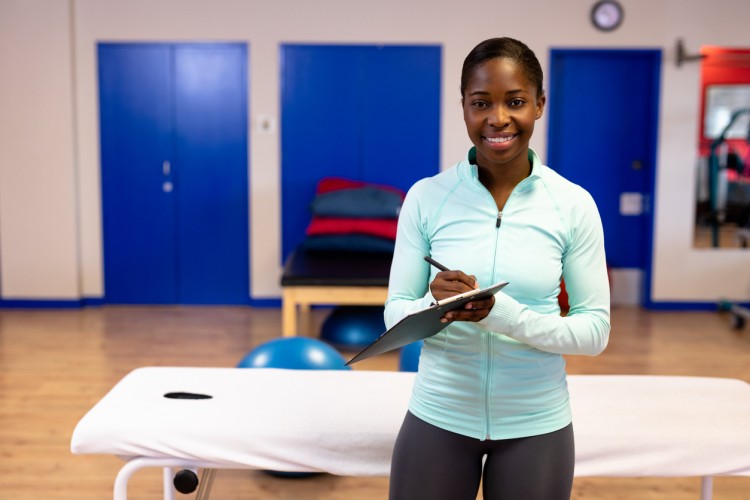 The exercise science field is expanding rapidly, and demand for qualified exercise science professionals continues to grow. Consequently, individuals interested in pursuing this career path should begin by developing the right knowledge and skills. A related degree, such as Maryville University's online Bachelor of Science in Exercise Science, can prepare graduates with the tools to pursue careers in the field.
Athletic Trainer Job Description
Athletic trainers help prevent, diagnose, and treat muscle and bone injuries in athletes. Their day-to-day responsibilities can vary, with job duties including the following:
Evaluating athletes' conditions
Establishing athletes' dietary and fitness plans
Tracking athletes' progress toward fitness goals
Developing rehabilitation plans for injured athletes
Providing emergency care for athletes injured during practice or competition
Writing reports and keeping records about injuries and treatment plans
Possible Work Environments for Athletic Trainers
While some trainers work at gyms and fitness centers, others work in healthcare facilities such as hospitals and physical therapy clinics; educational settings such as secondary schools and universities; or in clients' homes. They may also work with the military, law enforcement, or sports teams.
An athletic trainer's work schedule varies based on the job. For example, those who sports teams employ may travel frequently and work nights and weekends, while self-employed trainers who work with private clients may set their own hours. Most athletic trainers work full time and spend some of their time outdoors. Individuals who schools and sports teams employ may have to work outside during inclement weather, such as snow and rain.
Qualifications to Become an Athletic Trainer
The U.S. Bureau of Labor Statistics (BLS) notes that aspiring athletic trainers need at least a bachelor's degree in a related field, such as an online bachelor's in exercise science. Additionally, nearly all states require professional trainers to be licensed or certified. The Board of Certification (BOC) for the Athletic Trainer (AT) awards the industry standard certification, which all state regulatory agencies recognize.
Individuals seeking certification need to graduate from a degree program that the Commission on Accreditation of Athletic Training Education (CAATE) has certified, and they need to pass the BOC exam. BOC-certified athletic trainers need to also take continuing education coursework to maintain certification.
Fundamental Skills for Athletic Trainers
Students interested in a career as an athletic trainer should develop the right skill set. Maryville's online Bachelor of Science in Exercise Science program curriculum, which includes classes such as Stress Management, Care and Prevention of Injuries, and Movement in Health and Exercise, is designed to prepare graduates with the fundamental skills needed to pursue jobs in this field, including key soft skills:
Compassion. Athletic trainers often work with individuals who've been injured or are experiencing pain and discomfort. Consequently, professionals in this field need to be compassionate while providing care.
Decision-making. Different individuals require different treatment plans. Athletic trainers need to make informed decisions about the types of treatments that are best for various injuries.
Attention to detail. Professional trainers need to record and document patients' injuries, treatment plans, and progress. Detail-oriented individuals are likely to be more effective and successful.
Interpersonal. Strong interpersonal skills are key to athletic trainers because they communicate with individuals of various ages and educational backgrounds, from high school students and parents to professional athletes, coaches, and physicians.
Athletic Trainer Salary and Job Outlook
The BLS projects employment of athletic trainers to grow by 16% between 2019 and 2029, much faster than the growth rate of the labor market as a whole. Increased demand is expected due to factors such as increased awareness about the effects of sports-related injuries and the growing number of active middle-aged and older individuals.
Employment opportunities at secondary schools are also expected to be robust, as some states require middle and high schools to employ athletic trainers for their sports programs. Applicants who've completed a degree in a related field and have been certified by the BOC are likely to have the best job prospects.
The BLS reports that the median annual wage for athletic trainers was $48,440 as of May 2019; earners in the top 10th percentile reported a salary of $73,470 and the lowest 10th percentile earned $31,300. Salary ranges vary based on several factors, such as experience and education level, location, and industry. For example, the BLS notes that the median annual wage for athletic trainers employed by state, local, and private educational services was $52,660 as of May 2019, whereas athletic trainers at fitness and recreational sports centers earned $46,890.
Your Path Toward a Career as an Athletic Trainer Starts at Maryville
Career opportunities for athletic trainers are expected to remain strong, and the need for qualified, experienced professionals is expected to continue to grow. Students interested in working as athletic trainers may find that a degree such as Maryville's online bachelor's in exercise science can prepare them to succeed. Courses such as Health and Exercise Physiology, Adaptive Physical Activity, and Human and Sport Performance Training prepare graduates with foundational knowledge in kinesiology, injury prevention, and nutrition.
Are you ready to take the first brave step toward a career as an athletic trainer? Discover how Maryville's online Bachelor of Science in Exercise Science can prepare you to meet your goals.
Recommended Reading
How to Become a Strength and Conditioning Coach
Careers in Exercise Science: Kinesiology vs. Exercise Science Degree
What Can I Do with an Exercise Science Degree?
Sources
Betterteam, Athletic Trainer Job Description
Board of Certification for the Athletic Trainer
Houston Chronicle, "Athletic Trainer Job Description"
National Athletic Trainers' Association, Become Certified
Be Brave
Bring us your ambition and we'll guide you along a personalized path to a quality education that's designed to change your life.