How to Become a Strength and Conditioning Coach
How to Become a Strength and Conditioning Coach
How to Become a Strength and Conditioning Coach
Students who want to help athletes improve performance and achieve sports-related goals are likely candidates for a career as a strength and conditioning coach.
Typically, the job duties of a strength and conditioning coach include working alongside a head coach to design a strength and conditioning program, leading training sessions for the entire team, and, in some instances, working one-on-one with individual athletes. However, the day-to-day job of these coaches includes much more.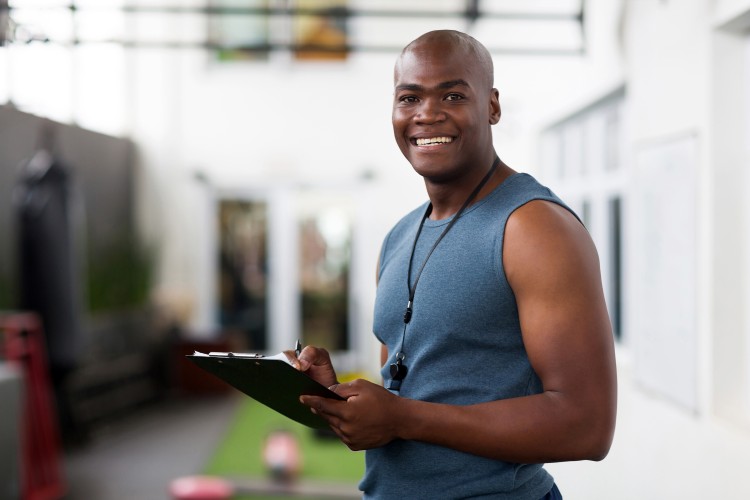 In the following sections, we will explore what these professionals do, the projected job growth for this profession, and the average salaries of individuals who choose this career path. We will also examine the steps involved in how to become a strength and conditioning coach, including earning a bachelor's degree in exercise science or a related field.
What Does a Strength and Conditioning Coach Do?
From applying scientific principles toward improving an athlete's fitness and performance to monitoring an athlete's progress and taking inventory of athletic equipment, a strength and conditioning coach's duties span a range of areas. An important aspect of these job responsibilities is developing customized training programs for teams and individual athletes, including creating workout schedules and instructing athletes on the use of equipment. They may also develop rehabilitation programs when athletes are injured.
Taking care of the gym and equipment is another task coaches undertake. This can involve maintaining the athletic equipment or recommending upgrades. A strength and conditioning coach may also assume a leadership role, managing and overseeing assistant strength and conditioning coaching staff. Strength and conditioning coaches may work with private sports organizations, high school programs, college sports teams, or professional sports teams.
Steps to Become a Strength and Conditioning Coach
It takes education, certification, and experience to achieve a successful strength and conditioning coaching career. Below are four steps that prepare individuals to pursue this occupation.
Earn a Bachelor's Degree
Completing a bachelor's degree in a relevant field, such as Maryville University's online bachelor's in exercise science, is the first step for an individual pursuing a career as a strength and conditioning coach. Most organizations and teams require applicants for strength and conditioning coach positions to have a bachelor's degree.
The curriculum for a bachelor's program in exercise science may include courses in injury prevention, exercise psychology, nutrition, performance coaching, and tactical strength and conditioning.
Pursue an Advanced Education
While a graduate degree is not required, it's often needed to progress in this profession. Advanced degrees are becoming more common in the industry, and many jobs list a master's degree as a preferred qualification for applicants, according to the National Strength and Conditioning Association (NSCA).
Get Credentialed
Completing a credentialing program, such as the NSCA certified strength and conditioning specialist certificate, can help strength and conditioning coaches demonstrate their professional competence.
Other certificate programs, such as the performance enhancement specialist certification (PES) from the National Academy of Sports Medicine, the strength and conditioning coach certified certification (SCCC) from the Collegiate Strength and Conditioning Coaches Association, and the ISSA strength and conditioning coach (SSC) certification from the International Sports Sciences Association, are also available. Many full-time jobs require applicants to possess at least one certification to be considered for hire. High school coaches may need to gain state certification.
Gain Experience
Practical, hands-on experience is not only required to work in this profession, it's vital for long-term professional success. College and professional teams may want coaches to have experience playing the sport. Some coaches will also gain experience as strength and conditioning assistants.
Coaches who want to work for major teams or move into head coaching positions will need several years of professional experience. Relevant experience includes implementing exercise programs and routines, maintaining and managing equipment, and leading staff members.
Fundamental Skills for Strength and Conditioning Coaches
Learning how to become a strength and conditioning coach is an important first step to starting a career in this field. However, the success of a coach is directly tied to the following fundamental skills.
Analytical thinking. Strength and conditioning coaches should have the ability to collect, evaluate, and analyze information. These skills can be used for brainstorming or other types of problem-solving. Individuals with strong analytical skills make good decisions, improve productivity, and help solve an organization's or athlete's problems.
Attention to detail. Professionals in this field are often responsible for ensuring that tasks are completed accurately, no matter the size or complexity.
Communication. The ability to deliver a clear message both verbally and in writing is important in this career field. Effective communication is integral not only to coaching but also to working with other coaches, sports medicine professionals, administrators, and the media.
Integrity. Strength and conditioning coaches should adhere to professional standards and moral principles. This allows them to provide high-quality services to clients.
Interpersonal relations. Professionals in this field often need to form strong relationships with athletes. These skills are exhibited through conflict management, teamwork, empathy, and listening.
Leadership. A leader directs an organization or team to operate in a more coherent and cohesive way. Coaches with strong leadership skills can successfully guide others to accomplish a goal.
Strength and Conditioning Coach Salary
The median salary for coaches and scouts, including strength and conditioning coaches, is $34,840, according to the U.S. Bureau of Labor Statistics (BLS). However, pay can vary dramatically depending on whether a coach works for a gym, high school, collegiate sports facility, or professional sports team.
While the BLS reports the median salary for coaches at top colleges was $46,180 in 2019, the top salary for a college football strength coach was $800,200 that same year, according to USA Today. Pay may also vary due to education level, years of experience, and geographic location.
Employment Outlook for Strength and Conditioning Coaches
The employment of coaches is projected to grow by 11% between 2018 and 2028, according to the BLS. This is a much faster rate than the average for all occupations. Increased participation in high school and collegiate sports is expected to drive demand for qualified professionals in this field.
Your Path Toward a Career as a Strength and Conditioning Coach Starts at Maryville
Take the first step toward a career as a strength and conditioning coach at Maryville University. Learn exercise science concepts such as movement, nutrition, exercise program design, counseling, coaching, and more through Maryville's online Bachelor of Science in Exercise Science. As the industry grows and individuals increasingly turn to exercise professionals, prepare to provide them with expert guidance.
Recommended Readings
At-Home Workout Ideas for Students
Exercise and Nutrition for College Students
Youth Sports Coach's Guide to First Aid: Treating and Preventing Physical Injuries in Young Athletes
Sources:
CSCCa, CSCCa Certification Process and Requirements
Houston Chronicle, "How Much Do Strength & Conditioning Coaches Make on Average?"
Houston Chronicle, "Job Description for a Strength-Conditioning Coach"
ISSA, Become a Certified Strength and Conditioning Coach
National Academy of Sports Medicine, NASM Performance Enhancement Specialist
National Strength and Conditioning Association, "Becoming a Strength and Conditioning Coach"
U.S. Bureau of Labor Statistics, Coaches and Scouts
Be Brave
Bring us your ambition and we'll guide you along a personalized path to a quality education that's designed to change your life.