At-Home Workout Ideas for Students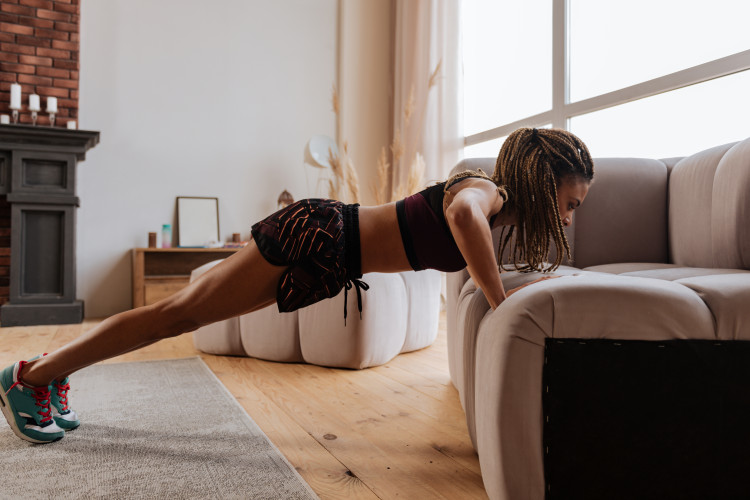 When a growing number of states began to issue stay-at-home orders as a means of mitigating the spread of the coronavirus in March of 2020, gyms were among the first businesses ordered to close. Fitness enthusiasts were left scrambling.
Many wondered if, in the absence of a regular exercise routine, they could stave off the "quarantine 15." They also questioned whether they'd be able to work out at home and still maintain a quasi-normal exercise regime. The answer, many learned, was a resounding yes.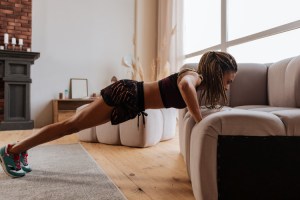 People quickly discovered that there are numerous ways to incorporate exercise into daily life at home that don't require access to a treadmill, barbells, or weightlifting equipment. Not only was this great news for people whose gym memberships were put on pause, it was a great learning experience for individuals who had just started or were about to start a family.
Although the coronavirus shutdowns were temporary, the at-home workout lessons that were learned are evergreen. If you're among the millions of Americans who are struggling to juggle work, school, and family obligations, and finding time to get to the gym is often easier said than done, the following tips may be just what you've been looking for.
Take Inventory of Your Space
To start, you should know that you don't need a garage or a spare room to set up an at-home workout space. Creating an exercise area can be as easy as rearranging some furniture. The point is to make sure you have enough room to move around.
If your space isn't abundant, that's OK. There are lots of compact exercise equipment options to choose from. For example, resistance bands and dumbells can be stored away when they're not in use. If you're looking to invest in something that's a bit more substantial, Concept2 rowing machines, which provide full-body resistance training and cardiovascular exercise, can be stored vertically. There are also a variety of folding elliptical machines that can be purchased in-store or online. As the name implies, they can be folded and stored when you're not working out.
Browse the Internet for At-Home Workout Routines
When states and municipalities enacted stay-at-home orders in Spring 2020, many gyms began to offer at-home workout videos and routines. Dozens if not hundreds of CrossFit gyms began offering remote programming that was adapted for people who had barbells and weights, for people who had dumbbells or kettlebells, and for people who didn't have any equipment at all. Planet Fitness, Orangetheory Fitness, and 24 Hour Fitness also started offering online fitness classes.
The online offerings were so popular that many gyms continue to offer them. As you start to plan your workout regime, take some time to browse the internet to find a program you're interested in. There are numerous paid and no-cost options to choose from.
Don't Forget to Warm Up
Just because you're working out at home doesn't mean you can skip your warmup. The good news is that warmups don't need to be complicated. In some cases, this can be as simple as doing a few minutes of jumping jacks. In other instances, a warmup could involve a brisk walk or jog with the family dog. Additional warmup ideas include jumping rope, right and left side lunge holds, and air squats.
Make Use of What You Have
If you don't have exercise equipment in your home, there are numerous ways to make use of what you have. For example, people who don't have pullup bars can stand in a doorway, grab both sides of the doorway frame and use it as a makeshift "rowing station."
You can also stand with your back to a coffee table or couch, rest the top of one foot on the furniture, and perform one-legged squats. If this feels too easy, this exercise can be made more difficult by holding weights or heavy objects in each hand. If sit ups begin to feel too easy, that exercise can also be made more challenging by cross-holding a textbook across your chest.
If you have barbells, a kettlebell, or a jump rope, great. If you don't, there are lots of ways to improvise. For example, empty water jugs can be refilled and used as weights. You can also put food cans or bottles of laundry detergent into a backpack and wear it while doing lunges or squats.
Set Up an Exchange
Buying at-home fitness equipment can be expensive, and not everyone has the disposable income to buy dumbbells, an ab mat, or a pullup bar. However, you might have one or more things that other people do not have. Maybe your neighbor, relative, or classmate has a kettlebell or resistance bands, for example.
Setting up an equipment exchange can be a great way to prevent your workouts from getting stale. This can be accomplished by setting up a day every three weeks where people who have equipment they want to share will sanitize and clean whatever it is they're willing to swap. Participants can plan in advance who gets what and then arrange to meet at a designated outdoor space where equipment can be swapped safely.
Make It a Social Affair
Individuals who thrive in a group workout setting may find that shifting to an at-home, solo exercise routine can be challenging. The good news is that there are lots of ways to work around this. For example, people can use Zoom to create group workout sessions with their friends, where one person "leads" the class while another chooses the music. A third person can be tasked with timing workout intervals. Just because you're exercising at home, that doesn't mean you need to go it alone.
Start Your At-Home Workout Routine Today
The benefits of exercising aren't just tied to warding off the quarantine 15. Regular exercise has been known to help people improve their mood, reduce anxiety, and sleep better. Regardless of whether you're a longtime gym junkie who started an at-home fitness regimen during the stay-at-home orders or you're a distance learner with family and work obligations who can't seem to find time to make it to the gym, the team at Maryville University would like to commend you. If you haven't started yet but you'd like to make time in the future, we're confident you can do it. Let's be brave together.
Recommended Reading
Exercise and Nutrition for College Students
Health and Wellness Resources for Non-Traditional Students
Exercise Science Careers: The Outlook for Exercise Science Professionals
Sources
The Atlantic, "The Healthiest Way to Sweat Out a Pandemic"
Everyday Health, "7 Tips for Staying Active During a Pandemic"
HelpGuide, "The Mental Health Benefits of Exercise"
Newsweek, "How to Home Exercise During the Coronavirus Pandemic—Indoor Workout Routines and Videos"
Psychology Today, "What Is 'Quarantine 15'?"
Scripps,  "Exercising During COVID-19 Pandemic: You Have Options"
USA Today, "Staying Home? Stay Active. Tips, Ideas to Exercise While Social Distancing During Coronavirus Pandemic"