Careers in Drawing
Careers in Drawing
Careers in Drawing
For those who possess a talent for drawing, a host of potential professional career opportunities are available. With widespread applications in advertising, architecture, and web design, drawing skills are in demand at companies across the country that need creative people to help them achieve their organizational goals.
Careers in drawing provide artists with meaningful work that contributes important components to an organization's overall development, growth, and stability strategies. In addition, these careers empower artists to support themselves financially without sacrificing their passion for creativity.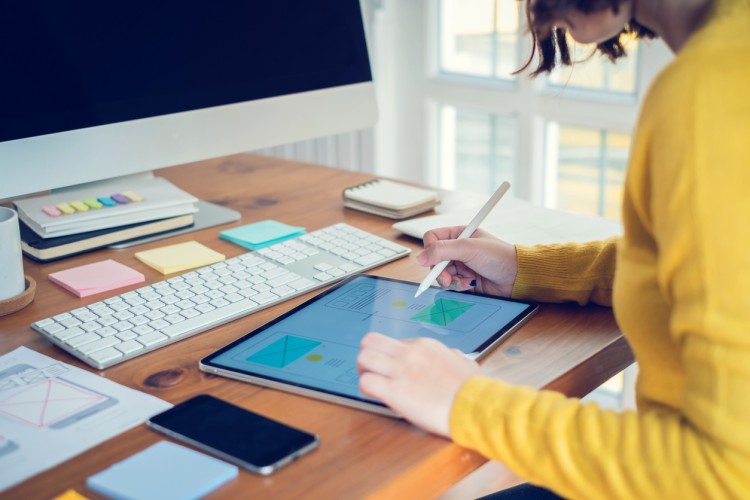 Preparing to pursue a career in drawing
The first step in preparing for a career in drawing is to create a professional artist's portfolio. This is a collection of sample pieces that artists use to solicit new jobs, and should showcase the artist's best work.
For most artists, creating an online portfolio with digitized renderings of artworks is the easiest and most efficient way to submit samples for jobs. Websites such as Squarespace and Works.io make it simple to set up a portfolio site, resulting in a link that can be conveniently shared with prospective employers.
Another key step for those interested in careers in drawing is pursuing the right education. Through a degree such as a Bachelor of Fine Arts in Digital Media, artists develop a holistic approach to their drawing skills and abilities, priming them to make an immediate and measurable impact in the workforce, and thus becoming a more attractive candidate for hire.
Careers in the drawing field
Many careers in drawing provide unique opportunities for artists to apply their skills while receiving competitive, sustainable pay. Let's take a closer look at some of the most common career paths for artists seeking to make a living through drawing.
Graphic designer
Graphic designers typically create visual marketing elements such as logos, original images, and illustrations to assist in brand messaging. Literacy with digital illustration, photo editing software, and layout software is a must for this position — as well as strong communication skills for collaborating with clients and art directors to determine the scope of various projects.
A career as a graphic designer offers competitive pay for artists with the ability to produce high-quality visual materials. As of 2020, the median annual pay of graphic designers was $53,380, according to the U.S Bureau of Labor Statistics (BLS).
Motion graphics designer
Motion graphics designers produce artwork using visual effects, animation, and other cinematic techniques to bring movement and life to their creations.
Often, the work that motion graphics designers create will be used for the web, video games, television, or film. Because adding movement elements to graphics requires more expertise than traditional graphic design, the pay is typically higher; as of June 2021, the median annual salary of motion graphics designers was approximately $60,000, according to PayScale.com.
Technical illustrator
Technical illustrators work primarily in engineering fields to create drawings that show how parts work together. Using digital technology applications such as Adobe and AutoCAD, these artists apply their skills to produce technical images that communicate complex ideas to non-technical audiences, resulting in manuals and related materials that are easy to follow for consumers and other clientele.
According to PayScale.com, as of May 2021, the median salary of technical illustrators was about $56,000. These positions provide artists with a reliable income stream that capitalizes on their unique abilities to make information accessible.
Architectural drafter
Architectural drafters sketch and draw structural features, designs, and details for buildings and various construction projects. In many cases, drafters are highly specialized by building (such as residential or commercial) or materials used (such as steel, wood, or concrete).
The median annual pay of drafters as of 2020 was $57,960, according to the BLS.
Drawing and software
In the digital age, aspiring drawing professionals need to understand trends in digital design and drawing software. Careers in drawing are particularly specialized, requiring artists to demonstrate a thorough knowledge of the software that is commonly used for completing tasks in a specific field.
It can also be helpful for artists — especially those interested in pursuing technical drawing career paths — to pursue certification in specific programs such as AutoCAD and Solidworks. These certifications can make candidates more attractive, as they demonstrate expertise in key software to employers.
When building out an artist portfolio, drawing professionals should integrate the use of cutting-edge software technologies and trends. Employers are keen to hire drawing experts who exhibit a proven ability to stay up to date on the latest processes, and showcasing those abilities may give an artist an edge in the professional landscape.
Become a creative force
Organizations across various industries seek drawing professionals who can contribute to advancing their organization's mission. Whether they need marketing assets, technical manuals, or design materials, companies seek drawing professionals to bring these creative components to life.
To stand out in the professional marketplace and open doors to a wealth of careers in drawing, artists must possess a demonstrable and comprehensive grasp of relevant software and come to the table with a strong portfolio.
That's why the online Bachelor of Fine Arts in Digital Media degree at Maryville University is structured to give artists the guidance they need to succeed. With 100% remote coursework that is accredited by the National Association of Schools of Art and Design, the program offers students the opportunity to learn from experienced designers and industry leaders, evolve their digital media skills with industry-leading Adobe tools, and create a dynamic portfolio with professional faculty feedback for immediate entry into the marketplace.
Explore the degree program today to learn more about how a Bachelor of Fine Arts in Digital Media can propel you toward reaching your professional goals and discover careers in drawing that capitalize on your unique abilities as an artist.
Suggested Reading
What Is Digital Media? All You Need to Know About This Booming Industry
Design in the Digital Age: Must-Have Tools for Graphic Designers
Animation Tools and Software for Digital Artists
Sources
Autodesk, "Autodesk Certified Professional in AutoCAD for Design and Drafting"
Field Engineer, Technical Illustrator
Houston Chronicle, "How to Get a Job Using My Ability to Draw"
PayScale.com, "Average Motion Graphic Designer Salary"
PayScale.com, "Average Technical Illustrator Salary"
Society for Experiential Graphic Design, "What Is Motion Design?"
Society for Human Resource Management, "Architectural Drafter"
Society for Human Resource Management, "Graphic Designer"
Solidworks, "Solidworks Certification Program"
Squarespace, "Create Your Portfolio Website"
U.S. Bureau of Labor Statistics, "Drafters"
U.S. Bureau of Labor Statistics, "Graphic Designers"
Be Brave
Bring us your ambition and we'll guide you along a personalized path to a quality education that's designed to change your life.