What Is a UX Developer?
What Is a UX Developer?
What Is a UX Developer?
Design is all around us. From the look and feel of a product, service, or technology to how we interact with it, the world of design encompasses many details and facets. When it comes to digital products such as websites, e-commerce stores, mobile apps, and other online platforms, a UX developer is the person who designs and develops the layouts, programs, and concepts that shape the user's experience (UX).
In many fields, a business's need to find unique and creative ways to remain relevant and build a loyal following relies on their online presence. Skilled UX developers adapt and find new ways to exceed limitations by creating innovative digital properties, making them highly sought-after professionals.
Whether a company functions fully online or its website is a gateway to its products or services, the easier and more enjoyable the site is for customers, the better. Pursuing a bachelor's in computer science can provide students with a solid foundation in design and development and the tools to help build a promising career as a UX developer.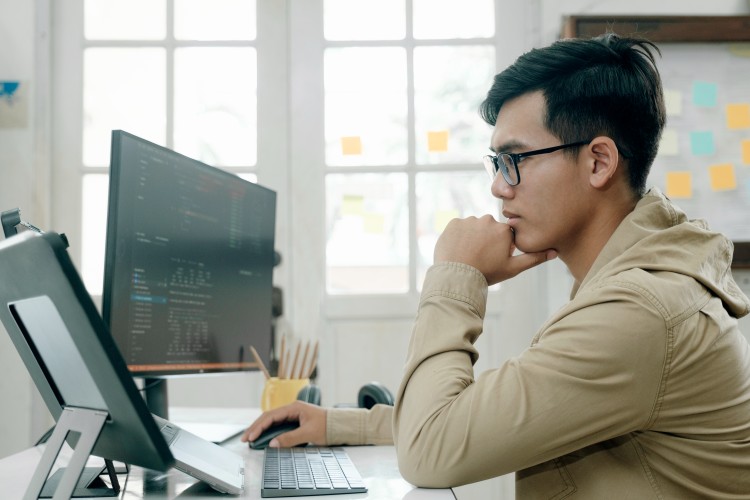 UX Developer Job Description
Becoming a successful UX developer involves more than simply knowing how to design an attractive website. It requires being able to create a product that is easy to use. A great web design is one that understands and is shaped by human behavior — knowing what people want to see and incorporating that into the design concept.
By combining UX development — the creation of new technical strategies and programs — with UX design and aesthetics, a UX developer is able to create an online product that is practical and engaging. For companies whose business models rely on their websites or e-commerce platforms, the more enjoyable the user experience, the more time customers will spend on the platform and, in turn, the more successful the company is likely to be.
UX Developer Job Duties
Among their many roles and responsibilities, UX developers find new ways to help companies not only stay relevant but also shape the future. By collaborating with others, developers can use data research to explore human interactions with websites and then make changes that improve the user experience. A UX developer's day-to-day responsibilities may include:
Webpage design and development: Working on the designs of websites, e-commerce platforms, or mobile apps to improve the overall user experience
Writing code: Developing programs, strategies, and designs with programming languages such as HTML or XML
Building UX prototypes: Creating mock-ups or prototypes of new ideas to test theories and improve product development
Presenting and communicating ideas: Compiling design ideas and strategies and presenting them to stakeholders to create and adapt plans in the best interest of all parties
Collaboration with partners: Finding ways to coordinate and develop ideas with other creative people, customers, engineers, and executives to ensure goals and needs are met
A combination of design and development skills is what makes UX developers successful in creating engaging digital experiences, which can increase revenue and help organizations succeed.
Work Settings for UX Developers
Experienced UX developers work in many different environments. Some have their own clientele and consultation services. Others are involved in industries such as advertising, technology, and retail, among many others. For UX developers in any industry, opportunities continue to grow.
Depending on their level of education and experience, developers can work in settings that range from highly influential companies to small startups. Many positions allow remote work, meaning UX developers can now collaborate with individuals and organizations from a variety of industries worldwide and pursue multiple avenues for professional growth.
Fundamental Skills for UX Developers
Since their work involves designing interfaces and coordinating with colleagues or clients, what a UX developer does requires a nuanced set of hard and soft skills. Pursuing a relevant degree, such as an online bachelor's in computer science from Maryville University, can allow aspiring UX developers to build those skills. It can help them hone their technical knowledge of different programs and coding scripts while building the leadership and communication skills required to present ideas and collaborate effectively.
The following are a few of a successful UX developer's core competencies:
Programming: Advanced technical programming skills are required not only to adapt digital products but to innovate and create new designs. This often involves using programming languages such as HTML or XML as well as industry-standard platforms and programs.
Design: UX developers need to be able to design experiences that are not only practical and functional but also visually appealing. This may involve finding new ways to incorporate pleasing designs to encourage repeat customers and, thus, increase the success of a digital commodity.
Problem solving and critical thinking: UX developers diagnose issues and find optimal solutions to meet company goals for digital properties. This means they must be able to make the best decisions and implement strategies.
Communication skills: UX developers need to build relationships with clients, other designers, and customers. To do so, they can use techniques such as active listening and tailoring messages to their audiences to ease collaboration.
With an understanding of the technical and human aspects of the user experience, what a UX developer does can streamline a program while making it enjoyable.
UX Developer Salary and Job Outlook
UX developers can help companies grow, rebrand, or adapt for the future, making them desirable members of any organization. Depending on their level of education, work experience, and the type of work they perform, their salaries can vary — but with the growing demand for skilled professionals, the future of web development looks promising.
The U.S. Bureau of Labor Statistics (BLS) reports that the median annual salary for web developers and digital designers was $77,200 as of May 2020. In addition, the BLS projects the field will grow by 13% from 2020 to 2030, higher than the average growth of 8% projected for all occupations.
Start Your Career as a UX Developer
What a UX developer is able to do goes far beyond the programs and codes they use. They can have an influence on modern technology and change the way end users see and interact with companies and interfaces. The success of an organization often relies on the imagination of its developers and their understanding of how people think and how to design an engaging product.
With a choice of five in-demand certificates (artificial intelligence, cybersecurity, data science, software development, or user experience/user interface) or a concentration in blockchain technology, the online Bachelor of Science in Computer Science from Maryville University can provide students with the practical knowledge and skills they need to succeed. Highly personalized and flexible, Maryville's program uses project-based and experiential learning to help give you the foundation you need to pursue your professional goals. Discover what you can do in an exciting new career as a UX developer.
Recommended Reading
Designing Our Daily Lives: Computer Science vs. Mechanical Engineering
Guide for Women in Computer Science: History, Roles, and Resources
How Blockchain Is Used in Education
Sources
Adobe, "What You Should Know About User Experience Design" Artisan, Job Description UX Developer
CMSWire, "14 Must-Have User Experience (UX) Design Skills"
Mediabistro, "What Does a UX/UI Designer Do?"
U.S. Bureau of Labor Statistics, Web Developers and Digital Designers
Be Brave
Bring us your ambition and we'll guide you along a personalized path to a quality education that's designed to change your life.