Careers with a BS in Computer Science
Careers with a BS in Computer Science
Careers with a BS in Computer Science
Careers in computer science are growing as technology continues to drive change across nearly every major industry. According to the U.S. Bureau of Labor Statistics (BLS), computer and information technology (IT) occupations will increase by 12% from 2018 to 2028 — more than double the average growth rate of 5% for all occupations.
Educated computer science professionals will be in high demand as there are more available jobs than qualified talent to fill them. The App Association estimates that there will be 1 million unfilled computer science jobs by 2024, illustrating a need for more robust computer science curricula and degree programs.
The technology leaders of tomorrow can pursue a range of careers with a Bachelor of Science (BS) in Computer Science, which provides them with the foundation they need to be leaders and innovators in this growing field.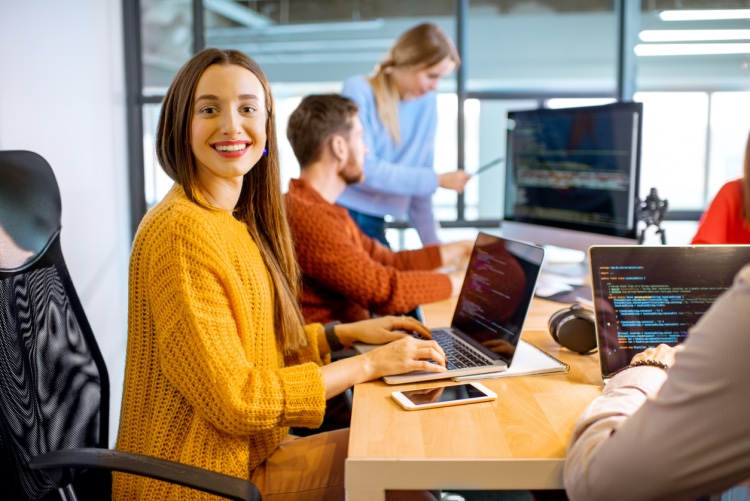 Industries Hiring BS in Computer Science Graduates
As we move full speed through the digital age, businesses across industries are offering careers for computer science BS graduates. More and more people with this degree will be needed to program new platforms, build apps, perform data analysis, and advance growing areas such as artificial intelligence, cybersecurity, and machine learning.
Even beyond the tech industry, however, computer scientists will be needed in other growing fields. Healthcare will be shaped by biotechnology, wearable devices, and health data management. Cryptocurrencies and their blockchain technology have already begun to disrupt the finance industry. Industrial companies are also using new software and data solutions to optimize production processes and increase revenue.
Additionally, computer science professionals might pursue careers in advertising, colleges and universities, or government and nonprofit organizations. Technology will continue to advance, and businesses across the globe will need professionals with competencies in computer science to help them innovate and adapt.
Popular BS in Computer Science Careers
Careers for computer science graduates range from software developer to information security analyst, each requiring unique skills and offering different career outlooks.
Computer and Information Research Scientist
Computer and information research scientists devise and build new technology solutions and computer architecture for organizations. These professionals may work with businesses, scientists, health researchers, or engineers to improve and implement software systems. They may also run tests, build models, and propose theories to advance computer science research.
According to the BLS, computer and information research scientists earned a median salary of $122,840 in 2019. The BLS also reports that computer and information research scientists typically have a master's degree, and will likely have several years of relevant work experience. These factors, along with geo-location, should be considered when considering the median salary. Jobs in the field will grow by 16% from 2018 to 2028, the BLS projects, as demand for innovative technology solutions and computer science leadership grows.
Software Developer
Software developers design and build computer programs, systems, and applications that run on technological devices. They analyze user behavior and conduct network tests to identify core functionalities that improve performance. Software developers also work with computer programmers to execute their programs and provide upgrades and maintenance to ensure their software continues to run smoothly.
Professionals in this career earned a median salary of $105,590 in 2019, according to the BLS. As demand for computer software, such as mobile applications and security programs, increases, the BLS projects software developer jobs will grow by 21% between 2018 and 2028.
Database Administrator
Database administrators are responsible for organizing large quantities of data, such as health records and customer information. These professionals must secure, back up, and distribute data so it is accessible to the appropriate stakeholders. Database administrators may also help build new databases, incorporate information from legacy databases, and adapt database structures to accommodate new business needs and information.
According to the BLS, database administrators earned a median salary of $93,750 in 2019. The BLS projects jobs in this field will grow by 9% between 2018 and 2028, as businesses across industries need experts to organize and manage growing quantities of data.
Information Security Analyst
Information security analysts build and manage programs, such as firewalls and encryptions, to protect a company's digital networks and data. This involves testing for vulnerabilities, preventing and mitigating security breaches, and creating disaster recovery strategies. Information security analysts may also work with other IT professionals to back up data and ensure that sensitive information remains protected from potential security risks.
Information security analysts earned a median salary of $99,730 in 2019, as reported by the BLS. Employment in this career is expected to increase by 32% from 2018 to 2028, according to the BLS, as companies prepare to prevent and mitigate cybersecurity threats.
Prepare for Your Computer Science Career
Maryville University's online Bachelor of Science in Computer Science program prepares students to pursue a range of rewarding and high-paying technology careers across industries. Beyond the foundations of programming and computing, students can explore advanced concepts in one of 6 concentrations offered by the university. These include artificial intelligence, blockchain, cybersecurity, data science, software development, and user experience.
Built with input from top employers, Maryville's curriculum incorporates the latest tools and techniques, using a modular design that evolves as technology does and provides students with the skills they need to build the world of tomorrow. Learn more about how Maryville University can open the doors to a new career.
Sources
CIO, "8 Technologies That Will Disrupt Business in 2020"
Forbes, "How Technology Is Driving Change in Almost Every Major Industry"
Full Scale, "Talent Shortage of Software Developers"
McKinsey & Company, "Tech-Enabled Disruption of Products and Services: The New Battleground for Industrial Companies"
U.S. Bureau of Labor Statistics, Computer and Information Research Scientists
U.S. Bureau of Labor Statistics, Computer and Information Technology Occupations
U.S. Bureau of Labor Statistics, Computer Programmers
U.S. Bureau of Labor Statistics, Database Administrators
U.S. Bureau of Labor Statistics, Information Security Analysts
U.S. Bureau of Labor Statistics, Software Developers
U.S. News & World Report, "What Can You Do with a Computer Science Degree?"
Related Articles
Be Brave
Bring us your ambition and we'll guide you along a personalized path to a quality education that's designed to change your life.