What Is a Computer Support Specialist?
What Is a Computer Support Specialist?
What Is a Computer Support Specialist?
Students interested in using their computer skills to provide technical support to an organization, its staff, and its customers are likely to be drawn toward careers in computer support. Computer support specialists are tasked with a wide variety of responsibilities that differ depending on whether they provide network or direct user support. Some common job duties for professionals in the field include evaluating and testing existing network systems, providing information technology (IT) support to an organization's staff or customers, and diagnosing and repairing problems with hardware and software.
Individuals wondering, What is a computer support specialist? should know that the first step toward success in this field is the right education. Earning a bachelor's degree, such as Maryville University's online bachelor's in computer science, can provide students with the knowledge and skills they'll need to pursue jobs in this field.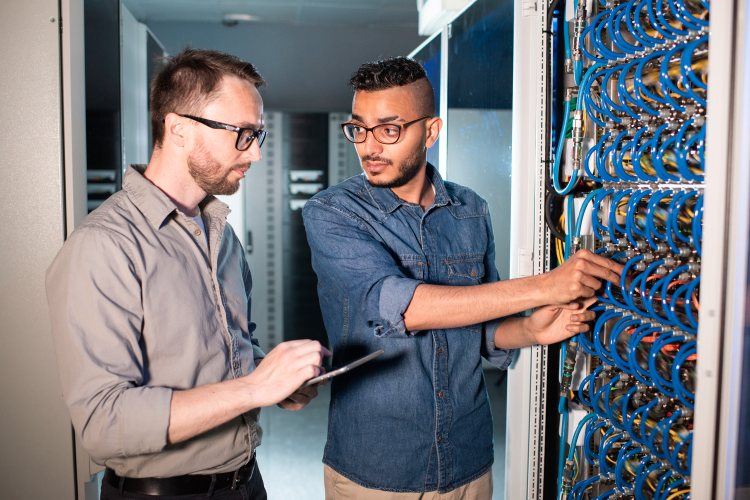 What Is Computer Support?
A computer support specialist is also commonly known as an IT specialist, network technician, tech support specialist, or network specialist. Despite the varying job titles, individuals who work in this role provide technical support to people having problems with hardware, such as printers and scanners, and software, such as apps and computer programs. Consequently, they play a critical role in helping companies maintain efficient computer and network operations.
Individuals considering a career in this field may be interested to learn that the job growth projections for computer support specialists are substantial. For example, data from the U.S. Bureau of Labor Statistics (BLS) notes that employment of all types of computer support specialists is projected to grow by 8% between 2019 and 2029, which is much faster than the average growth projected for all occupations. Applicants who hold a bachelor's degree in a related field, such as a bachelor's in computer science, and have a strong technical background will have the most favorable job prospects.
The BLS also reports that as of May 2019, the median annual salary for computer network support specialists was $63,460. During the same period, the BLS reports that the median salary for computer user support specialists was $52,270. Many factors can impact annual earnings, such as location, experience, and education level.
Computer Support Specialist Job Description
Computer support specialists' jobs vary based on whether they provide computer network or computer user support. For example, individuals who provide computer network support may troubleshoot local area networks (LANs) and wide area networks (WANs), perform regular network eminence, and evaluate, test, and upgrade an organization's network systems.
Computer user support specialists, on the other hand, work closely with users to diagnose and fix hardware and software problems. They also ask questions to find a problem's source, walk users through problem-solving steps, and train them on how to use new software and hardware, such as upgraded email systems and external hard drives.
Work Settings for a Computer Support Specialist
The BLS reports that most computer support specialists work full time in office settings. However, advancements in technology have made it possible for some professionals, such as help desk technicians, to work remotely.
While full-time schedules are common, standard nine-to-five hours are not always the norm. For example, some computer support specialists work nights, weekends, and holidays to cover network or user problems that occur outside of regular business hours or to support overseas clients. Further, some computer customer support specialists may need to travel to a client's location to troubleshoot and solve problems.
Fundamental Skills for a Computer Support Specialist
Aspiring computer support specialists should work to develop these core competencies and skill sets:
Technical skills: Identifying and fixing various hardware, software, and network problems is akin to solving a complex puzzle. Professionals with strong technical skills are likely to excel at this work.
Problem-solving skills: Computer support specialists need to understand how to diagnose simple and complex computer problems, applying their existing knowledge to new, unique circumstances.
Communication and interpersonal skills: Computer support specialists should be able to communicate technical concepts to colleagues and clients in nontechnical terms. Professionals with refined communication and interpersonal skills will be able to communicate with a variety of people, from upper-level managers to casual computer users.
Your Path Toward a Career as a Computer Support Specialist Starts at Maryville
Students who wish to pursue a career as a computer support specialist should start by developing the knowledge and skills they'll need to be successful. Earning a degree, such as Maryville's online bachelor's in computer science, can prepare graduates with the technical expertise they will need to pursue jobs in this field. This dynamic, online program helps students build a foundation in a variety of computer science competencies, such as network and computer security, web design, programming, and computer architecture.
Are you ready to take the first brave step toward a career as a computer support specialist? Discover how Maryville's online Bachelor of Science in Computer Science can help prepare you for the job you want.
Recommended Reading
A Future in Tech: Software Development vs. Computer Science
Web Design vs. Web Development: What's the Difference?
Comparing Two Key Careers: Software Developer vs. Programmer
Sources
Atlassian, Service Desk vs Help Desk vs ITSM: What's the Difference? The Balance Careers, "Computer Support Specialist — Job Description"
Field Engineer, Computer Network Support Specialist
Houston Chronicle, 'The Role of an IT Specialist'
U.S. Bureau of Labor Statistics, Computer Support Specialists
U.S. Bureau of Labor Statistics, Occupational Employment and Wages, May 2019: 15-1232 Computer User Support Specialists
Be Brave
Bring us your ambition and we'll guide you along a personalized path to a quality education that's designed to change your life.