A Future in Tech: Software Development vs. Computer Science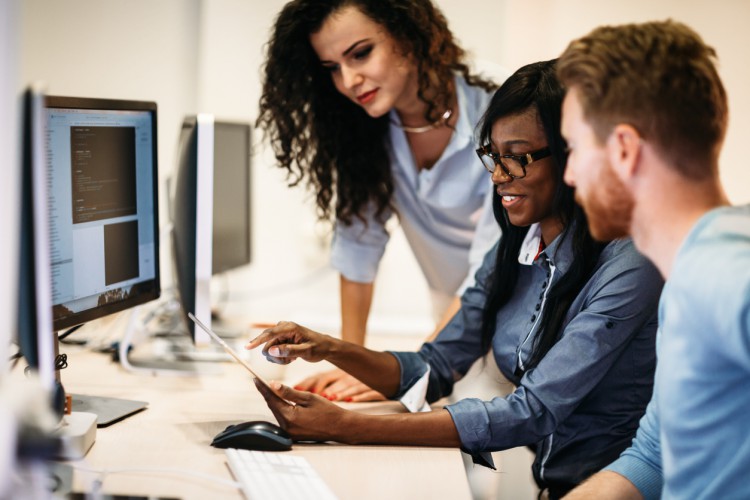 Most people interact with programs, products, and apps designed by software developers and computer science professionals every day. Every time people use a computer, smartphone, or ATM, they benefit from the work of experts who use programming languages, hardware, and software to take technology to new heights. Software developers and computer science professionals design everything from automatic highway toll systems to smart lightbulbs, international web servers, and integrated home air conditioning systems.
The professionals behind these technologies are tech gurus, often with advanced degrees, who have knowledge of programming languages, data storage systems, computer systems, and hardware. They understand how to build data storage and protect it from external threats. They maximize the efficiency of their businesses by integrating technology that saves time and money.
These professions require the proper education and practical experience. Continue reading to discover the differences between computer science and software development and how you can get involved in these growing fields.
Software Development Overview
Software developers design and create software programs with a variety of applications. They learn different programming languages, such as C++, JavaScript, and HTML5, and use them to create interface programs with utility. Their software could run a business's email system, a sport team's video scoreboard, or a new video game. Developers must consider the intended result of their software and apply their creativity and problem-solving abilities to meet design specifications and technical challenges.
Software Development Job Outlook
The U.S. Bureau of Labor Statistics (BLS) projects the employment of software developers to grow 21% between 2018 and 2028, whereas the projected average growth for all jobs is just 5%. This will add an anticipated 284,100 jobs to a current field of 1.37 million domestic software developers. The BLS reports the median annual salary for software developers is $103,620. The top 10% earn approximately $161,290, and the bottom 10% make around $66,740. The industry with the highest salary for software developers is software publishing ($114,320).
Computer Science Overview
Computer science professionals are experts in the functionality of computers and their hardware and software. Careers in this field run the gamut, including design and development, database administration, engineering, systems analysis, and web design. Computer science skills are in high demand as more and more industries enter the digital age, leveraging technology in new ways. As automation and AI technology continue to proliferate and more industries utilize digital products, these professions will remain important in the American economy.
Computer Science Job Outlook
According to the BLS, the median annual salary for computer and research scientists is $118,370, while computer hardware engineers make $114,600, and information security analysts $98,350. The BLS projects the job market for computer and information research scientists will grow by 16% between 2018 and 2028, with 5,200 new jobs during that time, while the market for computer hardware engineers will grow by 6%. The job market for information security analysts will grow much faster, by 32%, creating 35,500 new jobs.
Similarities Between Software Development and Computer Science
These two fields have much in common, as software development falls under the general umbrella of computer science. In software development and computer science, it is important to have extensive knowledge of technology and the way computers and programming work. In both disciplines, professionals must be expert problem-solvers, using their skills in new and creative ways to meet the needs of clients or employers.
Differences Between Software Development and Computer Science
While both are technology-driven, there are differences between the broad field of computer science and the niche of software development. The exact careers available in each field and the educational paths necessary to get there mean students should think carefully about their goals before beginning their education.
Career Specificity
Computer science contains many potential career paths, opening up possibilities to work in programming, design, engineering, and more. Computer science professionals can build new systems and networks, manage cybersecurity or information systems, or work with artificial intelligence. They might use their skills to write new programs, design infrastructure for programmers to use, or apply their talent to many other cutting-edge purposes.
Software developers can work in a variety of industries, but their job description and duties are usually the same across the board. They use programming languages to create software programs, though the function of the software can vary tremendously. It may analyze stocks or offer a fun distraction in the form of a gaming app for smartphones. No matter what field they work in, developers use their knowledge of programming languages to create useful and engaging products.
Educational Path
Many begin their careers in computer science after earning a bachelor's degree in computer science or a related field. Bachelor's degrees in cybersecurity, data science, and management information systems can lead to careers in computer science and include courses in programming, network security, and database management. Graduates may choose to pursue a master's degree in a related specialty or earn certifications to give them an edge in the job market.
The software development path is much more specific. After undergraduate study, aspiring software developers often pursue a master's degree in the field, such as Maryville University's online Master of Science in Software Development. In this program, students take courses that boost their abilities in user interface design, software architecture, and applied development operations.
Software Development vs. Computer Science: Which Is Right for You?

Computer science and related fields such as software development feature high-paying, in-demand positions that require advanced skills. If you're interested in computer systems, pursuing a career in computer science may be ideal. Alternatively, if you want to design, test, and pilot new software, software development is suited to your goals. Learn more about how Maryville University's online computer science degrees, including the online Master of Science in Software Development, can give you the tools you need to succeed.
Recommended Readings
Projected Tech: A Look at the Future of Software Engineering
The Future of Programming and the Top Languages Programmers Should Know
Top Benefits of Being a Software Development Degree Holder
Sources
The Balance Careers, "Top 10 Computer Science Jobs"
Houston Chronicle, "Differences Between a Software Developer and a Computer Programmer"
Indeed, Career Guide: Learn About Being a Software Engineer
U.S. Bureau of Labor Statistics, Computer Hardware Engineers
U.S. Bureau of Labor Statistics, Computer and Information Research Scientists
U.S. Bureau of Labor Statistics, Information Security Analysts
U.S. Bureau of Labor Statistics, Software Developers