Security Engineer vs. Security Analyst: What's the Difference?
Security Engineer vs. Security Analyst: What's the Difference?
Security Engineer vs. Security Analyst: What's the Difference?
Security engineers and security analysts are responsible for preventing data breaches and securing computer and information systems. Their work is critical to the smooth operation of businesses and industries of all types and sizes.
When comparing the two professions — security engineer vs. security analyst — there is overlap, but also clear distinctions that students considering a career in computer and information security need to understand. Generally speaking, security engineers design and implement the security architecture, while security analysts monitor the network and other operations to prevent and detect breaches. For both careers, a bachelor's degree in computer science lays the groundwork for success.
The Importance of Data Security
Data security touches every aspect of a company's network and information systems. It is the key to achieving operational efficiency while safeguarding valuable data resources.
These statistics show the importance of data security to an organization:
In the next 24 months, 30% of companies worldwide will experience a data breach, according to IBM's "Cost of a Data Breach Report 2020."
Worldwide in 2020, the average cost of a breach is $3.86 million.
The average cost of a data breach in the U.S. is $8.64 million.
Large organizations aren't the only victims of cyber criminals. Entrepreneur reports that in 2018, 67% of small businesses were victims of a cyber attack, with 58% experiencing a data breach. In addition, 41% of small businesses spend more than $50,000 to recover from a data breach.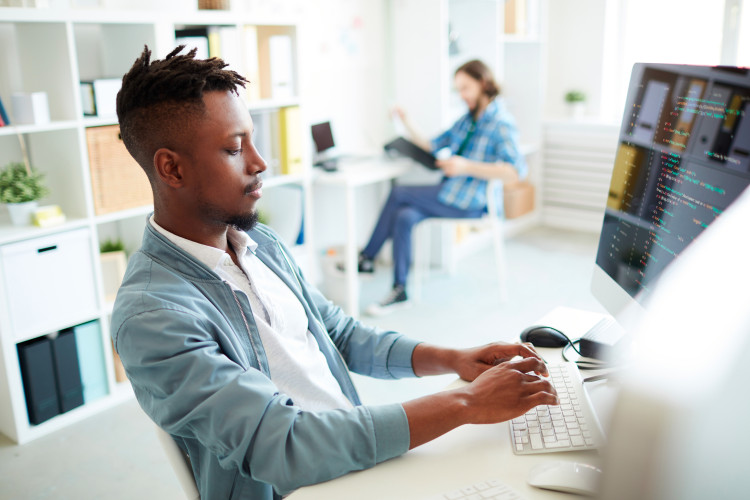 Definitions: Security Engineer vs. Security Analyst
Security engineers are constantly finding new ways to defeat criminals' attempts to gain unauthorized access to a company's computer systems and networks. PayScale lists the duties of security engineers:
Design and implement multilevel security strategies to protect networks and data resources.
Plan computer and network security upgrades and test hardware and software related to the upgrade.
Address technical problems related to applications and production equipment.
Respond to intrusions using expertise in computer forensics.
Anticipate future problem areas by monitoring workflows and network traffic patterns.
Security analysts work directly with people throughout the organization to gain a thorough understanding of the company's security requirements and the success of its data security initiatives. The U.S. Bureau of Labor Statistics (BLS) describes the responsibilities of information security analysts:
Monitor all networks and computer systems to prevent, detect, and investigate security breaches.
Install and manage firewalls, data encryption programs, and other software to protect data resources.
Perform penetration testing to ensure the company's networks are free of bugs that malware authors can take advantage of.
Stay up to date on new information technologies and apply those innovations in the company's security standards and best practices.
Assist staff members when they need help with security products and processes.
Similarities Between a Security Engineer and Security Analyst
One key characteristic shared by security engineers and security analysts is that there is no such thing as a typical workday in either job. When security firm Varonis surveyed professionals in both positions, respondents emphasized the need to stay flexible because security incidents don't occur on a predictable schedule. Other areas of similarity include:
Influence on a Company's IT Security Strategies
Security engineers and security analysts participate in all aspects of a company's data security planning and operation. While they both influence security strategies, security engineers focus primarily on building and maintaining the security architecture rather than on monitoring the organization's network once the security plan has been put in place.
Staying abreast of the latest in information technology (IT) and network security is paramount for security engineers to stay ahead of cyber criminals. Security analysts must also keep up with developments and innovations in data security because their duties include recommending security enhancements to management and senior IT staff.
Strong Analytical, Problem-Solving, and Communication Skills
Among the skills required for careers as a security engineer or security analyst are sharp analytical skills, attention to detail, problem-solving capabilities, and innovative thinking. Both positions play a role in documenting, defining, and communicating their company's security policies. This requires the ability to write reports and make presentations to staff and senior managers.
Degree in Computer Science or a Related Field
The BLS points out that to qualify for a position as a security analyst, candidates are typically required to have a bachelor's degree in computer science or a related field. A bachelor's degree in a computer-related area is also a prerequisite for most security engineer positions, according to Field Engineer.
Programs such as Maryville University's online Bachelor of Science in Computer Science degree can help students develop the knowledge and skills needed to excel in either role. Courses featured in the program's Cybersecurity Concentration include Ethical Hacking, Digital Forensics, Incident Response and Malware Analysis, and Virtualization and Cloud Security.
Differences Between a Security Engineer and a Security Analyst
Despite the overlap between the duties of and skills required for the two positions, security engineer and security analyst are two distinct professions. In fact, the differences between the careers explain why each plays a unique and valuable role in devising, implementing, and maintaining a company's information security strategy.
Security Engineers Design and Implement Security Systems
Staying ahead of cyber criminals is a cat-and-mouse game that never ends. That's why security engineers are always working to develop new approaches to security that keep their company a step ahead of malware authors and other would-be data thieves. While protecting current computer assets, they study and devise innovative methods for detecting and patching system vulnerabilities before criminals can exploit them.
Security Analysts Identify Potential Problems with Security Systems
Just as security engineers continuously improve their organization's data and network protections, security analysts never stop testing systems to ensure they are fully patched. Their work becomes more difficult as company networks and information systems expand to the cloud and various other platforms inside and outside the organization.
As Digital Guardian explains, security analysts are always on the front lines, analyzing system data to identify suspicious activity and breach attempts. They are also the first to respond to breaches when they do occur, racing to patch vulnerabilities and mitigate any damage to the company that may result. Security analysts are responsible for updating the company's incident response and disaster recovery plans.
Security Engineers Ensure Compliance with Government Regulations
With each passing year, the number of government regulations relating to the protection of data increases, as TechBeacon reports. This introduces new compliance risks for organizations while simultaneously increasing the expectations of stakeholders.
Security engineers are charged with ensuring their company complies with all data security regulations in their jurisdiction. They do so by integrating a compliance model across information systems in the organization so they can verify compliance in real time.
Security Engineers Address Issues Raised by Security Analysts
The area in which security engineers and security analysts work most closely together is identifying and addressing system vulnerabilities before criminals can exploit them, with security engineers acting on issues raised by security analysts. In addressing system vulnerabilities, both positions must collaborate with teams within and outside the IT department.
The need for interpersonal and communication skills runs counter to the image of computer professionals who work in isolation. That's why it's so important for security engineers and security analysts to gain a wide range of technical, analytical, interpersonal, and communication skills.
Preparing for a Career as a Computer Security Professional
There is no better way to lay the foundation for a career as a security engineer or security analyst than to earn a degree such as Maryville University's online Bachelor of Science in Computer Science, which teaches the technical, problem-solving, and critical-thinking skills both positions require. Students participate in projects that relate directly to the field, and they benefit from a modular design that adapts quickly to technology trends and innovations.
Discover more about how the online Bachelor of Science in Computer Science degree program puts students on the path to a successful career in computer security.
Recommended Reading
A Future in Tech: Software Development vs. Computer Science
Careers in Cybersecurity: Cryptography vs. Encryption
Security Engineer vs. Software Engineer: A Guide
Sources
CSO Online, "What Is the Cost of a Data Breach?"
Digital Guardian, "What Is a Security Analyst? Responsibilities, Qualifications, and More"
Entrepreneur, '4 Statistical Reasons Data Security Should Be a Top Priority for Small Businesses'
Field Engineer, "Information Security Engineer"
IBM, How Much Would a Data Breach Cost Your Business?
PayScale, Average Security Engineer Salary
TechBeacon, "Here's a Better Way to Do Compliance and Risk Management"
U.S. Bureau of Labor Statistics Occupational Outlook Handbook, Information Security Analysts
Varonis, "What Working in Cybersecurity Is Really Like: A Day in the Life"
Be Brave
Bring us your ambition and we'll guide you along a personalized path to a quality education that's designed to change your life.