How to Become a Social Media Manager
How to Become a Social Media Manager
How to Become a Social Media Manager
The way companies and the public interact with each other has radically changed because of social media. From a corporate standpoint, using these modern lines of communication isn't just a matter of posting something on the popular social media platforms of the day. Someone must smartly and carefully craft each message to have a positive impact on a company's existing and future client base.
Social media managers specialize in this work, and their capacity to send out the right messages at the right time has made them an increasingly indispensable part of corporate communication strategies. Because of this, it has become important for students interested in communications to know how to become a social media manager so they can be prepared to find success in this burgeoning career.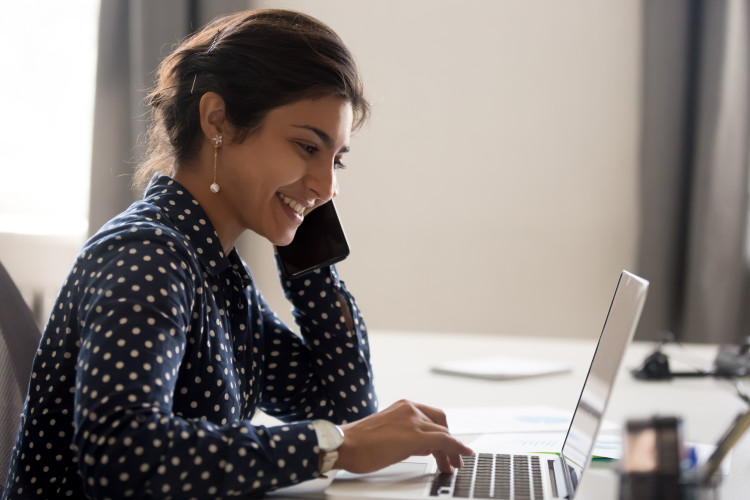 What Does a Social Media Manager Do?
Social media managers use social media platforms to communicate with the public and field any private messages sent to their companies. They facilitate interaction by strategically posting various types of content that reflect an awareness of current events and relevant trends that directly correlate to their companies' industries. Social media managers are also responsible for analyzing data to gauge the effectiveness of various communication strategies.
Additionally they must be able to recognize and engage in new and emerging social media platforms to help companies stay relevant. Some social media managers may also need to collaborate with third-party organizations, like public relations firms or event planners, to help promote an employer's event or specific cause.
Typical Steps to Become a Social Media Manager
Professionals usually attain the role of social media manager after they have worked in lower-level communications positions. The path to social media manager includes steps that are similar to those taken to build careers in other communications-based professions.
Step 1: Earn a Bachelor's Degree
Many employers prefer candidates who possess at least a bachelor's degree. While this level of education isn't always a requirement, a degree may indicate to an employer that an applicant has the discipline and skills to keep up with the demands of the social media manager profession. This is particularly relevant since the job requires people to be constantly active on different social media platforms.
Attaining a degree in liberal studies or marketing may provide the tools needed to be successful as a social media manager. However, pursuing a bachelor's degree in communication can give students the capacity to thrive in the position, as graduates have studied what it takes to connect with the public in a professional manner.
Some universities provide students with the chance to home in on the business side of social media. For instance, a Bachelor of Arts in Communication program might offer an emerging media strategy and social media concentration. This focus enables students to deeply analyze the ever-evolving social media market, along with how various patterns and trends shape business-to-consumer interactions in today's interconnected world. This concentration enables students to develop the creative and interpersonal skills necessary to succeed in a varied market.
Step 2: Build On-the-Job Experience
As previously stated, becoming a social media manager typically involves working up from an entry-level role. For this relatively new job in communications, this could mean starting out as a social media specialist, coordinator, or community manager. These opportunities can allow aspiring social media managers to gain hands-on experience with manager oversight. Eventually, social media specialists or coordinators and community managers can apply the lessons they've learned to a mid-level position, such as social media manager.
Those who want to become a social media manager can develop a practical understanding of corporate- or brand-related public interaction while on the job. Ideally, prospective social media managers can apply this understanding to developing strategies for cultivating and maintaining a solid social media following. The knowledge they gain through professional experience can also enable them to proactively use new and trendy forms of social media as these platforms grow in popularity. This latter aspect is a crucial element to succeeding in the role, as social-based technologies and platforms can change rapidly.
Step 3: Earn an MBA to Pursue Career Advancement (Optional)
Students wishing to eventually progress beyond the realm of social media manager may consider pursuing an MBA, particularly one with a marketing concentration. Doing so may put them in a position to pursue a senior communications role in a company, such as marketing manager or promotions manager.
Some Master of Business Administration programs offer a marketing concentration, which may include classes on social media, consumer behavior, and search engine optimization. These focused courses teach advanced marketing strategies that social media managers can use to create analytical campaign strategies, such as aligning a company's online presence to current and anticipated social media trends.
Skills a Social Media Manager Needs
While the role of social media manager may seem new because it focuses on recently developed communication techniques, the skills needed to succeed in the position are similar to the ones used in corporate communication.
Writing well and creatively is an essential function for this role. The social media manager helps build the online face of the company and therefore must exhibit a good command of the intended audience's language, including the appropriate tone and terminology. Social media managers also communicate in the voice that aligns with the company's overall message and principles so that interactions with the public are perceived as authentic and genuine.
Social media managers typically have strong project management skills, including the ability to meet deadlines. They often craft their communication to take advantage of audience size, time of day, and topic relevance. A social media manager should be able to produce and manage effective communication across multiple platforms in a timely manner to keep a company's online presence as prominent as possible.
Social media managers must also have a solid understanding of marketing fundamentals, such as interpersonal communication and analytical skills. Excellent critical thinking skills are necessary, as one poorly timed or careless post or tweet can severely damage a company's image.
Types of Social Media Management
As the use of social media as a business tool continues to expand, different types of social media management have emerged that have added further complexity to the role. These different management styles can play to the social media manager's particular skill set, and they can influence the kind of social media strategy that may ultimately be deployed.
The diverse types of social media management allow the profession to fit into different industries in different ways. Retail- and service-based companies, like clothing stores or fast-food chains, may want to hire social media managers who prefer to deploy a more engaging, interactive approach to social media. These industries may use social media as an extension of customer service, building a reputation as an interactive social media presence that actively engages with consumers. They may also employ social media managers who specialize in fielding and analyzing raw data from various sources to build campaign strategies around certain platforms or demographics.
To better inform and educate potential and current clientele, law offices or tech firms may use social media platforms to deliver content explaining complex terms and practices. These industries would be a good fit for social media managers who possess strong writing skills. Businesses aiming for a youth demographic, such as media and entertainment firms, may wish to work with a social media manager specializing in producing eye-catching multimedia posts. These companies might hire a social media manager with advanced technical and multimedia skills who may be more inclined to incorporate videos and graphics in their strategies, which could also enable them to specialize in visual social media platforms like Snapchat and Instagram.
Social Media Manager Salaries and Job Outlook
Because social media manager is a relatively new position, salary information for this field is vague. For instance, the U.S. Bureau of Labor Statistics doesn't have a specific classification for social media managers.
Entry-Level Social Media Manager Salary
PayScale lists the median entry-level social media manager salary at a little less than $40,000 per year. This metric is based on employees who have less than one year of experience in the role. PayScale also lists a median annual salary of around $60,000 for those who have earned around five to nine years of experience.
Social Media Manager Degree Path: Start Your Journey by Studying Communications
Social media has grown into an important link between a company and its customers. Learn more about Maryville University's online Bachelor of Arts in Communication program and its Emerging Media Strategy and Social Media concentration, which can help provide students with the skill set needed to confidently become the online voice of a company or brand.
Recommended Reading
Digital Marketing Trends Marketers Need to Know
The Evolution of Social Media: How Did It Begin, and Where Could It Go Next?
What Is Digital Media? All You Need to Know About This Booming Industry
Sources
Business.com, "4 Signs You Need to Hire a Social Media Manager"
Forbes, "When Should You Hire a Social Media Manager?"
Maryville University, Careers with a Communication Bachelor's Degree
Maryville University, Emerging Media Strategy and Social Media Concentration
Maryville University, Online Bachelor of Arts in Communication
Maryville University, Online Bachelor's in Communication Curriculum
Maryville University, Online Master of Business Administration (MBA) Curriculum
Maryville University, Online Master of Business Administration in Marketing
Be Brave
Bring us your ambition and we'll guide you along a personalized path to a quality education that's designed to change your life.