Computer Science Job Growth and Advancement Opportunities
Computer Science Job Growth and Advancement Opportunities
Computer Science Job Growth and Advancement Opportunities
In our increasingly technology-driven world, the field of computer science touches virtually every aspect of everyday life. Computer science may be formally defined as the study of computers and computing, a broad field that encompasses not just software and hardware, but also the programs and algorithms that make computers function, to say nothing of more advanced concepts like artificial intelligence (AI) and machine learning. Even more pragmatic and evolving concerns, such as cybersecurity, are encompassed by this field.
Given the fact that computers are central to daily life, and the expansive nature of computer science itself, it hardly comes as a surprise that this discipline provides ample opportunities for career advancement. No matter which type of computer science profession you pursue, an important starting point is to obtain the foundational education you need. Consider the upward trajectory of computer science job growth, plus ways to advance in this promising field.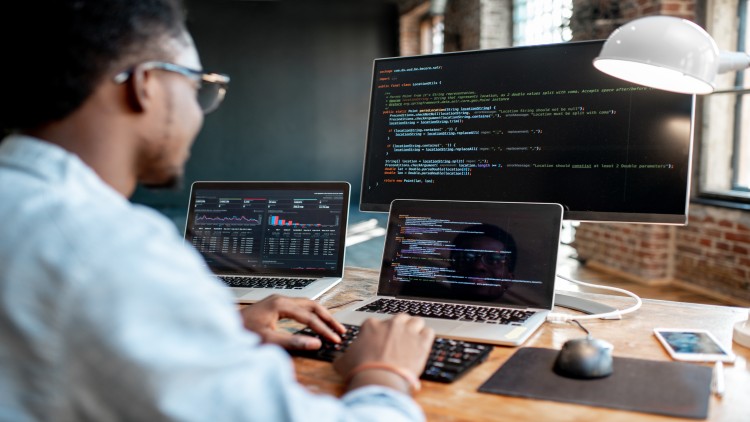 What Are Advanced Computer Science Careers?
There are a number of opportunities to leverage your knowledge of computer science to create a thriving, exciting career. Here are four examples of high-level computer science careers.
Database Administrator
The role of the database administrator is to create and organize systems that securely store data. A database administrator, for example, may be tasked with creating a system to securely keep track of customer shipping records or confidential financial reports. Database administrators also ensure that the stored data is accessible only to authorized users.
According to the U.S. Bureau of Labor Statistics (BLS), the annual median salary for this position was $98,860 in 2020. Salaries can vary depending on education and experience levels, employer type, and location, among other factors.
Information Security Analyst
The job of an information security analyst is to protect an organization's computer network from external and internal attacks. To succeed in this role, you must be prepared not only to implement a range of different cybersecurity practices, but to continually educate yourself on the ever-evolving tactics of hackers and cyber criminals.
BLS data shows the annual median salary for this position in 2020 was $103,590.
Software Developer
As a software developer, your job is to create the applications and programs that allow computer users to carry out various tasks. Software developers must have deep knowledge of underlying computing systems; they should also be prepared to conduct meticulous testing and quality control before their programs or applications are released.
Data from the BLS shows software developers earned an annual median salary of $110,140 in 2020.
Computer Network Architect
Another computer science career path to consider is the role of computer network architect. These professionals design and build digital communication networks, which can range from local area networks (LANs) to intranets. As a computer network architect, you may be asked to develop a simple system that connects two offices, or a more complex system that allows many different facilities and users to connect to the cloud.
For computer network architects, BLS data shows an annual median salary of $116,780 in 2020.
Computer Science Job Growth
There is tremendous potential for job growth in this profession. Those interested in pursuing careers in computer science can position themselves to take advantage of the robust growth across a wide range of career paths.
BLS data projects a healthy job outlook across high-level computer science professions. For example:
The database administrator role shows a job growth rate of 8% between 2020 and 2030, which is on par with the average for all professions combined (8%).
For information security analysts, the job growth rate is 33% over the 10-year period. This is much faster than average, which is evidence of the increasingly urgent nature of cybersecurity.
For software developers, the job growth rate is 22%, much faster than average.
The computer network architect role shows a job growth rate of 5%, which is a little slower than average, but still suggests a steady level of opportunities in this profession.
Benefits of Computer Science Career Advancement
There are a number of advantages that you can expect from advancing your career in the field of computer science. Consider just a few examples:
Economic benefits. By advancing your career, you can move into positions of greater authority and responsibility, which tend to come with higher salary ranges.
Cutting-edge opportunities. Advancing in the computer science world may also allow you to pursue a wider range of roles involving forward-thinking technology, such as designing and implementing new programs, improving data protection methods, or streamlining research processes.
Greater job satisfaction. Career advancement in computer science may ultimately mean more satisfaction in your work, as you will find more opportunities to tackle big problems or make a real-world impact.
How to Advance Your Computer Science Career
If you're interested in pursuing a computer science career, one of the essential steps is to earn a bachelor's degree in computer science. Doing so will allow you to hone the skills to succeed in this ever-changing field, including analytical skills, leadership, creative thinking, interpersonal competencies, and of course, strong technical acumen.
Prospective computer science professionals also can benefit from expanding their personal network. Consider attending an industry conference or event, or taking advantage of internship opportunities while pursuing your degree.
Finally, note that earning an advanced degree, such as a master's in computer science or information systems, plus gaining work experience in the field, can help you advance to higher-level positions, including management roles.
Some employers may require candidates for advanced positions such as information security analyst or computer network architect to have several years of experience in a related role, and some companies may prefer to hire candidates with at least a master's degree.
Building Tomorrow's Career Today
There is ample opportunity for computer science job growth, and the best way to take advantage of that opportunity is to pursue a comprehensive education. The Maryville University online Bachelor of Science in Computer Science program includes certificate and concentration options, allowing you to hone the skills to move forward in your career.
Learn more about how Maryville's computer science program allows you to focus your degree on one of six exciting fields: artificial intelligence (AI), blockchain, cybersecurity, data science, software development, or user experience/user interface (UX/UI).
Recommended Reading
Guide for Women in Computer Science: History, Roles, and Resources
How Blockchain Is Used in Education
Computer Science vs. Electrical Engineering
Sources
U.S. Bureau of Labor Statistics, Computer and Information Technology Occupations
U.S. Bureau of Labor Statistics, Computer Network Architects
U.S. Bureau of Labor Statistics, Database Administrators
U.S. Bureau of Labor Statistics, Information Security Analysts
U.S. Bureau of Labor Statistics, Software Developers, Quality Assurance Analysts, and Testers
Be Brave
Bring us your ambition and we'll guide you along a personalized path to a quality education that's designed to change your life.