How to Become a Business Analyst
How to Become a Business Analyst
How to Become a Business Analyst
Perhaps a Fortune 500 clothing manufacturer is expanding into a new international territory and wants to determine which technologies will be most beneficial for its global growth. Or maybe a startup that sells health and wellness products is considering pivoting into a new market and wishes to evaluate the potential risks. Regardless of size or industry, these companies and organizations rely on the knowledge and expertise of business analysts to develop analytical, data-driven insights and solutions to meet their business goals.
Business analysts are skilled professionals who can communicate their proposed strategies effectively and clearly to managers. They possess diverse technological skills and knowledge in areas such as computer networks and commercial databases. This role is challenging and rewarding for dedicated professionals with an analytical mindset who want to make a positive impact on businesses. For those who want to discover how to become a business analyst, the position requires an advanced education, strong analytical and technological skills, and a determination to succeed.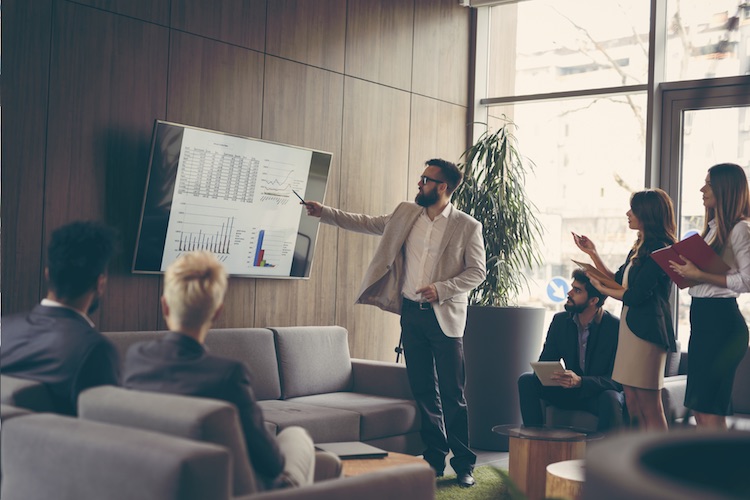 What Does a Business Analyst Do?
Business analysts, sometimes called management analysts, help their leadership teams make informed tactical decisions by providing them with useful data about their organizations. What business analysts do with the data they collect can vary, but they often work with information such as financial data, marketing statistics, and employee performance reports.
Analysts then use data processing tools to analyze the information they gather, packaging their key findings into easily consumable reports or presentations they can share with managers. Based on what they learn from the data, business analysts may propose various types of improvements that help the company operate more efficiently and effectively. Such contributions can lay the groundwork for breakthrough systems and procedures that help organizations achieve important goals.
Here are four ways that business analysts produce useful business insights from data:
Track Historical Data Through Descriptive Analytics
Most organizations already record volumes of historical data from daily transactions, customer interactions, and other general business activities. Descriptive analytics refers to the process of using this historical data to understand why changes have occurred in a business. This form of analytics relies on data aggregation and data mining to produce reports on past events. Although this is a fairly simple form of analytics that doesn't often extend beyond a surface-level analysis, descriptive analytics is useful for creating resources that can be used later in more complex forms of analytics.
Use Diagnostic Analytics to Answer Questions
When data scientists need to identify the reason a certain business outcome occurred, they use diagnostic analytics techniques to evaluate their descriptive data and find answers. In doing so, they may uncover areas of an organization that require further inspection, as analysts may find that the data they currently have on hand does not contain the answers they seek. Sometimes, analysts must also seek external data sources that will aid them in articulating why a certain event occurred. By reviewing as much data as possible, analysts are able to successfully recognize patterns, detect anomalies, and identify their causes.
Apply Prescriptive Analytics to Optimize Business Strategies
Prescriptive analytics focuses on evaluating the effect of potential decisions that could be made surrounding a particular business proposal or conflict by analyzing data, predictions, and benefits from choices currently available. According to IBM, prescriptive analytics can be used to meet business objectives in fields such as customer service, profits, and operational efficiency. Business analysts may use prescriptive analytics in designs or plans they present to management. They might also incorporate them into a particular process to help a company more efficiently manage personnel, equipment, facilities, and more.
Leverage Predictive Analytics to Plan for the Future
Predictive analytics uses historical data in conjunction with the other forms of data analytics to make evidence-based predictions about future outcomes. Analysts use the combined technologies of big data, data mining, statistical modeling, machine learning, and several other mathematical processes to sift through data, detect trends, and forecast events based on the parameters entered into the system.
Using these various forms of data science, business analysts help their employers find answers that organizations can use to maintain stability and foster growth.
Where Does a Business Analyst Work?
Part of learning how to become a business analyst involves understanding the settings and industries where these analysts work. According to the U.S. Bureau of Labor Statistics (BLS), the largest employers of management analysts in 2018 were:
Professional, scientific, and technical services (30%)
Self-employment (18%)
Government organizations (16%)
Finance and insurance companies (11%)
These analysts may work as consultants or employees, spending their time in an office or on-site with clients.
Skills to Become a Business Analyst
There is a range of skills and competencies that business analysts can develop for success in their careers. Key business analyst skills include:
Communication. Business analysts must be able to clearly convey their analyses to managers and teams in written reports and spoken presentations. They are also responsible for communicating how this information can drive new strategies and initiatives that meet an organization's goals.
Analytical skills.
Problem-solving. Analysts must be able to read between the lines of quantifiable data and find creative solutions to business challenges.
Technical skills. Business analysts use complex and evolving technologies to automate processes and streamline data analysis.
Business Analyst Degree Requirements
The BLS states that management analysts typically have at least a bachelor's degree. The specific degree one pursues depends on the area they wish to specialize in, but aspiring business analysts commonly choose to study business analytics or business administration. While business analytics degree programs are likely to feature coursework about theory and the application of an analytics-oriented education, an online Bachelor of Science in Business Administration program typically offers students the option to study business from a more holistic perspective.
Maryville University's bachelor's in business administration, for example, features business courses that cover a wide range of subjects, including finance, marketing, and operations. Having knowledge of these subjects, as well as several years of business experience, should prove helpful to graduates looking to qualify for business analyst jobs.
While some employers may prefer hiring applicants with a graduate degree, such as a Master of Business Administration (MBA), bachelor's degree holders can also earn postgraduate certifications that will enhance their qualifications. For example, the Institute of Management Consultants' Basic Certified Management Consultant certification is available to business analysts who have a minimum of three years' experience, five satisfactory client evaluations, and a bachelor's degree. Having professional credentials may help experienced analysts build their networks and advance their careers.
Business Analyst Salaries
Business analyst salaries vary greatly depending on level of education, industry, geographic location, and specific job description. According to the BLS, management analysts, such as business analysts, had a median annual salary of $85,260 in 2019. Analysts working for professional, scientific, and technical services companies had the highest median wage at $91,160, while those working for government organizations had a median salary on the lowest end of the spectrum at $79,720.
Employment Outlook for Business Analysts
Individuals who understand how to effectively collect and manipulate data are in demand throughout various professional industries. For example, the BLS expects the fields of cybersecurity and healthcare to see significant increases in their need for analysts. The BLS predicts a 14% growth in the number of available jobs between 2018 and 2028.
Pursue a Career as a Business Analyst
As business analysts advance in their careers, they may qualify for higher-level positions in management and consulting. Higher education is an important step on the path toward a potential job in this field, and finding the right degree program is critical. Maryville University's online Bachelor of Science in Business Administration prepares students to provide valuable strategic support for their future organizations by using data analysis to tackle complex business problems.
Recommended Reading
Exploring Entrepreneurship: Starting and Operating a Small Business
Sources
Analytics Insight, "Four Types of Business Analytics to Know"
Forbes, "Predictive Analytics Terms Business People Need to Know"
Institute of Management Consultants, Certified Management Consultant Certification
Be Brave
Bring us your ambition and we'll guide you along a personalized path to a quality education that's designed to change your life.