Industries of the Future: Finding Careers in High Demand
The U.S. workforce is changing. Key forces driving its transformation include ongoing advances in technology, an aging population, and a shift in energy consumption in response to climate change. While the technological, social, and economic factors reshaping future industries and the labor force present challenges for workers and employers alike, they also create exciting career opportunities for those who prepare to meet them.
Robots and automation, for example, are predicted to displace some 20 million manufacturing jobs by 2030, according to a study by Oxford Economics. However, automation has the potential, over time, to create as many positions as it destroys, including good jobs that require advanced technical skills to run the robots.
In what may be the biggest seismic shock to the labor force since the industrial revolution, COVID-19 is reshaping how and from where many Americans work. Furthermore, the pandemic caused upward of 47 million people to leave their jobs in 2021 — part of the period now known as "The Great Resignation." The healthcare system, especially, underwent unprecedented stress, causing many healthcare workers to drop out of the field. This created new opportunities, however, for job seekers looking to enter it.
By many measures — including today's historically low unemployment rate — the future has never been brighter for job seekers and students who are equipping themselves for exciting careers by pursuing a quality education.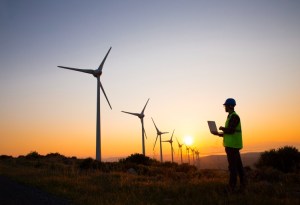 Four Future Industries Offering Big Opportunity
The pandemic, the climate crisis, and advances in digital technology are causing some industries to boom and others to wither, changing the careers in demand for the future. The biggest boom is in the healthcare sector, which is projected to add 2.6 million jobs from 2020 to 2030, more than any other occupational group, according to the U.S. Bureau of Labor Statistics.
Other future industries offering bright opportunities include cybersecurity and renewable energy. The BLS projects the industries listed below to experience above-average growth by 2030. Each opens doors for people entering the job market or looking to advance their careers.
Healthcare
The aging population, expanded technology, and the pandemic are driving the surge in demand for healthcare practitioners. By some estimates, as many as 1 in 5 healthcare workers quit their jobs in 2021, and many more are either considering quitting or approaching retirement age. Among healthcare providers, nurse practitioners top the BLS' list of the 20 fastest-growing occupations with a job growth rate of 52% between 2020 and 2030.
Nurses with advanced or specialized skills such as nurse anesthetists, nurse midwives, and nurses with doctoral degrees are helping mitigate a national shortage of doctors. Other healthcare practitioners on the BLS list of occupations with bright employment prospects include occupational therapy assistants and physical therapist assistants.
Career opportunities in the $3 trillion U.S. healthcare industry abound in management and administrative roles. Jobs for medical and health services managers are surging at a rate of about 32% from 2020 to 2030, according to the BLS.
As Americans continue to rely on generalized healthcare, specialized care, and home healthcare into the future, the healthcare and health services management fields will continue to dominate employment in the U.S.
Information Security
In our digital economy, companies rely on vast computer database systems to store sensitive personal and commercial information, exchange data, and conduct business. This trove of valuable data is a prime target for hackers seeking to commit cyber crimes.
A digital security breach not only costs companies more than money but also threatens a company's reputation and its customers' privacy. Businesses seek the skills and experience of information security analysts to ensure their security.
Information security professionals help prevent cyberattacks. They do so by developing infrastructure compliant with security standards. They also prepare for and respond to threats by developing software that can respond as threats happen. In addition, information security professionals continually test systems to ensure their efficacy and verify security protocols.
They may also interact with and educate others in their companies to make sure everyone understands the best practices that keep their sensitive information safe. In recognition of their important role, the BLS anticipates companies will generate 47,100 new information security analyst positions between 2020 and 2030, representing a job growth rate of 33%.
Renewable Energy
The nation's transition from fossil fuels to renewable energy sources like wind and solar in response to global warming is creating thousands of jobs, including two occupations that appear on the BLS list of top occupations for employment growth.
Job growth for wind turbine service technicians is projected to be 68% between 2020 and 2030, an increase of 4,700 jobs. Technicians who maintain and repair wind turbines work outdoors, often high off the ground.
Solar photovoltaic (PV) installers install and maintain systems that convert the sun's rays into energy. The BLS projects 52% job growth for these professionals between 2020 and 2030, adding 6,100 jobs.
Manufacturing
The $6 trillion U.S. manufacturing sector is vast, varied, and home to many in-demand occupations. As factories become increasingly automated, demand for workers with advanced technical skills is rising, widening an existing skills gap.
The pandemic and supply chain challenges exposed the danger of relying too heavily on imports, creating an unparalleled opportunity for U.S. manufacturers to bring jobs home — a movement known as reshoring. After adding 349,000 new jobs in 2021, employment in the U.S. manufacturing sector continues to grow.
Employers seek individuals with a variety of skill sets for roles in engineering, fabrication, operations, and logistics. An industry with a bright future, manufacturing needs people who are proficient in new technology.
Preparing for Industries of the Future
Along with seeking practical career advice for graduates, students looking to transform their college experience into gainful employment will want to watch industries poised for big growth.
Healthcare, information security, renewable energy, and manufacturing stand out among many industries expected to offer workers healthy paychecks, opportunities for advancement, and a degree of job security in the future. Each of these career paths offers significant opportunities to use professional skills and pursue unique interests, whether as nurse specialists, wind turbine technicians, or industrial engineers.
To prepare for the job market of the future, start with a foundational education that anticipates industry demands. Explore the host of online degree programs at Maryville University, and learn how to deepen your understanding of the needs and technologies of growing industries.
Recommended Reading
A Conversation with an Enrollment Advisor on Nursing Programs
Maryville University and Monster Worldwide Reveal New Data on Upskilling and Reskilling Needs in the Workforce
Maryville University Is Focused on the Future with Its Latest Tech-Focused Online Programs in Artificial Intelligence and Blockchain
Sources
Alliance for American Manufacturing, "Factory Job Growth is Off to a Solid Start in 2022. Will it Continue?"
Exploding Topics: "20 Fastest-Growing Careers (2022)"
IBISWorld, Manufacturing in the US – Market Size
IBISWorld, Healthcare and Social Assistance in the US – Market Size 2005–2027
Indeed, "12 Fastest Growing Industries in the U.S."
Oxford Economics, "How Robots Change the World: What Automation Really Means for Jobs and Productivity."
Primary Care Collaborative (PCC): "Nearly 1 in 5 Health Care Workers Have Quit Their Jobs During the Pandemic"
PwC, Workforce of the Future: The Competing Forces Shaping 2030
U.S. Bureau of Labor Statistics, Fastest Growing Occupations
U.S. Bureau of Labor Statistics, Medical and Health Services Managers