How to Become an Account Executive
How to Become an Account Executive
How to Become an Account Executive
While the origin of advertising in the U.S. can be traced to the 18th century, modern advertising became an integral aspect of society in the 1920s. Since then, the field has evolved and expanded, yielding a variety of careers. Individuals can pursue jobs in a range of roles, including as creative directors, brand strategists, marketing directors, media planners, art directors, and account executives. Professionals in each role contribute to the overall success of a collaborative advertising team.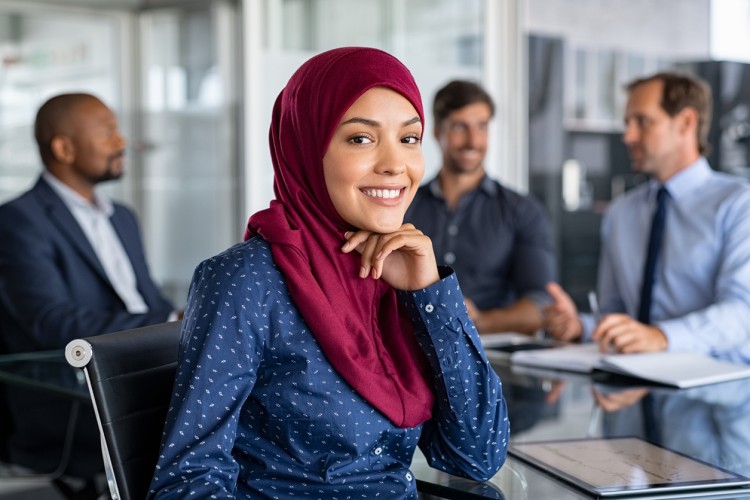 Account executives serve as the bridge between clients and an agency's advertising team. As account executives organize and oversee teams, it is essential for them to demonstrate certain competencies. Earning an advanced degree in communication can help individuals learn key skills to prepare for a career as an account executive.
Students who are interested in an advertising career and want to learn how to become an account executive would do well to explore the online master's in strategic communication and leadership program at Maryville University.
What Does an Account Executive Do?
Working as an advertising account executive requires a full-time schedule in an office setting. Account executives may contribute to day-to-day administrative duties, but the core of the job revolves around developing relationships with new clients and maintaining ongoing relationships with existing ones. Account executives regularly meet with clients to discuss projects and products. Pitching ideas and proposals to clients and outlining strategies are essential aspects of the job.
The process of becoming an account executive relies on the ability to demonstrate relationship-building skills in the workplace. Account executives are in charge of acquiring new clients, drawing up contracts, and cultivating ongoing business through constant communication. They also work to develop effective relationships with the members of their advertising teams, encouraging the open flow of ideas and designs.
After determining their clients' needs, account executives communicate those needs to their agency, leading meetings with marketing and advertising teams to establish budgets and brainstorm campaigns. Establishing focus groups to formulate marketing strategies helps account executives assemble ideas into a creative portfolio that they present to clients. They pitch different business strategies and plans to determine a client's vision for a project, then oversee and manage the negotiations and processes to deliver time-sensitive projects.
Steps to Become an Account Executive
A student or professional who is interested in how to become an account executive can benefit from understanding the education and experience requirements for the position.
Individuals aspiring to become account executives can begin their professional journey by earning a bachelor's degree in marketing, communication, business administration, or a related field. In addition, most employers wish to hire individuals who have practical marketing or advertising experience, which students can gain through completing an internship during college. Interning at an advertising agency can help students gain credibility, develop their resumes, and secure references for future full-time positions. Some agencies may offer entry-level jobs that include on-the-job training.
Working in an entry-level advertising job such as administrative assistant may not be someone's ultimate career goal, but it can help pave the way toward more advanced roles. To become an account executive, individuals should have relevant experience as well as exhibit a certain set of skills, including communication, organization, professionalism, marketing knowledge, and creativity.
Rising to the level of account executive in an advertising or marketing agency depends on several factors. As the field becomes increasingly competitive, employers are more likely to seek out leaders and managers who have a postgraduate education. Earning a master's degree in advertising, communication, journalism, business administration, or marketing can help set job candidates apart.
Employment Outlook and Salary of an Account Executive
According to the U.S. Bureau of Labor Statistics (BLS), account executives — who are categorized as advertising and promotions managers — earned an annual median salary of $125,510 in 2019. Those in the lowest 10% of the profession earned less than $61,930, while those in the top 10% earned more than $208,000. Salaries may vary according to experience and skills, company or advertising agency, and education level.
Professionals who are working in the field can prepare to advance their careers and potentially earn higher salaries by earning an advanced degree, such as a master's in strategic communication and leadership. The BLS reports the job outlook for advertising, promotions, and marketing managers is stronger than average, with positions in the field projected to grow by 6% between 2019 and 2029.
Earn a Master's Degree in Strategic Communication and Leadership
Both students who are pursuing undergraduate degrees and professionals who are already working in advertising can set their sights on a career as an account executive. Furthering their knowledge with an advanced degree can be an important step.
Those who are interested in becoming account executives may wish to consider Maryville University's online Master of Arts in Strategic Communication and Leadership program. With an experience-driven curriculum offering courses such as Interpersonal Management Skills, Consumer Behavior, Branding, Project Management, Global Business, and Strategic Marketing, Maryville University helps students acquire the tools to succeed in the fast-paced world of advertising.
Discover today how a master's degree in strategic communication and leadership can help you pursue your professional goals.
Recommended Readings
Strategic Communications vs. Public Relations
What Is Public Relations? | The Meaning of PR
Sources
The Balance Careers, "Advertising Agency Account Executive Job Description"
MDG Advertising, "A Brief Look at the History of Modern Advertising"
Media Bistro, "What Does an Account Executive Do?"
Robert Half, "Advertising Account Executive Salary and Job Description"
Sales Hacker "What Is an Account Executive? Skills, Salary, Responsibilities and More"
U.S. Bureau of Labor Statistics, Advertising, Promotions, and Marketing Managers
Be Brave
Bring us your ambition and we'll guide you along a personalized path to a quality education that's designed to change your life.