Crafting a Company's Voice: How to Become a Communications Director
Crafting a Company's Voice: How to Become a Communications Director
Crafting a Company's Voice: How to Become a Communications Director
Imagine this scenario: A pharmaceutical company stumbles across a drug it can repurpose to address late-stage lung cancer. The research and trials are promising, drawing the attention of the media. The company makes a statement about the findings to shareholders and social media. It must get the word out to its thousands of employees and update its website, focusing on the progress and ingenuity of the team that made the discovery. The public and the healthcare community celebrate the news, and the company's reputation grows — all thanks to the communications director.
The individual in this critical role serves as the voice of a company, unifying its message so it's clear, consistent, and compelling. Keep reading to learn more about how to step into a communications director position.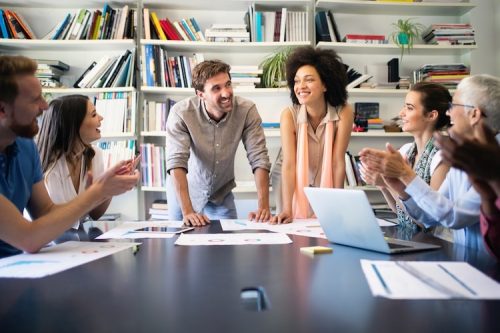 What Does a Communications Director Do?
Communications directors are experts at communications in all its nuanced forms, from written press releases to speeches delivered at public events. What communications directors do is high-level leadership regarding messaging and outreach. They oversee both external and internal messaging, and they manage other staff who work in communications or public relations. In a large company, a public relations specialist might draft a press release; however, the communications director would review it before release and make sure it aligns with the company's overall messaging vision and outreach strategy. It is this high-level consideration of a company's brand and values and how they are expressed verbally and in writing at all levels, both in internal memos and outgoing messages, that sets a communications director apart from other communications strategists.
Communications directors need to be versatile, quick-thinking, able to communicate effectively both verbally and in writing, and productive in a high-pressure, fast-moving environment. In larger companies, they lead teams of communications specialists and support staff who develop content while they set the branding, voice, and tone. In smaller companies, communications directors are responsible for both the message and its delivery, including writing content. In certain situations, they might also be responsible for social media messaging and need to be well-versed in social media and have some skill with graphic design.
Steps to Become a Communications Director
While there is no professional licensing or state requirement for becoming a communications director, candidates can take certain steps to prepare to qualify for such a position.
Earn a Bachelor's Degree
A bachelor's degree in communications, public relations, or another communications-driven major, such as English or history, offers a strong start for those hoping to step into the role of communications director. Candidates can also benefit from a degree in business, as the coursework can teach students to understand how to set and meet long-term goals, as well as work with a team. Critical skills earned during undergraduate study include written and verbal communication, public speaking, deadline management, and critical thinking.
Gain Experience in the Workforce
Some undergraduate programs include an internship component, which provides an excellent opportunity to experience day-to-day life in a communications department. After graduation, students can pursue a career in communications as a content writer or social media manager, or in an administrative role. During this time, they can see how organizations handle issues in the real world, rather than in a classroom, while simultaneously making business contacts and honing their skills.
Earn a Graduate Degree
In pursuit of becoming a communications director, many candidates earn an advanced degree, such as Maryville University's online master's in strategic communication and leadership. Courses in global and intercultural communication, organizational leadership, and issues and crisis management help students handle fast-paced situations, communicate complex ideas effectively, and deliver a coherent message designed to bring people together and solve problems.
Communications Director Salary
Glassdoor reports communications directors earn an average of $90,000 per year in compensation for their multifaceted leadership positions. An advanced degree in communications, such as a master's in strategic communication and leadership, could help increase candidates' salary potential. Note that pay rates depend on many factors, including work environment, years of experience, geographic location, and education level.
Employment Outlook for Communications Directors
The U.S. Bureau of Labor Statistics (BLS) projects the job market in media and communications to grow 6% between 2016 and 2026, adding 43,200 jobs during the decade. It attributes this job growth to an increased need for content creation across the many media platforms in use today.
Learn More About How to Become a Communications Director
Learning how to become a communications director and what a communications director does is the first step toward a challenging, exciting career that requires leadership skills, teamwork, vision, and creativity. If you're seeking the chance to communicate with both internal and external parties and to craft a message that resonates with its intended recipients, this may be the right career for you. See how Maryville University's master's in strategic communication and leadership can set you on the path toward a fulfilling role as a communications director.
Sources
Beck Technology, "A Day in the Life of a Director of Marketing and Communications"
Glassdoor, "Communications Director Salaries"
The Guardian, "How to Become a Director of Communications"
The Muse, "How to Break into the Communications World"
U.S. Bureau of Labor Statistics, Media and Communication Occupations
U.S. Bureau of Labor Statistics, Public Relations Specialists
Be Brave
Bring us your ambition and we'll guide you along a personalized path to a quality education that's designed to change your life.