How to Become an IT Manager
How to Become an IT Manager
How to Become an IT Manager
Companies are spending more than ever on information technology (IT) resources, which include IT devices, software, and services. According to recent reporting from Gartner, worldwide spending on IT is expected to reach $4.5 trillion in 2023, which is a year-over-year increase of approximately 2.4%.
Organizations of all sizes rely on computer networks to store valuable information, run important work applications, and allow employees to collaborate and communicate. Standard work operations can grind to a halt in the face of a network outage or a lack of proper IT resources and personnel. Organizations that recognize the importance of IT are starting to invest heavily in IT managers, making the job one of the fastest-growing roles in the tech industry.
So, what is an IT manager? They are the backbone of the entire information technology network of an organization. In addition to overseeing IT department personnel, they ensure computer networks are correctly orchestrated and maintained so employees can go about their normal work activities. For those wondering how to become an IT manager, getting an advanced education that teaches the most in-demand IT and leadership skills is a great place to start.
What Is an IT Manager?
An IT manager is an individual in charge of overseeing IT operations. That includes running the day-to-day operations as well as conducting administrative tasks, such as creating work schedules and writing job descriptions for open IT roles. IT managers also bridge the communication gap between the IT department, organizational leadership, and other department managers. IT managers also must convey complex information to those without an IT background in a way that they can understand.
IT Manager Job Description
Although the role of an IT manager may differ by organization, the following duties will typically be part of an IT manager's job description:
Recruit, interview, hire, and onboard IT professionals for the department
Oversee the day-to-day operations of the IT department, ensuring that every team member is on task
Evaluate the job performance of IT professionals and provide them with coaching
Develop department policies that promote workforce efficiency and increased productivity
Keep the organization informed about IT events that may affect them, such as a planned outage or software update
Create a budget for the IT department and monitor company-related spending
Develop business relationships with vendors of hardware such as computers, routers, and accessories
Develop a response plan for each potential network issue so that downtime is minimal
Develop a strategy for performing network/software upgrades with the least amount of interruption
Remain up to date on burgeoning technologies that may potentially benefit the organization by saving time, cutting costs, or making operations run more smoothly
Consult with managers of other departments about their IT needs
IT Manager Skills
To be successful in the role, IT managers need a certain set of hard skills and soft skills. First, they must have a comprehensive knowledge of computers, computer networking, software, and other technical equipment and concepts. While IT employees perform the majority of IT tasks, an IT manager steps in when employees need assistance or have a pressing issue.
In addition to technical skills, successful IT managers also have:
Communication and public speaking skills that apply to both IT professionals and those with limited IT knowledge
Administrative skills, such as the ability to balance a budget, keep the department organized and maintain inventory of IT equipment
Project management skills that ensure work tasks are assigned to the right people and addressed in their order of priority
A strategic mind that is always aware of potential network issues, how to prevent them, and how to solve issues that could not be prevented
Active listening, empathy, and conflict management skills, are essential when working with employees who have personal issues or issues with coworkers
Leadership skills that allow managers to motivate their employees so the department can accomplish its goals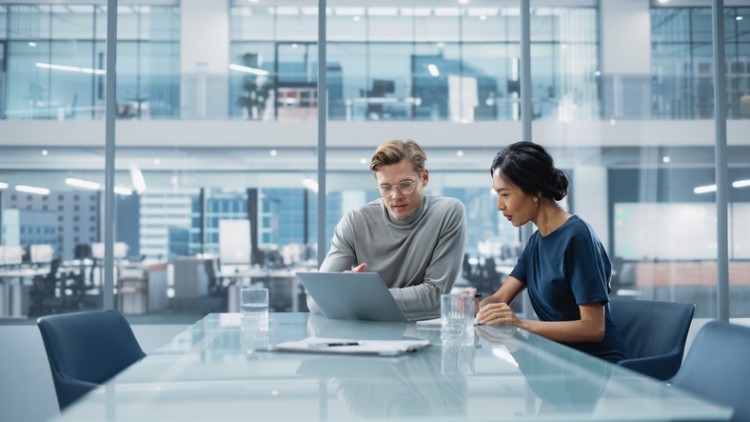 Steps for How to Become an IT Manager
The journey to becoming an IT manager isn't standardized across the board; however, there are certain key steps an individual should take when considering a job in the field. When devising how to become an IT manager, the following educational and career steps should be considered:
Earn an Undergraduate Degree
Individuals aspiring to become IT managers should earn a bachelor's degree in computer science, information technology, management information systems, or a related field. Coursework should include software development, advanced mathematics, and computer programming. It's also recommended to take some business classes for the administrative and managerial components of being an IT manager.
Gain Experience
New IT professionals should secure entry-level employment or gain experience through an internship. The best way to learn the field of IT is by doing the work and learning from those with more experience. IT managers can benefit from starting as a support specialist, help desk technician, or other entry-level role before rising through the ranks.
Earn an Advanced Degree
IT managers often earn a master's degree in a field such as information technology management or business administration. It's worth noting that some MBA degree programs, such as Maryville University's online MBA, offer an IT concentration, which can be a promising path to examine when considering how to become an IT manager. Many IT workers can balance their careers with coursework while pursuing an online graduate degree, as online programs are less demanding from a scheduling and logistical standpoint.
Develop Advanced Expertise
Aspiring IT managers should develop essential skills and competencies by gaining experience in advanced IT roles. Although earning a master's degree is a critical step to becoming an IT manager, most organizations require candidates to have several years of experience in mid-level and senior IT roles before they can become managers. Running a small team or mentoring entry-level IT professionals can help one build essential competencies and demonstrate leadership skills in the workplace.
Earn Relevant Certifications
IT is a field that is constantly evolving, which means that IT professionals must always be willing to learn new technologies and skills. One way to demonstrate proficiency in an area of IT is by earning certifications, which demonstrate how an IT professional has learned specific skills and knowledge.
With the right education, the proper amount of experience, relevant certifications, and the demonstration of leadership skills, IT professionals can start applying for IT management positions.
IT Manager Salary and Career Outlook
IT managers are well compensated and have a solid career outlook. According to the U.S. Bureau of Labor Statistics (BLS), computer and information systems managers made a median annual salary of $159,010 in 2021. The highest 10% of earners made closer to $208,000. When examining the IT manager salary, it's important to note that factors such as education, experience, region, and employer can influence salary levels.
Regarding career outlook, the BLS projects positions for computer and information systems managers to grow by 16% between 2021 and 2031, which is much faster than the national average of 5% growth for all occupations. Additionally, the BLS predicts a significant employment change, with approximately 82,400 new upper-level IT roles over the time period.
Pursue an IT Manager Career
IT managers are critical members of their organizations. They ensure that hardware and software are operational for employee use and that the computer networks remain uninterrupted. As technology continues to grow and evolve, the need for competent and experienced IT professionals will also increase in the coming years.
For those interested in how to become an IT manager, the best first step is to consider your educational path. Not only must it involve a curriculum that teaches the knowledge and skills required for an upper-level role in IT, but it also should accommodate a busy schedule. The online Master of Business Administration program offered at Maryville University can meet these requirements.
The program is conducted 100% online, which allows for a flexible learning schedule with no required campus visits. Additionally, the program has six different start dates per year, which means it's easier than ever to find a convenient enrollment time.
Maryville's online MBA program curriculum consists of nine core courses (27 credit hours), which include:
Business Ethics
Organizational Behavior and Development
Legal Environment of Business
Strategic Marketing
Global Business
Business Economics
Accounting for Managers
Corporate Financial Policies
Business Policies (capstone course)
An additional nine credit hours is required for the generalist track or twelve credit hours for a concentration. The MBA program is offered in 12 concentrations; however, the most applicable to the field of IT include data analytics, cybersecurity, and information technology.
Learn more about the program so you can determine whether an online MBA aligns with your professional pursuits. Contact our university with any questions you may have regarding which MBA program is best for you and your career ambitions. 
Recommended Reading
IT vs. OT: Differences and Similarities
Versatile Management Development: Executive MBA vs. MBA
Sources:
Brainhub, 8 Top Management Certifications for IT Managers
Gartner, "Gartner Forecasts Worldwide IT Spending to Grow 2.4% in 2023"
Indeed, "How To Become an IT Manager" Indeed, "IT Manager Job Description: Top Duties and Qualifications"
U.S. Bureau of Labor Statistics, Computer and Information Systems Managers
Be Brave
Bring us your ambition and we'll guide you along a personalized path to a quality education that's designed to change your life.