Sustainability Specialist Job Description
Sustainability Specialist Job Description
Sustainability Specialist Job Description

Organizations around the globe integrate sustainability into their business models. Improving sustainability is about more than reducing carbon footprints. It's also about making a positive impact on society.
For example, automaker Tesla now produces an annual impact report that outlines the influence its operations and products have on the environment and communities. Tesla believes that the sooner the world stops relying on fossil fuels and looks toward a zero-emissions future, the better.
According to Nike's Sustainable Business Report, 75% of the company's shoes and apparel contain at least some recycled material. Shoe soles and basketball courts are just two of the products Nike creates by transforming manufacturing scraps and plastic bottles into new materials.
Individuals interested in pursuing a career that allows them to craft and implement sustainability programs are likely to be drawn to a role as a sustainability specialist. In addition to helping businesses research regulatory requirements that may impact their operations, sustainability specialists also design and oversee initiatives to help businesses reduce their energy and resource use.
Although entry-level employment in this field may be available to candidates who have completed a bachelor's degree in a related field, such as an online Bachelor of Science in Sustainability, those who wish to pursue advanced roles may need to complete additional education.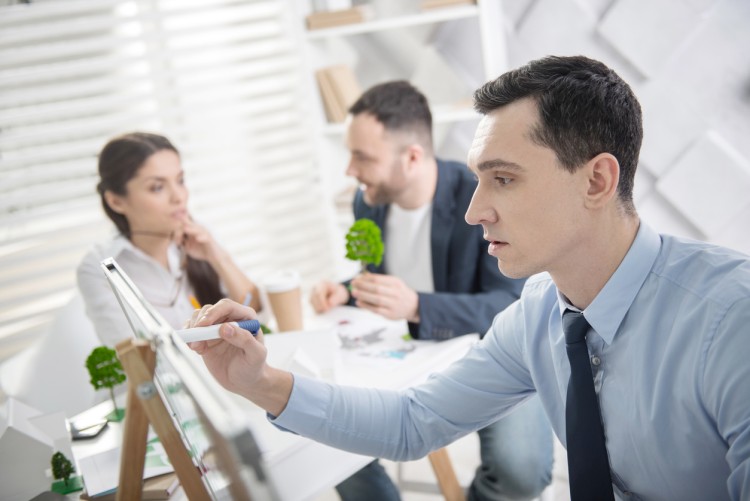 Sustainability Specialist Duties and Salaries
The job description for a sustainability specialist varies given the organization. Typical duties include:
Creating and developing an organization's short- and long-term sustainability strategies
Researching regulatory compliance requirements that impact company operations
Drafting and implementing social responsibility initiatives, such as sock company Bombas' "buy a pair, donate a pair" initiative, wherein the company donates one pair of socks to homeless shelters for every pair purchased
Monitoring and evaluating the effectiveness of sustainability programs, and when needed, recommending changes to close strategic gaps
Partnering with vendors that are committed to furthering green initiatives
Organizing company-wide environmental volunteer activities, such as beach cleaning or planting dune grass
Researching ways that a company can reduce its carbon footprint, such as switching its fleet vehicles from gas to electric
Researching ways to incorporate recycled materials into a company's production line
Developing communication materials for staff regarding a company's sustainability goals
Tracking sustainability strategies' financial efficiency
Salary ranges for professionals who choose this career path vary based on years of experience and organization size. However, April 2020 data from PayScale indicates that the entry-level salary for sustainability specialists starts at $45,000 per year, with a median annual salary of $59,754.
Work Settings for Sustainability Specialists
Sustainability specialists may work in a variety of settings, including the following:
Industrial manufacturing facilities: In this setting, sustainability specialists may be asked to conduct research about changes in environmental regulatory codes.
Utility companies: Sustainability specialists who work at utility companies may be tasked with measuring air and water emissions.
Colleges, universities, and research institutions: Higher education and research institutions employ sustainability specialists who may evaluate energy use and determine the ways that green energy sources, such as solar power, can help facilities be more environmentally friendly.
Federal, local, and state governmental institutions: Individuals who are tasked with sustainability projects at federal, local and state governmental institutions may be involved in drafting and presenting environmental compliance reports to internal and external stakeholders.
Retail corporations: In this setting, sustainability specialists may be asked to calculate the amount of energy consumed during various manufacturing processes.
Although professionals in this field generally work full time in an office, industrial plant, or laboratory, they may spend time working off-site. Examples include engaging in company-sponsored volunteer activities and visiting manufacturing facilities to monitor operations.
Fundamental Skills of a Sustainability Specialist
Aspiring sustainability specialists should develop and hone the following skills:
Analytical skills: Professionals on this career path go through documents, evaluate the performance of various initiatives, and conduct research on changes to environmental regulatory procedures. They need strong analytical skills to identify relevant data.
Communication skills: Sustainability specialists often prepare progress reports for a company's internal and external stakeholders. Accordingly, they need strong written and verbal communication skills.
Leadership skills: Pushing for change is often difficult. In some cases, an organization and its staff resist change. Strong leadership skills help sustainability specialists ensure that changes happen.
Problem-solving skills: Sustainability specialists must understand how to identify and remedy problems by finding creative solutions. They also need to develop strategies designed to forward a company's sustainability initiatives.
Your Path Toward a Career as a Sustainability Specialist
Individuals drawn to positions that align with a sustainability specialist job description must start by developing the knowledge and skills they'll need to be competitive. Earning a bachelor's degree in a related field, such as Maryville University's online Bachelor of Science in Sustainability, is a key step toward advancing your goal of becoming an environmental steward.
Let's be brave together. Discover how Maryville's online Bachelor of Science in Sustainability can prepare you for the job you want.
Sources
Allegheny County, Sustainability Specialist
CEO Magazine, "The Value of Sustainability to Business"
Conagra Brands, Sustainability Specialist
ECO Canada, Sustainability Specialist
MDPI, "Key Issues for Implementation of Environmental Planning Policy: Construction Management Practice"
Nike, "Nike's Latest Sustainable Innovations and Environmental Impact"
PayScale, Average Sustainability Specialist Salary
Be Brave
Bring us your ambition and we'll guide you along a personalized path to a quality education that's designed to change your life.