How to Become a Hydrologist: Salary & Job Description
How to Become a Hydrologist: Salary & Job Description
How to Become a Hydrologist: Salary & Job Description

At a time when global cultural awareness of the planet's health is at its zenith, individuals with ecological sensibilities are needed to preserve that health. According to the United Nations, 80% of global wastewater is siphoned back into the environment, polluting rivers, lakes, and oceans. With water being the most essential element to the cultivation and continuation of life, a career maintaining and managing that water is one of the most critical among the geological sciences.
With sustainability practices continuing to develop and the demand for industry professionals projected to rise through the next decade, a career as a hydrologist is a good option for students interested in the environment and sustainability. If you're wondering how to become a hydrologist, an online degree such as a bachelor's in sustainability can help equip you for success in the competitive, satisfying realm of water science.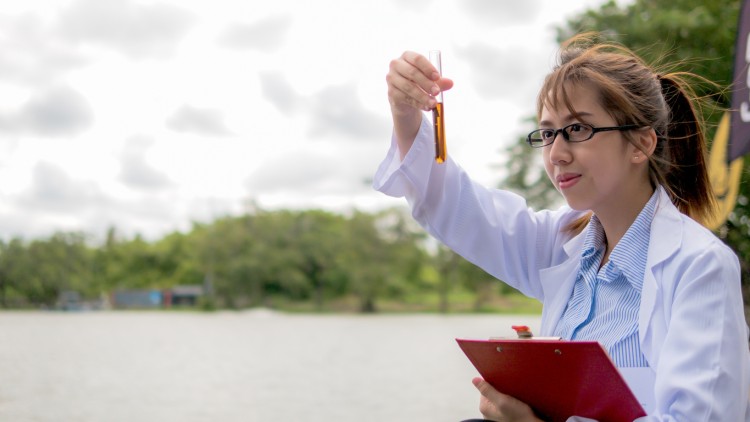 Hydrologist Job Description
Hydrologists identify qualities and problems in bodies of water to measure its health. They work to maintain these bodies of water by reducing and preventing issues such as pollution and erosion. They also participate in planning and evaluation of potential water-related projects, like wastewater treatment facilities, hydroelectric power plants, and irrigation networks.
Though the day-by-day hydrologist job description can vary depending on the project, it could involve the hydrologist performing or assisting in any of the following activities:
Employing remote sensing equipment to analyze and collect data
Graphing lake levels, changes in water volume/quality, and stream direction
Assessing the presence and risk of water-borne diseases
Ensuring safe waste disposal
Preparing reports and presentations on their findings
Collaborating with specialists and using computer programs to anticipate floods
Often, hydrologists will dedicate their efforts to either groundwater or surface water specifically, and while the two specialties are different in many ways, some skills and knowledge overlap.
Steps to Become a Hydrologist
Before an individual can work in any of the sectors that regularly employ hydrologists, they must earn at least a bachelor's degree. Some positions may require a master's degree or certification from the American Institute of Hydrology (AIH).
Bachelor's Degree
For those wondering how to become a hydrologist, a strong education is imperative to a successful career in the field. That begins with a bachelor's degree, which often comes in the form of a hydrology concentration within a broader subject, such as sustainability, geosciences, or engineering. Assuming a standard rate of completion, earning a bachelor's degree generally takes four years.
Master's Degree
Although optional, earning a master's degree in hydrology or a related field may help individuals set themselves apart from their contemporaries and improve their opportunities for specialization and increased earnings in their careers.
Relevant graduate degree programs could include studies in environmental law, water resource management, hydrogeology, aquatic biology, or climate change. These programs generally take two to three years to complete, and often require and facilitate the accrual of firsthand technical experience, such as working or interning as a technician or assistant in a laboratory.
Certification
With the necessary education, another step to achieving a competitive advantage as a hydrologist is to obtain professional hydrology certification through the AIH. The minimum experience requirement varies depending on the level of education an individual has attained before applying. In this context, experience is defined, per the AIH website, as "having significant responsibility and experience in hydrology."
Five years minimum after awarded a bachelor's degree
Four years minimum after awarded a master's degree
Three years minimum after awarded a doctoral degree
AIH also offers hydrologic technician certifications. Other environmental certifications may also be beneficial for hydrologists looking to advance their careers.
Hydrologist Salary
Most hydrologists work full time, though the length of the shifts may vary. According to the U.S. Bureau of Labor Statistics (BLS), the median hydrologist salary across all industries is $81,270 as of May 2019, with years of experience and level of education having some influence.
Hydrologists can work in different sectors, such as government, engineering, and consulting services. The median hydrologist salary in those sectors ranges from nearly $70,000 to more than $90,000, according to the BLS:
Consulting services: $93,820
Engineering services: $91,810
Federal government: $88,330
State government: $77,960
Local government: $68,690
Employment Outlook for Hydrologists
As public awareness continues to climb around issues like pollution and littering, the need for sustainability professionals increases to meet the needs for restoration and good nature management.
According to the BLS, the expected growth for hydrologist jobs between 2019 and 2029 is 5%, a higher rate than the average for all occupations. As technology develops and human activity increases around mining, construction, and hydraulic fracturing, positions will open for future hydrologists to help mitigate these environmental concerns.
Launch Your Career as a Hydrologist
A career devoted to sustainability can grant rewards that are both lucrative and personally satisfying. If you want to start down the path toward the study of hydrology, Maryville University's online Bachelor of Science in Sustainability is a great first step.
Through courses including Earth Systems, Nature and Humanity, and Ecosystem Studies, you can trust Maryville's multidisciplinary focus to help you learn how to become a hydrologist. Cultivate a cleaner world, healthier society, and positive impact through a fulfilling and creative career opportunity today.
Recommended Reading
Ecology vs. Environmental Science: What's the Difference?
The Importance of Environmental Awareness When Running a Business
Sustainability vs. Sustainable Development: Examining Two Important Concepts
Sources
American Institute of Hydrology, Professional Hydrology Certification Application Process
Indeed, How to Become a Hydrologist
PayScale, Average Hydrologist Salary
United Nations, Water Quality and Wastewater
U.S. Bureau of Labor Statistics, Hydrologists
U.S. Environmental Protection Agency, Learn About Sustainability
U.S. Geological Survey, How Much Water Is There on Earth?
World Meteorological Organization, "Management of Hydrological Information and Sustainable Development"
Be Brave
Bring us your ambition and we'll guide you along a personalized path to a quality education that's designed to change your life.