What Is a Sports Management Degree?
What Is a Sports Management Degree?
What Is a Sports Management Degree?
The excitement of sports isn't just relegated to the field or arena. The business aspects of athletics can include plenty of intrigue in their own right. If you're a sports fan fascinated by its behind-the-scenes workings, pursuing a career in sports management offers the opportunity to be part of this dynamic field.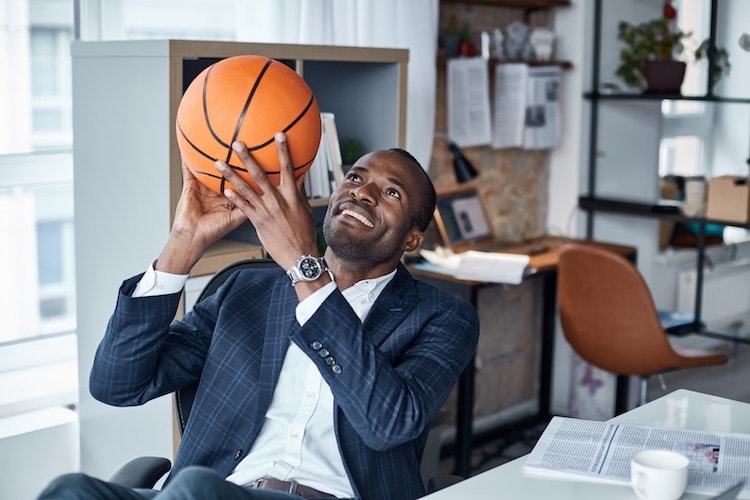 So what is a sports management degree, and how can it support your career? Through this degree, you can navigate the intersection between sports and business, opening the door to many positions and opportunities. Sports management programs, such as Maryville University's online Rawlings Bachelor of Science in Sport Business Management, can position you for success in this exciting industry. Your work can unite athletes and fans while also supporting time-honored athletic traditions.
Growth in Sports Management
The business of sports isn't just engaging. It's growing. A recent PwC report estimates the market value of the North American sports industry will reach $83.1 billion by 2022, up from $71.1 billion in 2018. Sponsorship revenues, media rights, and projected gate revenues are poised to help push this value to unprecedented heights. Experts are needed to help ensure this growth is handled efficiently. Without sports management professionals, the increase in market value may not be optimized.
Savvy sports management professionals can help organizations develop strategies to leverage increased revenues and diverse revenue streams, particularly as new trends such as cloud-based technology and innovations such as esports reshape the business of sports. These strategies manifest in numerous ways that can further increase market value and boost fan engagement.
Why Earn a Degree in Sports Management?
A sports management degree gives individuals the opportunity to broadly influence the elements that make a sports team operate effectively, including marketing strategy development, utilization of social media platforms, and professional relationship-building.
In addition to opportunities in professional sports, this degree also opens up career paths in associated fields such as sports-related product manufacturing or athletic facility operations. Regardless, a sports management degree can give avid sports fans the ability to infuse their love of the game with their business interests.
Build Skills That Can Lead to Success in the Business of Sports
A sport business management bachelor's degree program can equip you with a variety of skills to help you thrive in the sports business. The industry is changing, and modern degree programs focus on building skills that allow you to understand data analysis, spearhead marketing campaigns, manage relationships, and build memorable brands. What a sports management degree offers is an advanced understanding of the intricate business side of sports and how it impacts teams, agencies, brands, sporting goods and apparel manufacturers, and administrative bodies. These skills can make you a well-rounded professional in the field, so you can establish yourself as a leader in retail, corporate, and administrative athletic environments.
The online bachelor's degree in sport business management at Maryville University can teach you to think critically, approach sales and partnerships strategically, and make sound business decisions that benefit your organization. The program also provides opportunities to build a strong foundation in data analysis, sports sales management, and creative thinking.
Maryville's sport business management degree offers two concentrations: results-centered sales and sport data analytics. Through these concentrations, you can partake in hands-on, experiential learning designed to provide you with real-world practice to prepare you for success in your organization. Some of the skills you could cultivate in these concentrations include:
Data analysis. As our world becomes more digital, the amount of data available increases in volume and nuance. Within sports, analytics can provide insight into performance, fan and consumer sentiment, and market patterns. Our sport data analytics track helps students learn how to capture data and use it to make informed decisions, identify and follow trends, and predict future outcomes. Whether you find a career with a sporting goods company, apparel brand, or sports team, your data analysis skills can help you track information like the effectiveness of marketing, player health, and even audience engagement.
Sport sales management. Sports are dynamic, and so are its fans. Just like a coach wants to run plays that lead to a team victory, business professionals want to ensure their sales efforts are met with success. Maryville's results-centered sales track helps achieve this by taking a holistic view of the sales process. Students learn how to determine which approaches are working, which aren't, and how to adjust course when necessary.
Creative thinking. Both the sport data analytics and the results-centered sales tracks rely on innovative thinking that leverages emerging technologies. Sport business management professionals can make more informed decisions than ever around product placement, merchandise creation, and more. The development of captivating digital strategies, along with exciting methods to encourage and track fan engagement, are invaluable.
What is a sports management major's potential career path?
When you earn your degree in sport business management, you can open up a wide range of possible career paths. Your options will differ based on your chosen track, skill set, experience, and personal interests, but possible pathways include:
Sports marketing. Through this role, you'll be responsible for the creation and implementation of innovative marketing campaigns that promote a specific team, brand, or product. In addition, you'll leverage skills in data analysis to interpret the results of marketing campaigns and adjust future initiatives.
Brand relations. Identity is everything in sports. It's what draws fans in and encourages them to form long-lasting connections to a team, athlete, or product. Working in brand relations can allow you to help determine the look, feel, and voice that comprise the identity of an organization or company.
Social media. In the modern digital age, communication barriers between fans, teams, brands, and organizations are shrinking. This means it's more vital than ever that sports organizations are present on popular social platforms where fans engage and share their passion. Leveraging the social media skills you gain through your degree, you can curate relevant information, share updates, interact with fans and consumers, and manage the reputation of your brand across social channels. Data analysis plays an important role in this work, as information drives social media strategies.
Corporate partnerships. As brands build relationships with corporate sponsors and donors, it's essential to maintain strong business relationships. With your sport business management degree, you can build your knowledge and experience to pursue corporate partnerships on behalf of your organization. You may find yourself maintaining valuable relationships between business partners, conducting negotiations, and forging new partnerships to enhance a brand or increase an organization's outreach.
Fundraising and sponsorships. Fundraising and sponsorship efforts are key to the financial success of sports teams at all levels. If you pursue a career path within this area, you may be involved in developing and executing fundraising plans, tracking progress toward important goals, and identifying potential new relationships.
These are only a few of the numerous rewarding career opportunities that a sport business management degree can prepare you to pursue. Choose to pursue one of the above areas, or find your place in public relations, sales, facilities management, guest relations, education, or research. If you have a passion for sports, earning an online sport business management degree through Maryville University can help you find a career that resonates with your interests and talents.
Salaries for Sports Management Majors
According to PayScale, the median salary of those with a bachelor's degree in sports management is around $55,000. Salaries vary depending on the type of career within the field and industry where an individual is employed. Other factors include level of education, job location, and years of experience.
Earn your sport business management degree online.
There's plenty of opportunity and excitement in sports — and not just on the field. At Maryville, we designed our online bachelor's degree in sport business management to empower you to enhance your sport business acumen flexibly, on your schedule. Prepare to build important foundational skills, such as sales and data analysis, that you can use as you pursue a rewarding future in the field.
Take the first step in preparing for your career in the dynamic world of sports with an online Rawlings Bachelor of Science in Sport Business Management from Maryville University. Check out our program's curriculum, and discover what a sports management degree can do to help you achieve your professional goals.
Recommended Reading
Athletics by the Numbers: How Can Data Analysts Help with Sports?
Behind the Scenes in Sports: Skills Needed for Sports Marketing
Youth Sports Coach's Guide to First Aid: Treating and Preventing Physical Injuries in Young Athletes
Sources
Deloitte, "2020 Sports Industry Outlook"
Deloitte, "Upping Your Game: How Data Can Help Drive Sports Sponsorship and Fan Engagement"
PayScale, Bachelor's Degree, Sports Management Degree
PwC, "At the Gate and Beyond: 2019 Outlook for the Sports Market in North America Through 2023"
Be Brave
Bring us your ambition and we'll guide you along a personalized path to a quality education that's designed to change your life.