Behind the Scenes in Sports: Skills Needed for Sports Marketing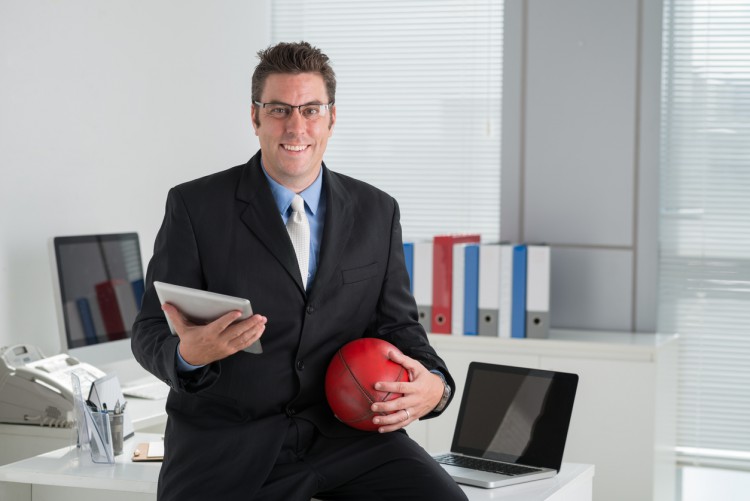 Sports is a multibillion-dollar industry. Even smaller teams routinely surpass $1 million in annual revenue. How do teams manage to convince thousands of people to support them? The answer lies in sports marketing. Sports marketers have become a crucial part of teams' efforts to sell their brands. Combining online and offline marketing methods has allowed these organizations to reach consumers in new ways. A skilled sports marketer can turn an unknown team into the local favorite.
Why Sports Teams Require Marketing
Generally, marketing entails building brand awareness and attracting potential consumers to a product or service. While sports marketing still deals with the creation and marketing of a brand, the products, such as tickets and merchandising, are likely to depend on the team's performance. Sports marketing doesn't just raise awareness for a particular team; it builds upon the loyalty of its supporters. A team depends on revenue from its followers, and when the team is doing well, that support swells. To capitalize on this rise in popularity, a skilled sports marketing professional can increase the brand's reach for both individual players and the team as a whole.
Individual player marketing allows fans to identify with a particular athlete. A particularly good or popular player may be able to increase ticket sales. Sports marketing professionals make sure their stars and teams attract fans.
Their responsibilities vary based on their position in an organization and the team's location. Small-market teams may require them to focus on regional or local outreach, while large-market teams might seek a national audience. Sports marketers often create promotional events that both attract fans and enhance a team's reputation beyond the sports industry, such as fundraising for nonprofits. Additionally, sports marketers may be responsible for advertising media and direct promotions. Social media is also a vital tool in sports marketing, enabling real-time outreach and engagement.
Critical Skills Needed for Sports Marketing
While sports marketers share many skills with other marketing professionals, sports marketing is unique in how it develops a brand message and engages with customers. Essential skills for sports marketers include:
Task Management: In any large organization, being able to juggle multiple tasks is a necessary skill. In sports marketing, professionals usually have to manage several campaigns or events at once. Organization and the ability to prioritize define this skill.
Perspective: Marketing can overwhelm an individual very quickly. Unless sports marketing professionals can take a step back, they might get lost in small details that don't impact the deals they are forging. Professionals who demonstrate perspective can figure out how their employers make a profit and then attune their efforts to promote profitable actions.
Planning and Execution: A well-developed marketing plan can serve a team better than a series of one-off campaigns. Marketing plans allow professionals to set roadmaps to achieve their goals. Sports marketers must be assertive and take action. Finding opportunities by looking at what others have done and trying to replicate their results are hallmarks of this skill.
Copywriting: Copywriting can be a valuable skill in marketing. Sports marketers need to produce content that engages fans through social media, newsletters, press releases, and advertising copy.
Careers in Sports Marketing
Sports marketing careers have a broad scope. As more teams realize that their success and continued revenue depend on their presence in the public eye, the role of sports marketing professionals will become even more important.
Franchise Marketing Director
Franchise marketing directors oversee an organization's marketing efforts. They supervise other sports marketers and develop the brand in line with the team's goals. They deal with budgeting for promotions and developing outreach activities that can lead to customer engagement. According to November 2019 PayScale data, marketing directors make a median annual salary of around $86,700, with the highest-paid 10% of earners making $149,000 per year.
Sales Director
Sales directors sometimes form part of a team's marketing department's executive management. They direct sales teams and marketing professionals to ensure existing revenue streams remain profitable and explore new methods of generating revenue. According to November 2019 PayScale data, sales directors' annual median salary is about $99,500 per year, with the highest-paid 10% making $152,000 per year.
Social Media Specialist
Social media is the front line of engagement for many teams. Social media specialists manage a team's official announcements, as well as public engagement through platforms such as Facebook and Twitter. They keep fans engaged with the team and respond to questions or comments. According to November 2019 PayScale data, social media marketing specialists' median annual salary is around $48,500 per year, with the top 10% earning $69,000 annually.
Event Coordinator
Event coordinators execute event-based marketing plans devised by sales and marketing directors. They work to ensure that team events are well attended, unfold smoothly, and avoid poor publicity. According to November 2019 PayScale data, the median annual salary of event coordinators is around $41,000, with the highest-earning 10% making $56,000 per year.
Step into Sports Marketing with Maryville University
Individuals who love following sports may be interested in turning that enthusiasm into a career. Sports marketing professionals can directly influence the fortunes of teams, from minor league baseball to professional lacrosse. It's the ideal job for someone who wants to make an impact on the world of sports.
Graduates of Maryville University's online Bachelor of Science in Sport Business Management are prepared to enter the field. The curriculum helps those new to marketing to understand crucial concepts and how they are applied to sports marketing specifically. Think you have what it takes to become a sports marketer? Contact us today and start your journey toward a fulfilling career in sports marketing.
Sources:
College Sports Information Directors of America, "Things to Consider in Social Media + Sports in 2018"
Maryville University, Rawlings Sport Business Management Online Bachelor's Degree
Payscale, Average Event Coordinator Salary
Payscale, Average Marketing Director Salary
Payscale, Average Sales Director Salary
Payscale, Average Social Media Marketing Specialist Salary
Science Direct, "What Is Sports Marketing?"
Work in Sports, "Sports Marketing Jobs: Do You Have What it Takes?"