How Social Work Trainings Can Help Advance Your Career
How Social Work Trainings Can Help Advance Your Career
How Social Work Trainings Can Help Advance Your Career
As society changes, social workers gain new skills to continually support those in need.
Whether they are helping an aging person navigate the complex medical system or advocating for policy reform to address systemic racism in the workplace, social workers need to continually sharpen their skills to be up to date with best practices in their field.
Social workers stay current with ongoing training. Newly minted social work professionals — graduates with at least a bachelor's degree in social work — will recognize the benefits of:
Professional development/continuing education
Social work trainings and certifications
An advanced education, including earning a master's degree in social work
Social workers remain relevant, responsive professionals by gaining the appropriate education, licenses, and credentials.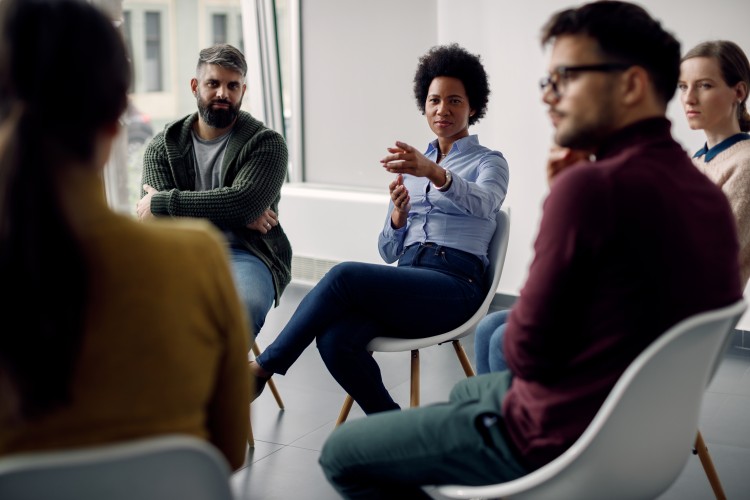 Benefits of Higher Education
A college education is the cornerstone of career growth for social work professionals. To work as professional social workers, individuals need to earn at least a bachelor's in social work. They may also choose to earn a graduate degree if they want to pursue advanced or clinical roles.
Bachelor of Social Work
At minimum, graduates need to hold a Bachelor of Social Work (BSW) degree to find employment in the social work field.
With a BSW, professionals can pursue a range of entry-level jobs in healthcare, government, education, or the criminal justice system advocating for vulnerable individuals and families. To read more about career opportunities for BSW degree-holders, see Maryville University's social work careers page.
However, the social work field is always evolving, and a BSW may not cover certain specialized applications of social work. Certain roles and specializations may require additional coursework and experience via an advanced degree.
Master of Social Work
Many advanced social work positions, including clinical social worker roles, require an advanced degree such as a Master of Social Work (MSW) degree.
An MSW enables professionals to further develop their skills as social work practitioners. It is typically a two-year degree program that students can pursue either in person or online.
Although not all MSW degree-holders are clinical social workers, an MSW plus licensure as a clinical social worker (LCSW) is typically required for employment as a clinical social worker.
Clinical social workers help people affected by mental illness. Clinical social work trainings emphasize different treatment modalities and prepare social workers for mental illness-related assessment, diagnosis, and prevention work.
What Is Social Work Licensure?
Many states require licensure for all social workers, and certain organizations may require licensure even in states where a license is not required.
Aspiring social work professionals should consult their state's specific licensing requirements before seeking employment. Well-known social work licenses include:
Licensed social worker (LSW)
Licensed bachelor social worker (LBSW)
Licensed independent social worker (LISW)
Licensed clinical social worker (LCSW)
Licensed independent clinical social worker (LICSW)
Social work licenses provide additional verification of an individual's knowledge and experience before serving in the field and can open doors for social work graduates.
Earning Professional Credentials
Unlike a license, which is required for many social work jobs, a social work credential is a recognition of advanced achievement in the field. Put poetically: A credential is a feather in the cap of a professional social worker, a display of expertise rather than a requirement for entry.
Social workers who want recognition for their professional achievements and a way to unlock new career paths can explore the National Association of Social Workers (NASW) Credentialing Center and the types of credentials it offers. The NASW is the profession's largest membership organization and the standard-bearer for professional social workers, so its recognition may hold many professional benefits.
The NASW provides advanced specialty practice credentials for social workers in areas such as:
Gerontology
Hospice
Healthcare
Case management
Addictions
Why Obtain a Social Work Credential?
According to the NASW, professionals should seek credentials for a variety of reasons:
Demonstrate specialized knowledge. Credentials communicate to others that a social worker has knowledge in a specific area.
Stand out to employers. Some organizations prioritize credentialed social workers for leadership roles and salary bumps.
Act from integrity. Credentialed professionals agree to ongoing ethical review processes, which sets the moral bar higher for the profession as a whole.
Join a community. Social workers with credentials from the NASW enjoy the benefits of working with a national community of social work professionals.
Social Work Trainings: Importance of Continuing Education
In addition to earning advanced degrees, licenses, and credentials, social workers have opportunities for continuing education to gain additional job training and stay current in the field. For many, pursuing continuing education hours can also contribute to maintaining licensure or professional credentials.
The NASW and the Association of Social Work Boards (ASWB) provide national listings of professional development/continuing education offerings from a variety of providers for social workers who want to stay up to date in the field. The NASW also provides some direct continuing education offerings. A broad array of options in terms of location, training course topics, and format (in-person courses, online courses, webinars, conferences, and workshops) are available.
Continuing education topics relevant for social workers include:
Aging
Addictions/substance abuse
Case management
Children, youth, and families
Veteran support
Students and new professionals can explore the educational and networking benefits of joining the NASW as a student member, even while earning their BSW degree.
Advanced Roles and Clinical Opportunities for Social Workers
Holding an MSW can open up a variety of clinical opportunities for social workers. Clinical social workers can participate in social work training to specialize in any of a number of exciting areas centered around providing mental health support.
After a professional earns their MSW and becomes licensed (holding an LCSW), they may work in a clinic, hospital, care center, school, counseling office, or other space where clients require this specialized help.
Opportunities for clinical social workers include serving in
Child welfare
School social work
Medical practice
Disability services
Hospice
Nursing home care
Whether working with children or older adults, in social service agencies or medical settings, clinical social workers build on the solid foundation in best practices they acquired by pursuing a social work degree.
Prepare to Advance Your Social Work Career
Social work is a dynamic profession for those who are dedicated to advocating for underserved individuals and communities. If you're considering a social work career path, Maryville University's online Bachelor of Social Work degree program can be an essential first step. Learn more about how this social work degree can help you advance in your career.
Recommended Reading
Self-Care Strategies for Social Workers
BSW vs. MSW: Exploring Two Social Work Degrees
Improving Community Safety Through Social Work
Sources
Association of Social Work Boards, Licenses
Indeed, How to Become a Licensed Clinical Social Worker
Indeed, "How to Become a Social Worker (Education and Training)"
Indeed, "LMSW vs LCSW: Duties, Salary and Qualifications"
National Association of Social Workers, Credentials
National Association of Social Workers, Grow with NASW
National Association of Social Workers, NASW-Approved CE Courses
National Association of Social Workers, Professional Development and Training
Be Brave
Bring us your ambition and we'll guide you along a personalized path to a quality education that's designed to change your life.