5 Types of Psychology Specialists
5 Types of Psychology Specialists
5 Types of Psychology Specialists
Psychology studies the link between the body and the mind. It has consistently been one of the nation's most popular majors for more than a decade and one that can open doors to fulfilling careers in industries such as marketing, business, rehabilitation, and law enforcement. More than 3.1 million American workers were psychology graduates as of September 2022, according to the U.S. Bureau of Labor Statistics (BLS).
A bachelor's degree in psychology prepares individuals for careers in several psychology fields, including child psychology and industrial psychology. It is also a fantastic initial step toward becoming a psychology specialist in a field like forensics, addiction and substance abuse, and even education.
5 Rewarding Psychology Specialist Jobs
Psychology specialists are mental health professionals who use their knowledge and experience to serve a specific field or demographic. For example, someone who specializes in addiction psychology studies the impact of substances on their clients' cognition and behavior, then uses that knowledge to create treatment plans. Someone who specializes in marketing psychology studies consumers' behaviors to help businesses develop more impactful advertisements.
From helping individuals address mental health challenges to solving crimes with criminal profiling, psychology graduates have a broad range of career opportunities in the modern world. Learning more about the day-to-day duties and responsibilities, work environment, salary, and outlook for several types of psychology jobs can help potential psychology majors choose their ideal career path.
1. Substance Abuse Counselor
The National Institute on Drug Abuse (NIDA) reports a clear connection between substance abuse and mental illness. Substance abuse counselors provide mental health treatment and support to people who are working to overcome addictions. These professionals may work with clients individually or they may work with groups, families, or couples. Common work settings include clinics, hospitals, and inpatient treatment facilities.
According to the BLS, the median annual salary for substance abuse, behavioral disorder, and mental health counselors was $48,520 as of May 2021. The BLS projects employment in the field to grow 22% between 2021 and 2031 due to increasing demand for addiction and mental health services.
2. Forensic Science Technician
Forensic science technicians analyze physical evidence and use their knowledge of psychology and the law to aid in criminal and civil investigations. They may use their understanding of human behavior to help investigators develop criminal profiles, which are useful for finding suspects and obtaining convictions. They may participate in lab analyses or crime scene investigations and explore possible links between potential suspects and criminal activity.
Forensic science technicians earned a median annual salary of $61,930 in 2021 according to the BLS, with those working for local and state governments earning the highest salaries. Employment in this field is expected to increase 11% between 2021 and 2031 due to increasingly high caseloads in many law enforcement agencies. Technological advancements are expected to make forensic science more useful and reliable, which will also drive demand.
3. Marketing Manager
Marketing managers may possess expertise in psychology that can be applied to developing marketing campaigns and materials that captivate audiences and generate interest. These psychology specialists apply their knowledge of human behavior to analyze specific consumer groups to identify their preferences and purchase motivations. They then use this information to create compelling advertisements that resonate with the target demographic.
According to the BLS, marketing managers earned a median annual salary of $135,030 in May 2021. The BLS also predicts that employment in this field will grow by 10% between 2021 and 2031. The increasing popularity of digital media and fierce competition among companies across industries are key factors that will fuel the demand for marketing managers in the future.
4. Mental Health Counselor
Mental health counselors provide cognitive, behavioral, and emotional treatment to individuals who are struggling with mental health conditions. Due to the limitations in their scope of practice, individuals who work as counselors with an undergraduate degree may work under a psychologist or psychiatrist who oversees their interactions with clients. Many counselors go on to earn master's degrees or PhDs and become licensed mental health care providers or social workers.
The median annual salary for substance abuse, behavioral disorder, and mental health counselors was $48,520 as of May 2021, according to the BLS. The BLS predicts a demand for about 43,600 new positions in the field per year between 2021 and 2031, which represents incredible growth in this field. As the stigma surrounding mental health wanes and more people seek professional treatment, the demand for these professionals will grow.
5. Teacher
Many psychology majors, particularly those who specialize in childhood psychology, often pursue successful careers as highly effective teachers. Children learn according to their own capacities and needs, and teachers must consider this when preparing curriculum, employing teaching approaches, and solving the various challenges that arise within the classroom. Psychology also helps teachers identify and support children who have disabilities, maladjustments, or other issues. By using their psychological knowledge, teachers can effectively cater to the diverse needs of their students and provide appropriate assistance when necessary.
According to the BLS, kindergarten and elementary school teachers earned a median annual salary of $61,350 in May 2021. High school teachers earned slightly more at about $61,820 per year. The BLS predicts that employment in these fields will grow 4% and 5% respectively, which is around the average for all occupations. New teachers will be required to fill openings as people transfer to new occupations or retire.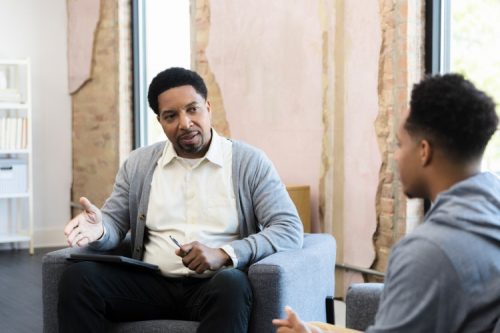 Maryville University's Online Bachelor of Psychology Degree
The carefully curated online Bachelor of Arts in Psychology degree at Maryville University has been designed to provide undergraduate students with foundational knowledge that will serve them well in their careers as psychology specialists. The curriculum, including courses such as General Psychology, Human Cognition, and Biological Psychology, is designed to meet strict American Psychological Association standards.
Busy students will enjoy the flexibility of the 100% online courses, and no application fees or entrance exams are required. Three convenient start times and Early Access options give students the chance to get a head start on their psychology degrees.
Begin Your Psychology Specialist Career
Future generations of psychology majors will apply their knowledge and experience in everyday scenarios, ranging from teaching third-grade classrooms to designing award-winning marketing campaigns.
The online Bachelor of Arts in Psychology degree from Maryville University can be an important first step for anyone interested in these and other psychology specialist careers. Find out how Maryville can help you take the first brave step toward a new career.
Recommended Readings
Forensic Psychology vs. Clinical Psychology
Sources:
American Psychological Association, "Demand for Mental Health Treatment Continues to Increase, Say Psychologists"
National Institute of Mental Health, Substance Use and Co-Occurring Mental Disorders
National Institute on Drug Abuse, Common Comorbidities with Substance Abuse Disorders Research Report
Psychology.org, "What Is Forensic Psychology?"
U.S. Bureau of Labor Statistics, Advertising, Promotions, and Marketing Managers
U.S. Bureau of Labor Statistics, Field of Degree: Psychology
U.S. Bureau of Labor Statistics, Forensic Science Technicians
U.S. Bureau of Labor Statistics, High School Teachers
U.S. Bureau of Labor Statistics, Kindergarten and Elementary School Teachers
U.S. Bureau of Labor Statistics, Substance Abuse, Behavioral Disorder, and Mental Health Counselors
Verywell Mind, "Specialty Areas in Psychology"
Be Brave
Bring us your ambition and we'll guide you along a personalized path to a quality education that's designed to change your life.