Counseling Career Advancement
Counseling Career Advancement
Counseling Career Advancement
Our society's mental health needs continue to grow. In 2020, the National Council for Mental Wellbeing reported that more than half of behavioral health organizations were experiencing an increased demand for their services.
Fortunately, counselors stand at the forefront of efforts to help people strengthen their well-being. As the American Counseling Association explains, counselors assist individuals of all ages, families, and groups to achieve their goals — not only in mental health but also in other areas related to wellness, education, and careers.
Counseling can be a rewarding profession that offers the opportunity for advancement. But to prepare for career advancement in counseling, aspiring professionals must first build a solid base of education and experience. If you're interested in the field, consider enrolling in a degree program in a related field, such as psychology, and learn more about the profession and how careers in counseling can progress.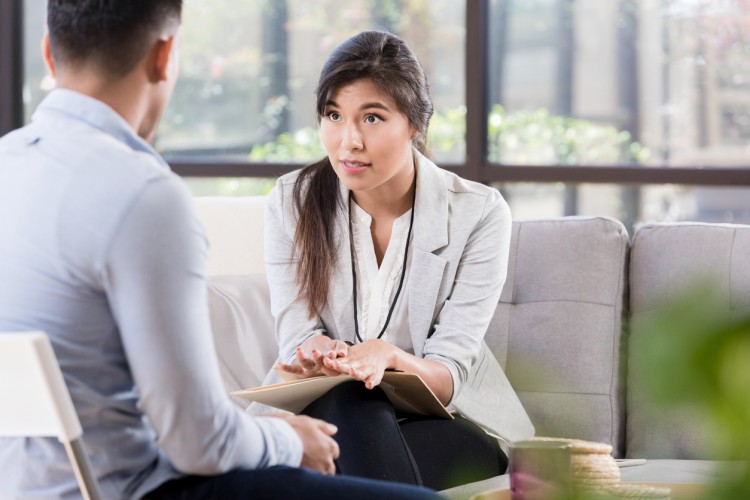 How to Start Advancing Your Career
To start on the counseling career path, you first need to build a strong educational base by earning a bachelor's degree. Most states' licensing boards will then require you to complete an advanced degree and fulfill other requirements to begin working as a licensed counselor. When you've acquired some experience in the profession, several options are available for career advancement.
Form an Educational Base
A bachelor's degree with a liberal arts major is the first step on the counseling career path, according to the American Counseling Association.
Earning a Bachelor of Arts in Psychology online, for example, is a great way to start working toward a career in counseling. Through courses on topics such as social psychology, multicultural psychology, and human development, you can build your understanding of human behavior and position yourself for a counseling career. Working toward a degree in psychology also enables you to learn about critical thinking and the clinical components of behavior, both of which can enhance your future career in counseling.
Obtain Additional Credentials Required for a Career in Counseling
To work as a counselor, the American Counseling Association explains that individuals must typically earn an advanced degree (a master's degree or doctorate) in a counseling program to gain state licensure. Examples of counseling programs demonstrate the wide array of counseling career options:
Addiction counseling
Career counseling
Clinical mental health counseling
Marriage, couples, and family counseling
School counseling
Student affairs and college counseling
Gerontological counseling
Most states' counseling licensing boards also require that graduate students perform some type of practicum or internship and pass an exam to gain licensure.
In addition, certain types of counselors may want to obtain optional certifications to show their expertise. The National Board for Certified Counselors offers the National Certified Counselor (NCC) certification, as well as other certifications in mental health counseling, school counseling, and addiction counseling.
Advance on the Counseling Career Path
After building your credentials and obtaining experience, you have several options for counseling career advancement. As a 2020 report in Counseling Today noted, counselors can eventually:
Open private practices
Oversee clinics
Move into teaching
Conduct research
Move into administrative and management positions
With so many different options, finding what suits your preferences can be challenging. Counseling Today suggests finding a mentor, joining professional organizations, and asking for assistance from supervisors to help you focus on the career goals that are best for you.
The Skills That Support Career Advancement
To set yourself on the path to career advancement in counseling, it's important to refine your skills in a number of areas.
Certain skills help counselors maintain relationships with their clients and increase the odds of positive client outcomes, according to PositivePsychology.com. For example:
Listening and communication skills help you focus on what clients say.
Reflection skills help you to demonstrate that you understand what clients say.
Helping skills allow you to guide clients to realistic goals.
Challenging skills enable you to help clients reframe issues or view them from other perspectives.
Other skills are critical to counselors' work with clients. For example, the U.S. Bureau of Labor Statistics (BLS) cites the need for:
Compassion, which can be particularly helpful when dealing with stress and difficult situations
Interpersonal skills, which are critical when establishing relationships with clients
Analytical skills, which can help counselors interpret client records and view client information in relation to other data
The Work Environment of an Advanced Counseling Career
As individuals progress in counseling careers, they can work in multiple environments that correlate with the types of counseling they provide. For example:
Counseling Today notes that mental health counselors can work in hospitals, community mental health agencies, or residential facilities.
According to the BLS, school and career counselors can work in elementary and secondary schools, colleges and universities, or social assistance agencies.
The BLS notes that addiction counselors can work in mental health centers, correctional institutions, halfway houses, or employee assistance programs.
As these examples illustrate, when counselors work in settings such as healthcare, education, or corrections, they often work alongside professionals in other fields. This can expand counselors' career horizons, according to Counseling Today, and lead them to work in related fields (such as coaching or human resources) while still using their counseling expertise.
Spurred in part by the COVID-19 pandemic, the counseling profession has entered into health (remote behavioral health visits), which has opened up new working environments. The American Counseling Association reminds counselors working in telebehavioral health to educate themselves on the ethical and legal aspects of telebehavioral health and ensure they continue to comply with all requirements.
Career advancement in counseling also can lead counselors to open private practices. While having a practice is an exciting prospect, counseling website GoodTherapy notes that counselors who open their own practices must educate themselves on key aspects of running a business, such as securing office space, working with insurers, and marketing their services.
Take the Path That Helps Others
Advancement in a counseling career is the product of establishing your credentials, refining your career objectives, and working toward your goals. In helping clients improve their lives, counselors can work in a rewarding profession that offers several avenues for achieving career growth.
If you're interested in working in counseling, explore Maryville University's Bachelor of Arts in Psychology online to learn how the degree program can help prepare you to pursue a career in the field. The opportunity awaits to help others make a lasting difference in their lives. Begin working on becoming a counselor today.
Recommended Reading
The Future of Psychology: New Methods for Helping People
Going Back to School for Psychology
Sources
American Counseling Association, Is Counseling the Right Career for You?
American Counseling Association, Telebehavioral Health Information and Counselors in Health Care
American Counseling Association, What Is Professional Counseling?
Counseling Today, "Choosing Your Path Wisely"
GoodTherapy, "Your Checklist for Starting a Private Practice in Counseling"
National Board for Certified Counselors, Inc., Board Certification
National Council for Mental Wellbeing. "Demand for Mental Health and Addiction Services Increasing as COVID-19 Pandemic Continues to Threaten Availability of Treatment Options"
U.S. Bureau of Labor Statistics, School and Career Counselors and Advisors
U.S. Bureau of Labor Statistics, Substance Abuse, Behavioral Disorder, and Mental Health Counselors
Be Brave
Bring us your ambition and we'll guide you along a personalized path to a quality education that's designed to change your life.