Office Manager Career Path Advancement
Office Manager Career Path Advancement
Office Manager Career Path Advancement
Office managers are vital to the success of many businesses. They play a pivotal administrative role, ensuring an organization's office environment runs smoothly and operates at peak efficiency. While their specific job descriptions may vary based on the sizes and types of their organizations, office managers' responsibilities typically include:
Managing office budgets
Collaborating with human resources on employee onboarding and training
Developing, implementing, and monitoring office policies and procedures
Supervising office staff
By promoting an efficient work environment and providing staff with resources and cultural support to do their jobs, office managers can help their organizations achieve productivity and growth goals. This role is valued in virtually every industry, affording numerous career opportunities for office managers. The office manager career path offers many avenues for advancement. Qualifying for an advanced management role often requires meeting certain prerequisites, such as earning a bachelor's degree in a field such as organizational leadership. Completing these steps can help lead to a rewarding career in any of a wide range of industries.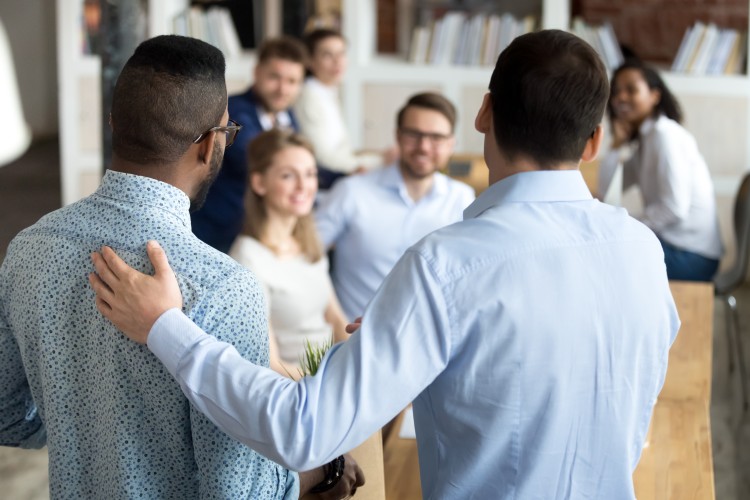 How to Advance Your Office Manager Career
Taking an office management career to the next level typically entails some combination of undergraduate education and professional experience. Additional steps, such as pursuing a master's degree or obtaining a relevant certification, can help individuals advance further.
Education
Candidates for office management roles typically need at least a high school diploma (plus relevant experience), and those with a bachelor's degree can qualify for more advanced office management roles. Degrees in management or organizational leadership are valued by employers because they teach students fundamental business concepts and help them develop critical leadership skills.
The curricula in these programs often blend business with psychology. Coursework generally focuses on helping students understand concepts such as human resources and economics, while also developing soft skills considered essential for leadership roles, such as relationship building and conflict management.
While a bachelor's degree can qualify job seekers for many office manager positions, earning a master's degree in a field such as business administration or leadership may be advantageous for pursuing higher-level roles that often come with generous salaries and even greater opportunities for advancement.
Administrative Experience
Gaining administrative experience is an essential step on an office manager's career path. Working as an office clerk or in human resources, for example, provides valuable real-world experience and an understanding of the ins and outs of running an office.
Certification
Although obtaining certification is usually optional, it can help office managers stand out from their competition when seeking higher-level positions. Some of the more valuable certifications for office managers include:
Certified Business Office Manager (CBOM)
Offered by the Management and Strategy Institute, this certification covers core topics for business professionals, such as financial management, information technology, and human resources. The certification process can take a week to a month to complete.
Certified Administrative Professional (CAP)
The International Association of Administrative Professionals grants this certification, which typically takes several months of study to obtain. Those in the program learn about organizational communication, project management, and operations.
Professional Administrative Certification of Excellence (PACE)
The PACE certification, administered by the American Society of Administrative Professionals, helps business professionals hone important management capabilities, including interpersonal communication, task management, and technical skills.
The Benefits of Career Advancement
Advancing a career in office management through means such as pursuing a degree, accruing experience, and obtaining a certification can have numerous advantages.
These experiences round out an individual's professional background and overall skill set, which can help them stand out in a competitive job market. Employers hiring for advanced roles want to see that candidates have the necessary qualifications for the job, such as business knowledge, critical thinking and problem-solving skills, and leadership experience.
The office manager career path is available in many different industries. Office managers are employed in virtually every kind of work environment, including in medical practices, universities, retail companies, media companies, financial institutions, and government agencies, so job seekers can pursue a career that aligns with their interests.
Additionally, senior office management roles generally correlate to high earnings. PayScale reports the median salary of office managers in February 2022 was about $50,000, while senior office managers earned around $62,000.
Senior-level office managers can also explore other advanced management opportunities — outside of a traditional office setting — that may command even higher salaries. The median annual wage for those in all management occupations was $109,760 in May 2020, according to the U.S. Bureau of Labor Statistics (BLS).
Advanced Office Manager Careers at a Glance
Beyond traditional office administration roles, professionals with the proper education and experience may want to pursue other career opportunities, including:
Facilities Director/Manager
A facilities director/manager oversees the operation and maintenance of an entire facility, which may include buildings, grounds, equipment, and supplies. Their responsibilities vary depending on the scope of their role, but generally include:
Ensuring facilities are safe, secure, and well-maintained and comply with all building codes and regulations
Supervising renovation projects designed to improve efficiency
Managing staff
Skills
Essential skills and capabilities for this role include:
Analytical skills to evaluate an organization's or facility's procedures and find ways to improve efficiency
Attention to detail across a range of responsibilities, such as ensuring an organization complies with building codes and directing equipment purchases
Leadership, which entails supervising and motivating staff, including grounds crews, janitors, and repair workers
Salary and Job Outlook
The median annual salary for administrative services and facilities managers was $98,890 in May 2020, according to the BLS.
Employment of these professionals is projected to grow 9% between 2020 and 2030, adding nearly 30,000 new jobs, according to the BLS. Some of this growth will be driven by heightened interest in the environmental impact and energy efficiency of buildings, as well as advances in "smart building" technology.
Medical and Health Services Manager
Medical and health services managers plan and direct the office administration in healthcare services organizations. They may manage an entire facility, a particular unit or department, or a medical office. Their duties may include:
Recruiting, training, and supervising staff
Managing finances, such as patient fees and billing
Preparing and monitoring budgets to ensure operations stay within funding limits
Communicating with medical staff and department heads
Skills
Essential skills and capabilities for this role include:
Ability to effectively communicate policies and procedures to staff members and other managers to ensure compliance with laws and regulations
Technical knowledge of the latest advances in healthcare technology, including electronic health records systems and data analytics
Problem-solving expertise to find creative solutions to complex staffing or administrative issues
Salary and Job Outlook
The BLS reported that the median annual wage for medical and health services managers was $104,280 in May 2020. Employment is projected to surge, growing by 32% between 2020 and 2030. Increased demand for healthcare services, fueled partly by the country's aging population, will lead to the creation of nearly 140,000 new jobs, according to the BLS.
Training and Development Manager
These individuals are responsible for developing, implementing, and directing skills- and knowledge-enhancement programs for an organization's staff. Their responsibilities include:
Managing training and development of staff
Assessing employee needs for training
Collaborating with executives and department heads to align training with business goals
Creating and managing training budgets
Skills
Essential skills and capabilities for this role include:
Knowledge of business operations to ensure training aligns with an organization's overall goals
Ability to collaborate with various stakeholders, including training staff, trainees, subject matter experts, and executives
Instructional skills to craft, implement, and direct training courses and seminars
Salary and Job Outlook
The median annual wage for training and development managers was $115,640 in May 2020, according to the BLS.
Employment for this role is projected to grow 11% between 2020 and 2030. Continuing education and skill development is increasingly required or preferred in many occupations, creating demand for professionals who can design such programs. Additionally, innovations in training methods and an ability to master new technology will be needed as more organizations transition to remote work.
Move Forward in a Crucial Career
Office management is a rewarding profession that offers ample opportunity for professional advancement in a variety of industries. A business degree, such as Maryville University's online Bachelor of Arts in Organizational Leadership, can help prepare individuals for an advanced career in office management. Blending business and psychology, the program's coursework provides students with a solid foundation in the business and soft skills that are considered essential for business leaders. Learn more about Maryville University's program and how it can help you to help organizations thrive.
Recommended Reading
Shattering the Glass Ceiling: The Growth of Women in Leadership Positions
Why Is Change Management Important for Remote Companies?
Organizational Change Management Guide for Developing Innovators & Leaders
Sources
Indeed, Office Management Job Description
PayScale, Office Manager Hourly Pay
PayScale, Average Senior Office Manager Salary
Randstad, What Does an Office Manager Do?
U.S. Bureau of Labor Statistics, Administrative Services and Facilities Managers
U.S. Bureau of Labor Statistics, Management Occupations
U.S. Bureau of Labor Statistics, Medical and Health Services Managers
U.S. Bureau of Labor Statistics, Training and Development Managers
Be Brave
Bring us your ambition and we'll guide you along a personalized path to a quality education that's designed to change your life.