A Career with Plenty of Pluses: How to Become a Mathematician
A Career with Plenty of Pluses: How to Become a Mathematician
A Career with Plenty of Pluses: How to Become a Mathematician
The stereotypical mathematician may bring to mind a genius scribbling formulas across a chalkboard in a frenzy. In the real world, however, mathematicians work in many different environments, from government offices to private labs and businesses. More often than not, they do their work on a computer, using its vast power to manipulate numbers and leverage complex formulas.
For those considering how to become a mathematician, the answer depends on the kind of work environment and industry they'd like to apply their skills in. Mathematics offers up lots of career possibilities in a variety of settings — no chalkboard required.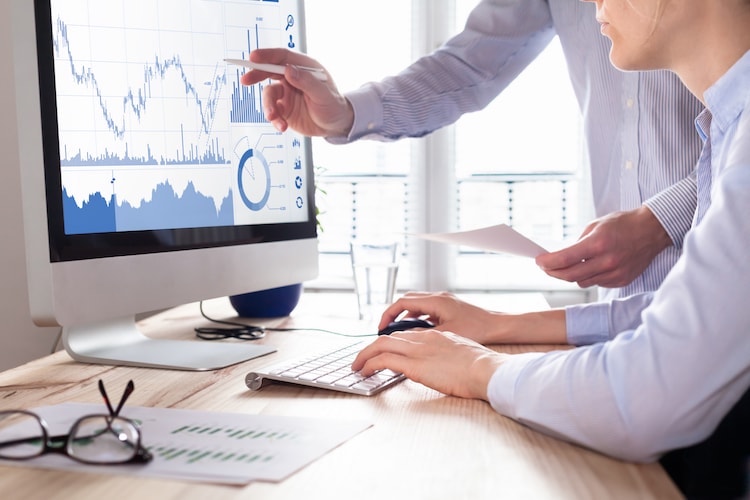 What Does a Mathematician Do?
What mathematicians do is diverse, yet it can be extremely important to the progress of industry and technology. They innovate in various fields by establishing new rules, theories, and concepts, as well as apply their talents to resolving practical problems in business, engineering, and science. They often decide which data collection means are best suited to their goals, design the surveys and polls to capture that data, and then develop mathematical models to interpret what they find. In the process of interpretation, they can help develop ways to support decision-making in the operation, design, or programming of the organizations they work for.
No matter where mathematicians might choose to work, they use foundational theories, techniques, and methodologies to guide their practice and produce the best — and most accurate — outcomes. While job duties might depend on the industry, most mathematicians share an interest in solving problems, facing challenges, and working with patterns, shapes, proofs, and concepts. In today's world, mathematicians work on solo and collaborative projects in the realms of astronomy, climate study, medicine, national security, and robotics, to name a few.
How to Become a Mathematician
Becoming a mathematician doesn't require one to be a prodigy with numbers. It does require interest, dedicated study, and the willingness to devote time and effort to mastering foundational strategies and techniques. While there are several different ways to apply mathematics to a career, there are some typical steps that aspiring mathematicians often take to land jobs.
Earn a Bachelor's Degree
It's generally necessary to earn a bachelor's degree in math to start a career in this field. What mathematicians do is often high-level problem-solving, which requires many advanced skills. Most undergraduate degree programs recognize the importance of preparing aspiring mathematicians for their careers by teaching foundational concepts. Degree programs at accredited universities, such as Maryville University's online Bachelor of Science in Mathematics, emphasize the theoretical and practical skills invaluable on a mathematician's journey–for example, Maryville University's program includes a built-in minor in data science.
Gain Professional Experience
Options for a career in mathematics vary tremendously. Deciding what kind of mathematics they want to practice — applied or theoretical — and what industry they want to work in can help graduates determine what skills to develop through internships, certification programming, extracurricular activities, and entry-level work. With defined career goals, the process of gaining some practical real-world experience can go a long way toward helping land a dream job.
Consider a Master's or Doctoral Degree
While not necessary for all career tracks, some mathematicians choose to advance their education by pursuing a master's degree or doctorate. Studying mathematics at the graduate level allows individuals to carve out a specific discipline, develop advanced skills, conduct research, teach, and publish articles in academic journals. A graduate degree can also open up new job opportunities.
Salaries for Mathematicians
Mathematician salaries can vary with specific job titles, industries, geographic areas, experience, and education. According to the U.S. Bureau of Labor Statistics (BLS), the median pay for mathematicians and statisticians in 2018 was $88,190 for the nuanced skills that they bring to their work. This figure largely represents the earnings of mathematicians with experience or advanced education. According to PayScale, entry-level mathematicians are more likely to earn an annual salary of $66,100.
Employment Outlook for Mathematicians
Increasingly, what mathematicians do is analyze data and work with new technologies — which is great news for the job potential and professional growth of aspiring mathematicians. The BLS projects employment in the field of mathematics to increase at a rate of 30% between 2016 and 2026, adding 900 new jobs. Considering that the average growth for all occupations is 7%, the job outlook in mathematics is quite strong. The potential for change, expansion, and innovation in the rapidly growing field is a testament to the importance of mathematics, as well as the opportunities for individuals dedicated to this challenging and rewarding discipline.
Learn More About Becoming a Mathematician
Ready to seize some of these opportunities in mathematics? Maryville University offers a robust and versatile program that teaches essential analysis, problem-solving, and computer science skills for practical application. Maryville's online Bachelor of Science in Mathematics is a great first step toward a job in the dynamic field of mathematics.
Sources
American Mathematical Society, "What Do Mathematicians Do?"
Forbes, "Five Things You Need To Know About the Future of Math"
Maryville University, Bachelor of Science in Mathematics
PayScale, Entry-Level Mathematician Salary
U.S. Bureau of Labor Statistics, Mathematicians and Statisticians
Be Brave
Bring us your ambition and we'll guide you along a personalized path to a quality education that's designed to change your life.