5 Unique Careers in Mathematics
5 Unique Careers in Mathematics
5 Unique Careers in Mathematics
Graduates of bachelor's degree programs are prepared for a wide variety of careers in mathematics. Not only do professionals with a strong background in mathematics often have expertise working with numbers and complex mathematical concepts, but they may also possess highly valued skills in logic, problem-solving, critical thinking, and analysis. This can make them critical members of their team — whether they choose to work in the for-profit sector, government, or a nonprofit organization.
Graduates with bachelor's degrees in mathematics have flexible options and may choose from a number of career paths. The U.S. Bureau of Labor Statistics (BLS) reports that many of these opportunities are growing quickly, including software engineering, financial analysis, and data science. PayScale reports that the average salary of a graduate with a B.S. in Mathematics is $73,000, with several roles offering six-figure median salaries, including mathematician and data scientist. Income may vary based on geographic region, experience, job setting, title, and other factors.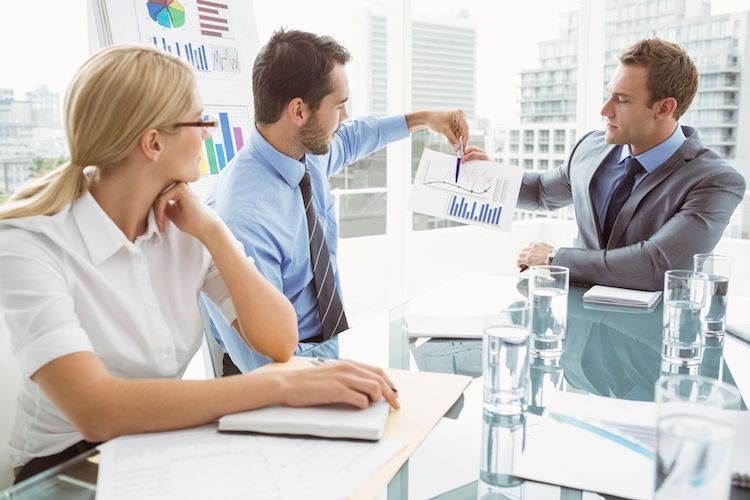 Which industries hire graduates with mathematics degrees?
Because of the wide applicability of their skills, a number of industries seek to hire mathematics graduates. Some of the most common fields that offer mathematics degree jobs include:
Finance, accounting, and banking
Engineering
Academia and research
Education
Medicine
Technology
Software development
What are some potential jobs in mathematics?
While there is a wide array of potential paths that you may pursue with your mathematics degree, we're going to focus on five opportunities. They span several industries and present different challenges.
Though these roles require different mathematical abilities, they all leverage the core skills of the discipline.
Operations Research Analyst
Every day, business professionals face difficult decisions, and they may enlist the help of an operations research analyst for the ones that are most crucial. These professionals help solve business problems in areas from logistics to pricing. They use mathematics-based tools such as statistical analysis, predictive modeling, and simulations in their work.
Operations research analysts focus on finding practical, innovative strategies for increasing efficiency and productivity, and they use communication skills to share their findings with stakeholders.
Growth and Salary
As of 2016, there were 114,000 operations research analyst positions in the United States, according to the BLS. An additional 31,300 openings are expected from 2016 to 2026, signifying a rapid 27% growth rate. The median pay for an operations research analyst in 2017 was more than $81,000.
Skills recommended to succeed:
Problem-solving
Data analysis
Logic
Communication
Decision-making
Statistical Consultant
Mathematics graduates who enjoy exploring new data and diverse problems may seek employment as a statistical consultant. These professionals provide solutions to challenges in an array of fields and industries by applying statistical methods. Organizations often hire them on a short-term, contractual basis, although others bring on statisticians as full-time employees. In addition to technical knowledge, statistical consultants need soft skills because they must listen to their clients' needs and communicate their recommendations clearly.
The average salary for a statistical consultant, according to PayScale, is $79,000. Per the BLS, opportunities for statisticians may grow an impressive 33% between 2016 and 2026.
Skills recommended to succeed:
Research
Data analysis
Statistics
Logic
Communication
Creativity
Problem-solving
Financial Analyst
When making financial and investment decisions, many people turn to financial analysts for their expertise. These professionals examine data, follow trends, and recommend strategies that complement their client's financial goals. They may work independently or as an employee of a bank, insurance company, pension fund, securities firm, mutual fund, or other environments. Their work can serve individuals or whole businesses in their financial decision-making process. In addition, many specialize in a particular area, such as portfolio management, risk analysis, or hedge fund management. This mathematics career path is ideal for those who enjoy the technical aspects of the job as well as working with people.
Financial analysts earned a median pay of around $84,000 a year in 2017, according to the BLS. This field is predicted to experience 11% growth in job opportunities from 2016 to 2026, with more than 32,000 new positions added.
Skills recommended to succeed:
Analytical skills
Understanding of finance
Data analysis
Critical thinking
Listening and communication
Mathematician
Mathematicians apply their specialized knowledge to solve both real-world and theoretical problems. By analyzing information, identifying trends, and refining models, they offer data-driven solutions. These professionals work in a variety of fields, including academia, government, engineering, chemistry, medicine, education, and more. They often use — and sometimes create — software to analyze data or present their findings in a consumer-friendly format.
The BLS anticipates a 34% increase in the number of job opportunities available to mathematicians and statisticians from 2016 to 2026 — significantly higher growth than average. The median pay in 2017 was nearly $103,000 per year.
Skills recommended to succeed:
Data analysis
Problem-solving
Logic
Computer skills
Creativity
Critical thinking
Data Scientist
Data scientists help businesses make sense of large amounts of data. Whether organizations seek to leverage data to make better investment decisions, market more effectively, find ideal pricing, or any number of other challenges, data scientists excel in analyzing and interpreting information to help make a data-driven choice. Data scientists work in fields such as finance, technology, medicine, academia, government, and more — and they are highly valued for their expertise and contributions.
The BLS predicts job opportunities for many data science specialties will grow by 19% from 2016 to 2026. Many data scientists earn more than $100,000 per year.
Skills recommended to succeed:
Computer science
Data analysis
Critical thinking
Statistics
Data interpretation and visualization
Explore possible paths to mathematics degree jobs
There are many potential options available for graduates seeking a career in mathematics.
While earning a degree does not guarantee employment, the job growth in this field — in addition to the wide spectrum of industries seeking mathematical expertise — indicates a wealth of opportunities may be just ahead.
Learn more about how Maryville University's online Bachelor of Science in Mathematics program can help open the door to these careers and more.
Recommended Reading
Crunching the Numbers: Mathematics vs. Physics Degree
Sources
Investopedia, "Data Analyst: Career Path & Qualifications"
PayScale.com, "Average Statistical Consultant Salary"
PayScale.com, "Bachelor of Science (BS / BSc), Mathematics Degree"
U.S. Bureau of Labor Statistics, "Actuaries"
U.S. Bureau of Labor Statistics, "Financial Analysts"
U.S. Bureau of Labor Statistics, "Mathematicians and Statisticians"
U.S. Bureau of Labor Statistics, "Operations Research Analysts"
Related Articles
Be Brave
Bring us your ambition and we'll guide you along a personalized path to a quality education that's designed to change your life.