Jobs for Math Majors: Diverse Opportunities After Your Degree
Jobs for Math Majors: Diverse Opportunities After Your Degree
Jobs for Math Majors: Diverse Opportunities After Your Degree
Math is abstract, but math majors' job prospects are flourishing in the real world. The U.S. Bureau of Labor Statistics (BLS) reports math-related careers are set to grow by an astonishing 28% from 2020 to 2030. That's compared with an average of about 8%. A 2021 Forbes article predicted that professions like statistician, data scientist, and data analyst would be among the top jobs of the next 10 years.
Graduates with a bachelor's degree in math can find careers in diverse fields — from finance to aeronautics, from biomedicine to defense. Jobs for math majors abound in the following thriving industries:
Careers with a Math Degree
Math plays a part in nearly every industry, but certain fields employ an especially large number of math majors. Here are the key areas offering opportunities in math careers.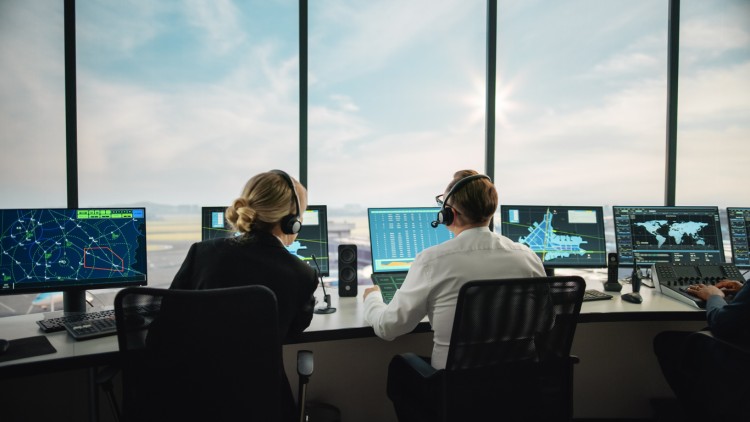 Banking, Finance, and Accounting
Accounting is a time-honored profession, necessary for maintaining the finances of corporations, governments, and other organizations. Accounting not only allows organizations to monitor their own financial performance but also keeps them compliant with financial law.
Math is also on the cutting edge of global trading. Automation drives financial operations today: Algorithmic trading allows financial transactions to take place at superhuman speeds, mathematical models predict future market movements, and machine learning roots out fraud.
Biotechnology and Medicine
Math is everywhere in medicine. Biomedical engineers use it to model the behaviors of cells. Epidemiologists use math to program simulations to better understand the spread of disease — the COVID-19 pandemic and its fluctuating risk calculus recently demonstrated how important such computations are to public health.
On the administrative side, health data analysts improve the operations of hospitals and other facilities. They can use math to find better ways to control healthcare costs and deliver better and more efficient patient care.
Cosmology and Aeronautics
Math has always been an essential tool for understanding the universe, and this remains true for contemporary cosmologists. We can't directly observe everything in the universe, but math allows us to model what escapes detection — from dark matter to the origins of the universe.
In the applied field of aeronautics, professionals use math to create the aircraft and spacecraft that transport people and goods and help astronomers in their research. For example, the math of fluid dynamics is important for understanding how vehicles move through air.
Engineering and Technology
Math is an essential component of all types of engineering. Electrical engineering uses linear algebra, mechanical and civil engineering require geometry, and industrial engineering needs calculus to account for changing variables.
Specialized math for engineers includes differential equations, complex numbers, probability, computational mathematics, and optimization.
Research and Academia
Some students will go on to study math at the graduate level, but that isn't the only way math majors participate in research. Statistics, algorithms, and mathematical modeling are vital to many types of research, so math majors can land jobs in policy institutes, universities, and civil service departments.
4 Unique Jobs for Math Majors
Some of the jobs that math majors can land after college may surprise you. Math majors certainly may have fulfilling careers as teachers or mathematicians, but they're not limited to those options. A college education in math is an asset when pursuing the following five careers:
1. Actuary
Most actuaries work in the insurance industry, using statistics to estimate the costs of policies and other business decisions over time. Some actuaries act as consultants rather than working directly for these companies.
Actuaries at a Glance
Education requirements: Bachelor's degree and certifications
Median salary: $105,900 in 2021 (BLS)
Projected growth: 24% from 2020 to 2030 (BLS)
2. Air Traffic Controller
For individuals with excellent concentration skills who want an exciting and responsible job, the profession of air traffic controller may be perfect. Air traffic controllers keep air travel safe by ensuring planes fly at safe distances from each other. To do this, air traffic controllers must quickly calculate the positions and speeds of aircraft and account for weather conditions. They also learn computer programs that help them direct air traffic.
Air Traffic Controllers at a Glance
Education requirements: Minimum of associate degree, Federal Aviation Administration (FAA) exams and courses
Median salary: $129,750 in 2021 (BLS)
Projected growth: 4% from 2020 to 2030 (BLS)
3. Data Scientist
Data scientists analyze the vast quantity of data gathered by phones, internet providers, social media, shopping loyalty cards, and many other types of technology people use daily. Data is an extremely valuable commodity in the right hands: Data scientists create algorithms and models for predicting consumers' future behavior.
Data Scientists at a Glance
Education requirements: Master's degree
Median salary: $131,490 in 2021 (BLS)
Projected growth: 22% from 2020 to 2030 (BLS)
4. Meteorologist
Meteorologists use atmospheric information to create models that analyze and predict weather patterns. They need a grasp of algebra, calculus, trigonometry, and statistics to create these models and handle the data they gather. Climate science is a similar career track: Climate scientists work to forecast the meteorological long-term effects of global climate change.
Meteorologists at a Glance
Education requirements: Bachelor's degree
Median salary: $94,570 in 2021 (BLS)
Projected growth: 8% from 2020 to 2030 (BLS)
Preparing for a Diverse Career as a Math Major
A math major opens possibilities for a wide range of careers. Maryville University offers an online bachelor's in mathematics with a minor in data science and electives in discrete mathematics, geometry, data visualization, and more.
A math degree should be accessible to everyone. If you're interested in a math-heavy career but are dealing with a learning disability or are simply unsure how to tackle math problems, Maryville points you to free and inexpensive online math tools.
Discover how to embark on a career in some of the most dynamic professional sectors today.
Recommended Reading
Actuary vs. Underwriter: Using Math to Manage Risk
Business Analyst vs. Data Scientist
Calculating Your Next Move: Mathematician vs. Physicist Careers
Sources:
American Mathematical Society, "Mathematics and Epidemiology"
Forbes, "The 30 Fastest-Growing Jobs and Careers for the Next 10 Years"
Indeed, 20 Jobs for Mathematical Degree Holders
Investopedia, "Basics of Algorithmic Trading: Concepts and Examples"
Payscale, Average Data Scientist Salary
Reference, "How Is Math Used in Engineering?"
ResearchGate, "Mathematical Models in Biotechnology"
The Balance Careers, "What to Do with a Degree in Math"
U.S. Bureau of Labor Statistics, Actuaries
U.S. Bureau of Labor Statistics, Air Traffic Controllers
U.S. Bureau of Labor Statistics, Atmospheric Scientists, Including Meteorologists
U.S. Bureau of Labor Statistics, Computer and Information Research Scientists
Be Brave
Bring us your ambition and we'll guide you along a personalized path to a quality education that's designed to change your life.