Management Information Systems Job Growth: Career Outlook
Management Information Systems Job Growth: Career Outlook
Management Information Systems Job Growth: Career Outlook
After a marketing campaign underperforms or monthly sales drop, how can businesses discern what went wrong? While the task may prove challenging, with a robust management information system (MIS) it becomes much more governable. Management information systems and the professionals who use them allow organizations to organize, track, assess, and leverage their data to identify and remedy performance breakdowns. This helps businesses solve problems, make more strategic decisions, understand their performance, and improve their processes.
For these benefits and others, today's business world increasingly relies on MIS. With this growing reliance, management information systems job growth is also strong. In fact, computer and information technology occupations are expected to grow at more than twice the rate of jobs in all other occupations, according to the U.S. Bureau of Labor Statistics (BLS).
What does this mean for those holding an MIS degree? In addition to a promising career outlook, successful candidates may also command high salaries.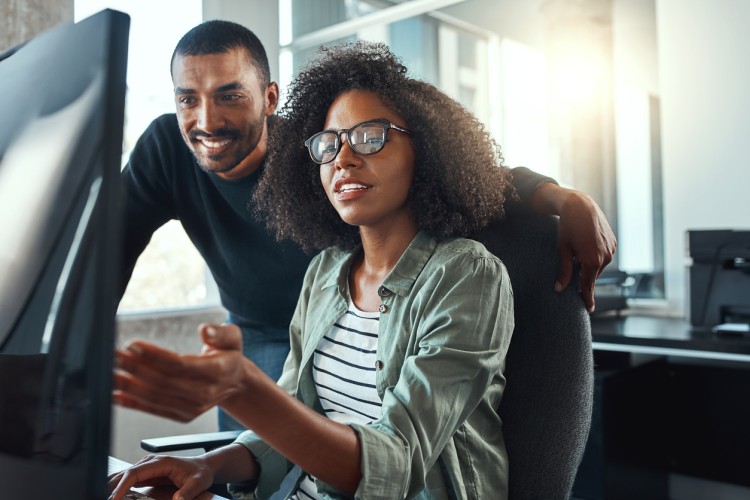 Job growth in management information systems
MIS tools allow business managers to use technology to apply information to business decision-making. Today, this area of study is burgeoning, and bachelor's in management information systems graduates are in high demand. As organizations continue expanding their operations to digital platforms, they need MIS professionals who are capable of maintaining their networks and databases, as well as translating the data from these systems into actionable business insights.
Decision-makers across a business turn to MIS-processed data to stay informed, make strategic decisions, and take timely actions. This keeps businesses competitive and efficient. For example, when Coca-Cola's manual reporting system for sales and operations data limited access to real-time information, the company shifted to enterprise system integrations. This automated reporting saved the company 260 work hours a year and improved its sales teams' ability to respond to customers.
The integral role MIS plays in an organization's operations translates into a huge boon for those entering the field. According to the BLS, the number of positions in computer and information technology are projected to grow 11% between 2019 and 2029.
What does a professional with an MIS degree do?
An MIS degree can prepare graduates with IT skills and an understanding of how to use those skills to support business processes. The business core of an MIS degree helps ensure graduates understand how the latest technologies and practices fit into achieving an organization's business plans and objectives.
Responsibilities of MIS professionals
The responsibilities of MIS professionals vary depending on the position. However, the work often includes the following:
Securing information
Analyzing business data and processes
Implementing and auditing security controls
Managing users and data
Building dashboards and reports
Developing and administering databases
Designing and implementing algorithms
Ensuring the security of networks and devices
In-demand skills for MIS professionals
MIS professionals link technology with business needs. As such, they need to learn how a business uses its information and effectively communicate their findings across an organization to make improvements. These positions inherently require technical skills such as knowledge of programming languages, systems analysis, and database technologies. In addition to these hard skills, successful MIS professionals also increasingly rely on soft skills such as:
Critical thinking and problem solving
The ability to speak the language of technical and non-technical users
The ability to bridge technology and business
Organizational and management skills
Communication and interpersonal skills
Potential work settings for MIS professionals
MIS professionals work in almost every industry — from finance, to insurance, to manufacturing, and beyond. Possible work settings cover a wide range and include:
Retail companies
Healthcare organizations
Government agencies
Consulting firms
Software development firms
Banks and financial companies
In-demand careers in MIS
MIS professionals can consider a variety of in-demand careers. Among these are technical services manager, information systems manager, networking specialist, and systems administrator.
Technical services manager
Technical services managers oversee and support IT teams who operate, maintain, and fix IT systems. They also supervise the technical work of IT support experts and programmers to make sure company and client problems are solved and performance targets are met. This involves coordinating work assignments, training staff, and developing policies and procedures for quickly resolving technical issues and ensuring a high standard of work. Additionally, technical services managers establish methods for the use of equipment, and in collaboration with information technology staff managers, develop strategies for effectively delivering professional services to clients.
According to PayScale.com, technical services managers earned an annual median income of about $80,000 as of April 2021.
Information systems manager
Information systems managers direct the IT-related activities in an organization. This involves setting IT goals and implementing the computer systems to achieve those goals. Information systems managers assess IT needs and make recommendations accordingly.
They are also responsible for the security of their organization's network and installing computer software and hardware. This requires them to oversee the work of other IT professionals such as computer systems analysts and information security analysts. Additionally, information systems managers may also advise upper-level management on new projects after analyzing their costs and benefits.
Information systems managers earned a median salary of $151,150 a year in May 2020, according to the BLS. The BLS also projects information systems manager job growth of 10% between 2019 and 2029.
Networking specialist
Networking specialists optimize an organization's IT network. They accomplish this by assessing its performance and collaborating with other IT professionals to keep it secure and increase its capacity. Responsibilities include configuring and maintaining IT network infrastructure, keeping server connectivity secure and stable, and ensuring intranets function at optimal performance. Network specialists also test the exchange of data between computers, servers, and routers.
BLS data indicates networking specialists, which are classified under the network and computer systems administrators BLS category, earn a median salary of $84,810. Jobs in the field are projected to grow 4% between 2019 and 2029.
Systems administrator
System administrators set up and maintain computer systems, ensuring the network's server and computers run smoothly. This involves troubleshooting software, hardware, and networking problems by collecting performance data, upgrading networks, and fixing errors, among other tasks. Systems administrators also run diagnostic tests, make repairs, and develop procedures for backing up, archiving, and retrieving data.
Network and computer systems administrators earned a median salary of $84,810 in May 2020. Jobs in the field are projected to grow by 4% between 2019 and 2029, according to the BLS.
Develop expertise in technology and business for an in-demand career
MIS combines the power of technology with the potential of business. This enables professionals in the field to apply their combined technical and business expertise and leverage emerging technologies to give their employers a competitive edge.
If you're ready to explore an MIS career, the future looks bright.
Take advantage of the management information systems job growth and the many exciting MIS job opportunities by learning more about Maryville University's online bachelor's degree in management information systems (MIS).
Recommended Reading
Management Information Systems Careers
What Are Computer Information Systems? An In-Depth Look
Sources
The Balance Careers, "IT Career Options, Job Titles, and Descriptions"
Betterteam, "Network Specialist Job Description"
Betterteam, "System Administrator Job Description"
Betterteam, "Technical Service Manager Job Description"
Bizfluent, "What Are the Benefits of a Management Information System?"
Economic Research Institute, "Technical Services Manager Salary"
Houston Chronicle, "How Is a Management Information System Useful in Companies?"
Houston Chronicle, "Importance of the Management Information System"
Investopedia, "Tech Stocks: The 10 Best Tech Jobs"
Jobhero, "MIS Manager Job Description"
PayScale.com, "Average Technical Services Manager Salary"
State of California Employment Development Department, "Detailed Guide for Computer and Information Systems Managers in California"
Tableau, "5 Real Examples of Business Intelligence in Action"
U.S. Bureau of Labor Statistics, "Computer and Information Systems Managers"
U.S. Bureau of Labor Statistics, "Computer and Information Technology Occupations"
U.S. Bureau of Labor Statistics, "Network and Computer Systems Administrators"
Be Brave
Bring us your ambition and we'll guide you along a personalized path to a quality education that's designed to change your life.