How to Become a Computer Network Architect
How to Become a Computer Network Architect
How to Become a Computer Network Architect
Accessing software, sharing, and storing files securely, supporting remote work — these capabilities and others rely on online networks. Computer network architects design, program, and maintain the online networks that make it possible for computer users to share information quickly and efficiently.
Those interested in how to become a computer network architect can benefit from exploring the role's work responsibilities, salary, and job outlook. Additionally, aspiring computer network architects can consider the advantages of earning a bachelor's degree in management information systems (MIS).
What Is a Network Architect?
In small startups and large corporations alike, computer network architects design communication solutions that allow organizations to engage in a myriad of activities fundamental to their day-to-day operations. These activities include:
Sending emails
Conducting video calls
Collaborating on digital documents
Accessing databases
Sharing resources such as software and storage devices
Network architects may develop small data communication networks, such as local area networks (LANs), that connect devices to servers in a localized area. They may create enormous cloud infrastructures with expansive connection capacities. A well-designed computer network:
Maintains uninterrupted connectivity between network devices
Transmits data smoothly and without congestion
Protects a network from unauthorized access and misuse
In addition to building reliable data communication networks, network architects manage a computer network's infrastructure. This may involve installing software, modems, routers, and other necessary hardware to ensure operations run smoothly.
Computer Network Architect Job Responsibilities
Computer network architects' specific responsibilities can vary based on the position they hold. All professionals in the field typically analyze their organization's current network needs and project how those needs may change. Computer network architects often do this by studying the organization's current data traffic.
This allows them to build scalable networks that can accommodate their organization's needs as it grows. Their analyses also help computer network architects determine specific network requirements related to:
Account bandwidth
Infrastructure
Security
When designing networks, computer network architects add security features that allow for varying levels of access to information, an important tool for protecting sensitive data. Computer network architects may also troubleshoot networks for technical issues like insufficient data storage capacities or outdated security protocols. As part of maintenance, computer network architects upgrade critical hardware and software, including routers and network drivers.
Other duties include:
Evaluating requirements for transmitting voice and multimedia content
Backing up critical data into secure storage locations
Building and maintaining systems that protect the network from viruses and other malicious activity
Determining how to lay out cables and where to place hardware for network installations
Staying up to date with the latest technologies and trends that can help advance the company's goals
Steps for How to Become a Computer Network Architect
A combination of the right education and relevant experience can translate into a successful career as a computer network architect. The following explains, step by step, how to become a network architect: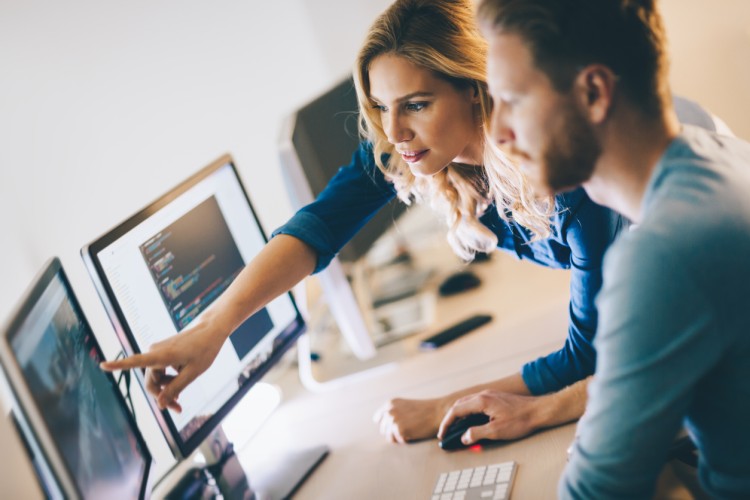 1. Gain a Computer Network Architect Education
Computer network architect education requirements may differ, depending on the employer. In general, candidates need at least a bachelor's degree in a field such as computer science, programming, or management information systems. A bachelor's degree in management information systems (MIS), for example, helps cultivate skills in database design, operating systems, and business communications, all key to the network architect role.
Some positions may require candidates to have an advanced degree beyond a bachelor's, such as a Master of Business Administration (MBA) or a Master of Science (MS) in Cybersecurity.
2. Establish Network Architecture-Related Work Experience
Many positions for computer network architects require candidates to have several years of experience, typically at least five years working with information technology systems.
Aspiring computer architects can start by gaining experience in roles such as:
Network or computer systems administrator
Database administrator
Computer systems analyst
Help desk manager
3. Explore Network Architect Certification Options
Gaining certifications can be key to becoming a competitive candidate for computer network architect job openings because certifications attest to a certain level of expertise and skill.
Consider the following certifications:
CompTIA:
CompTIA A+ certification
CompTIA security+ certification
CompTIA network+ certification
VMware:
VMware certified professional (VCP)
Cisco:
CCT (Cisco certified technician)
DevNet associate
CCNA (Cisco certified network associate)
CyberOps associate
DevNet professional
CCNP (Cisco certified network professional) enterprise, CCNP collaboration, CCNP data center, CCNP security, CCNP service provider
CCDE (Cisco certified design expert)
CCIE enterprise infrastructure, CCIE enterprise wireless, CCIE collaboration, CCIE data center, CCIE security, CCIE service provider
CCAr (Cisco certified architect)
Microsoft:
MTA (Microsoft technology associate)
Computer Network Architect Salary
Computer network architects had a median annual salary of $120,520 in May 2021, according to the U.S. Bureau of Labor Statistics (BLS). Salaries ranged from approximately $63,240 to more than $168,890 a year.
Geographic location and years of work experience factor into individual salaries. Professionals with specific skills, such as Cisco networking skills, can also earn more than the average salary for this role.
Future Growth of Computer Network Architect Jobs
Computer network architects can expect a 4% job growth rate between 2021 to 2031, with a predicted 11,800 job openings each year, according to the BLS. With businesses regularly expanding their information technology networks, which requires professionals who can design, build, and upgrade these networks, the IT career outlook for computer network architects is promising.
Pursue a Career as a Computer Network Architect
Computer network architects bring significant value to the organizations they work for. In addition to keeping a business's information organized and secure, their work facilitates smooth communication and accurate information sharing. By preparing themselves with the right skills and technical expertise, aspiring computer network architects can generate the innovative communication solutions employers covet.
Explore how to become a computer network engineer and the benefits of earning an online Bachelor of Science in Management Information Systems (MIS) from Maryville University.
Recommended Reading
Examples of Digital Divide in the Modern Day
MIS vs CIS Degree: Differences and Career Opportunities
Systems Analyst vs. Software Developer: Complementary Technical Experts
Sources
CareerExplorer, "What Does a Network Architect Do?"
Chron, "Network Architect Duties"
CompTIA, CompTIA Certifications
Field Engineer, "A Guide to Finding Best Computer Network Architect Jobs."
Invision, "6 Reasons a Computer Network Is Good for Business"
Payscale, Average Network Architect Salary
TechRepublic, "A Step-by-Step Guide to Network Architecture Careers"
U.S. Bureau of Labor Statistics, Computer Network Architects
We are your IT, "An Introduction to Computer Networking and Network Services for Business"
Be Brave
Bring us your ambition and we'll guide you along a personalized path to a quality education that's designed to change your life.