Human Resources Generalist Job Description
Human Resources Generalist Job Description
Human Resources Generalist Job Description
Workplaces are made up of people who all need support from the day they join a company to the day they leave. Human resources is the field that focuses on a workplace's personnel: hiring, training, administering, compensating, and sometimes navigating difficult interpersonal conflicts.
When building a human resources (HR) department, companies typically begin by hiring an HR generalist. Because they possess a diverse set of HR skills, HR generalists may take on a range of responsibilities, from recruitment to performance management.
The training and expertise necessary to thrive as an HR generalist can be gained by earning a bachelor's degree in human resource management. Learn more about the HR generalist job description, the settings in which HR generalists work, common skills, salary and job outlook, and how the right education can help you thrive in the field.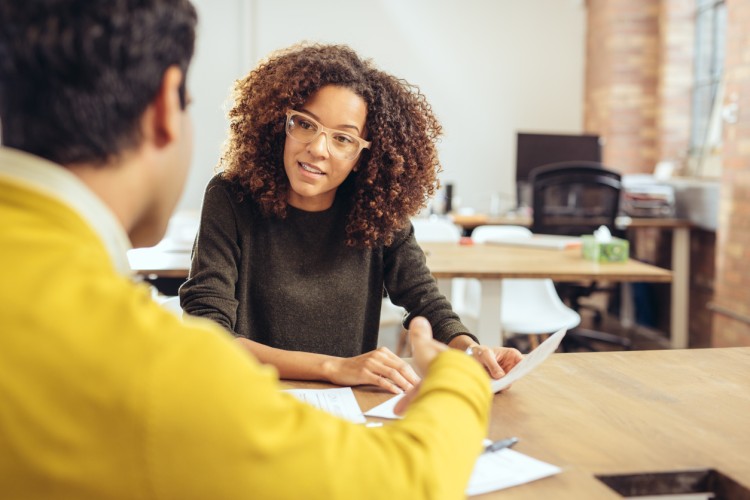 Work Environments for HR Generalists
HR generalists usually work in dedicated human resources departments, liaising between employees, managers, legal counsel, and other stakeholders.
Most HR departments exist within a physical office, but some HR generalist roles are entirely remote. In either case, HR generalists often work for long periods of time on their computers, whether running reports, filing paperwork, or coordinating with personnel.
In larger organizations, HR generalists work alongside HR specialists. Here, HR generalists may communicate across teams and represent the HR department in meetings with company leaders. They may also fill in when additional needs arise in a company life cycle. For example, a dedicated HR generalist may help with training when an organization onboards an influx of new employees — and then turn their attention to management concerns.
In smaller organizations, an HR generalist may conduct most or even all HR work. Budget constraints may limit how many HR roles an organization can afford, so HR generalists provide much-needed coverage. Some small organizations may have an HR staff of only one to three HR generalists who take on all the major HR tasks for the workplace:
Recruiting
Onboarding
Compensation and benefits
Training/company culture
Performance management
Organizational development
HR Generalist Job Description
HR generalists serve as a resource on all human resources matters, providing guidance and support to administrators, managers, and employees.
Daily job duties include:
Conducting new-hire and exit interviews
Consulting with managers and supervisors about individual employees or groups
Mediating between employees and managers
Recruiting (especially for smaller organizations lacking a robust recruitment team)
Providing ongoing training to employees
Maintaining compliance with laws and regulations at the federal, state, and local levels
Less frequently, HR generalists may need to update organizational policies according to best practices and facilitate difficult conversations about investigations, disputes, and disciplinary matters. Duties that may fit the HR generalist job description include:
Participating in employee disciplinary meetings and investigations
Researching and reviewing policies and practices for legal compliance
Reviewing background checks and verifying employee eligibility for hire
Tracking compliance with continuing education, including professional licensure, field-specific certifications, anti-harassment training, and safety training
Collaborating with managers to understand team hiring needs
Referring sensitive or complex employment-related matters to appropriate personnel
Fundamental Skills for HR Generalists
Unlike HR specialists, HR generalists need competencies in all core HR disciplines, including compensation, hiring, and training. Most companies require applicants to have at least a bachelor's degree in human resources or a related field to demonstrate these core competencies.
HR generalists should be flexible, willing to adapt to challenging workplace conflicts. In addition to working alongside other HR professionals, HR generalists should be able to work closely with legal counsel, leaders, and employees at all levels of the organization to come to resolutions.
The skills of an HR generalist reflect this need for excellence in organizational communication and interpersonal relationships. They include:
Proficiency with organizational hiring and recruiting systems
Conflict resolution skills related to HR tasks, ranging from salary and benefits negotiations to employee termination
Ability to maintain confidentiality
Knowledge of laws and regulations (at local, state, and federal levels)
Time management skills
Ability to execute multiple complex tasks at once
Willingness to take on different HR roles and responsibilities as needed
HR Generalist Salary and Job Outlook
Organizations of all sizes require human resources support, so the demand for HR generalists should persist well into the future.
The U.S. Bureau of Labor Statistics (BLS) projects the employment of human resources professionals to grow 10% from 2020 to 2030, about as fast as average. This increase equates to about 73,400 job openings for human resources personnel in the coming decade because of the need to replace retirees.
The BLS reports that the median annual salary for HR professionals was $63,490 as of May 2020. Salaries vary depending on education, experience, employer, and location.
Human resources offers employees opportunities for flexible career advancement. People who start as HR generalists can move into specialist roles and vice versa. Starting in an HR generalist position may provide early-career professionals with opportunities to learn about HR specialties that interest them.
Take the First Step Toward a Career in Human Resources
The dynamic field of human resources needs organized, effective leaders who are willing to support their workplaces through times of change. To become a generalist in the HR field, students should gain the education that will prepare them for a diverse work environment.
If you're considering a human resources career path, Maryville University's online Bachelor of Science in Human Resource Management program may be an essential first step. Courses include topics in diverse workforce management, labor relations and negotiations, risk management, and performance appraisals. Plus, students gain access to experiential learning opportunities through a comprehensive capstone project and options for an internship. Learn more about how this HR management degree can help you advance your career.
Recommended Reading
Cultural Competence in the Workplace: What Leaders Need to Know
Importance of Training and Development for Employees
Risk Management Techniques and Tips for HR Professionals
Sources
Houston Chronicle, "Are HR Generalists & HR Coordinators the Same?"
Houston Chronicle, "Human Resources Generalist vs. Human Resources Specialist"
Indeed, "HR Specialist vs. HR Generalist: What's the Difference? (With FAQs)"
Akron Area SHRM – Sr. Human Resources Generalist
U.S. Bureau of Labor Statistics, Human Resources Specialists
Be Brave
Bring us your ambition and we'll guide you along a personalized path to a quality education that's designed to change your life.