Healthcare Management Careers: How to Become a Medical Office Manager
Healthcare Management Careers: How to Become a Medical Office Manager
Healthcare Management Careers: How to Become a Medical Office Manager
The field of healthcare tends to see lower unemployment numbers and is among the more recession-resistant industries nationwide. For example, during the Great Recession of 2007-2009, the healthcare industry fared far better than most others. According to the U.S. Bureau of Labor Statistics (BLS), the healthcare sector remained recession-resistant, fueling job growth and helping offset national and regional job losses that were characteristic of the economic downturn.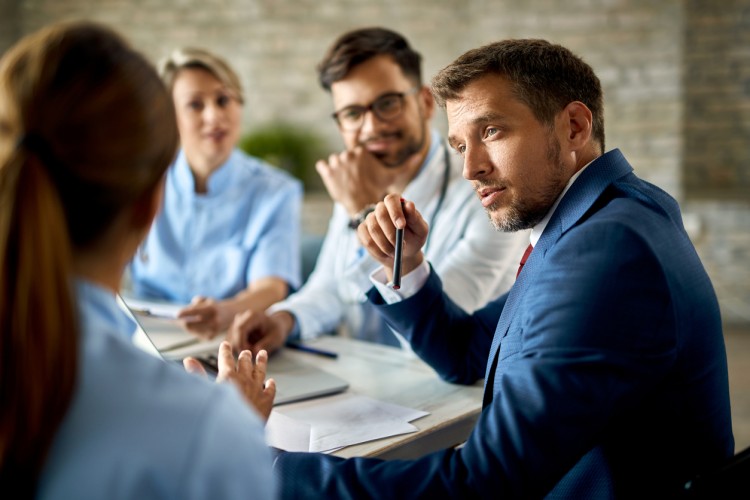 While the healthcare industry has been tested by the COVID-19 crisis, physicians' offices, ambulatory medical centers, and home health agencies that furloughed or cut employees in early 2020 due to a pause in elective procedures made progress toward returning to pre-pandemic staffing levels over the summer and fall, according to the latest figures from the BLS reported by Healthcare Dive.
More Americans are living longer, and a greater percentage are also living with chronic illnesses that require long-term healthcare intervention. As a result, healthcare management is a promising field, especially for those who are looking for positions that are more secure during periods of economic turmoil and job erosion.
The role of a medical office manager is increasingly important and complex, particularly as healthcare becomes more sophisticated and technology driven. Healthcare professionals who are interested in becoming a medical office manager may want to consider pursuing a bachelor's in healthcare management to develop the skills needed to ensure that medical facilities run efficiently.
What Does a Medical Office Manager Do?
Medical office managers focus on ensuring their facilities or practices provide uninterrupted service to patients. This involves a multifaceted approach: from procuring medical equipment to hiring and training staff to complying with the latest laws and regulations such as HIPAA. Overall, these administrators are responsible for the business activities of a medical practice.
Those who become medical office managers perform numerous duties.
Managing skilled personnel through hiring, training, scheduling, and supervising
Ensuring health information systems, such as patient records and data, are complete, accurate, and secure
Managing the facility's financial functions
Ensuring facility records are well maintained and organized
Serving as the point of contact for vendors and contractors
Ensuring operations comply with healthcare laws and regulations
Budgeting for and procuring equipment and supplies
Serving as a spokesperson at investor and board meetings
Medical office managers who are working in individual physicians' offices tend to work independently and have broader responsibilities than their counterparts in large group practices. For example, bigger offices often distribute duties, such as scheduling and billing, to several employees due to volume. Individuals who become medical office managers typically work full time.
Employers of medical office managers can vary. Some 33% work in hospitals (state, local, and private), according to the BLS, while 12% are employed by physician offices. Another 10% serve as administrators at resident and nursing care facilities, 8% work for the government, and 7% are employed by outpatient care facilities.
Steps to Become a Medical Office Manager
If a management position in medical and health services sounds rewarding, a degree such as an online Bachelor of Science in Healthcare Management can start you on the path to becoming a medical office manager.
Earn a Degree
While some medical office managers enter the field with an associate degree and are promoted from office support roles to management, many employers require candidates to have at least a bachelor's degree in areas such as health management, health administration, public health administration, or business. Additionally, some employers prefer that candidates hold a master's degree in health administration or a related field.
Gain Management Experience and Consider Certification
Experience in supervisory roles and relevant credentials can give candidates a competitive edge.
Offered by the Practice Management Institute, the Certified Medical Office Manager (CMOM) designation requires individuals to pass a four-hour proctored exam and can improve a candidate's chances of finding a job and developing industry-leading skills.
Another option to help prospective medical office managers stand out is obtaining the nationally accredited Certified Medical Manager (CMM) credential from the Professional Association of Health Care Office Management (PAHCOM). Prior to taking the voluntary exam, certain requirements must be met, such as PAHCOM membership, at least two years of experience in the healthcare field, and 12 hours of college credits in business management.
Develop Leadership Skills
Medical office managers should possess both broad and specific skills to serve in a variety of healthcare settings. Some core competencies required to succeed in managing a medical office include the following.
Leadership: Medical office managers hire, train, motivate, and lead. They often are required to resolve administrative problems and communicate policies and procedures.
Communication: A manager's written and spoken communication sets the tone for their office, whether communicating with staff, patients and families, healthcare representatives, or physicians and nurses.
Analytical thinking: Medical office managers must regularly oversee and review procedures, diagnoses, medical terminology, and codes. As part of this important responsibility, they must maintain a thorough and updated knowledge of current regulations and adapt to new legislation.
Attention to detail: Among other daily tasks that require their close attention, medical office managers must be adept at organizing and maintaining scheduling and billing information. Professionals in these positions must also have in-depth knowledge and understanding of medical terminology and maintain consistency and accuracy.
Technology: Medical office managers must stay up to date on emerging healthcare technologies, such as coding and classification software, data analytics, telehealth, and electronic health records systems.
Confidentiality: Discretion is a key characteristic of the medical office manager role, as they are entrusted with personal health and financial information and proprietary office data. This confidentiality extends to ensuring data is secure in accordance with local, state, and federal governmental regulations.
Interpersonal relations: Part of the medical office manager's job is ensuring patients have a positive experience. This often involves addressing concerns and complaints, so good customer service skills are vital. Medical office managers must form working relationships with patients and their families, as well as with physicians, nurses, surgeons, technicians, and other professionals.
Medical Office Manager Salaries
Medical office managers are classified by the BLS as medical and health service managers, which as of May 2019 earned a median annual salary of $100,980. The lowest 10% of medical office managers earned less than $58,820, while the highest 10% earned more than $189,000. Medical office manager salaries may vary based on a variety of factors, including level of education, years of experience, the type and size of medical facility, and the location of the job.
Employment Outlook for Medical Office Managers
Experienced and well-educated medical office manager candidates have strong prospects for landing a job. The BLS projects 32% job growth for the occupation between 2019 and 2029, from 422,300 to 555,500 positions. This is much faster than the overall growth rate for all other jobs. Aspiring medical office managers who are well-versed in healthcare IT systems have the best job prospects, according to the BLS.
Launch Your Career as a Medical Office Manager
Discover more about careers in healthcare management, including how to become a medical office manager, by exploring Maryville University's online Bachelor of Science in Healthcare Management program.
The program focuses on healthcare informatics, healthcare compliance and quality, patient partnership and engagement, population health management, and professionalism and communication in the healthcare setting. The curriculum is designed to develop industry leaders who influence the delivery of quality patient care.
Explore how Maryville University can help you take your first brave step toward a healthcare career today.
Recommended Reading
Patient Confidentiality in Healthcare
Healthcare Management Terms for High School Students
Managing the Future of Healthcare: How Robot Nurses and AI Will Shift Healthcare
Sources
GOBankingRates, 25 Tried-and-True Jobs That Will Last Through Any Recession
Healthcare Dive, Healthcare Jobs Inch Back to Pre-Pandemic Levels, Adding 75,000 in August
Healthcare Dive, Healthcare Jobs in Uneven Recovery After Big Spring Losses
Indeed, Learn About Being a Medical Office Manager
National Organization of Rheumatology Management, Seven Qualities and Skills Medical Office Managers Must Have
Practice Management Institute, Certified Medical Office Manager (CMOM)
Professional Association of Health Care Office Management, Certified Medical Manager (CMM) Certification
U.S. Bureau of Labor Statistics, Healthcare Jobs and the Great Recession
U.S. Bureau of Labor Statistics, Medical and Health Service Managers
Be Brave
Bring us your ambition and we'll guide you along a personalized path to a quality education that's designed to change your life.