What Is General Studies? Exploring the Healthcare Concentration
What Is General Studies? Exploring the Healthcare Concentration
What Is General Studies? Exploring the Healthcare Concentration
A general studies degree is an ideal fit for students who are looking to explore a wide array of academic subjects. It allows students to delve into a number of different fields to develop a better understanding of their potential future careers. Additionally, those interested in breaking into the healthcare industry could benefit from earning a bachelor's degree in general studies with a concentration in healthcare, which can open the door to a number of careers and allow eligible students to transfer into other programs after two years of study.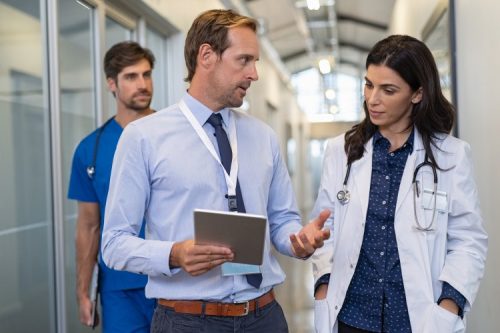 What Is General Studies?
A general studies degree offers an element of flexibility to students with their studies. Unlike many other degrees, a general studies degree doesn't focus on a specific field or subject matter. Instead, students can delve into a number of academic subjects, such as liberal arts or the social sciences. This is especially useful for those who are unsure of what they would like to do professionally following graduation. With a general studies degree, students can pursue their interests in a wide range of fields without risk of overcommitting.
What Can You Do with a General Studies Degree with a Healthcare Concentration?
A general studies degree with a healthcare concentration can allow individuals to build their knowledge across a wide range of non-clinical healthcare topics, along with various liberal arts subjects. This flexible, multifaceted degree can enable students interested in pursuing unique healthcare careers to gain the knowledge needed to make substantial contributions to the healthcare industry without becoming nurses or physicians.
Those who earn the degree can use it as a stepping stone toward a master's degree in a health-related field or pursue a wide range of intriguing career paths immediately following graduation.
Career Outcomes for Students
Students who earn a general studies degree with a healthcare concentration may be able to pursue a role as a health educator. These professionals teach individuals and communities about behaviors that promote good health. Degree holders can also become patient health advocates, who guide vulnerable individuals toward care services and health information that may otherwise be out of reach.
Additionally, degree holders may pursue a clinical researcher role, which could put them in a position to oversee ethically designed, scientific-driven trial methodologies to help determine a new treatment's safety and effectiveness. Visit Maryville University's BA General Studies Healthcare Careers page for an expanded list of potential career opportunities.
Benefits of Earning a General Studies Degree with a Healthcare Concentration
Gaining access to a wide range of intriguing job opportunities is not the only benefit to earning a general studies degree with a healthcare concentration. For instance, the broad curriculum exposes students to a wealth of learning opportunities that may not be available in a more narrowly focused program.
Another key benefit to this type of degree is that it can allow students to grow a broader skill set. Because the degree is built on a foundation of general studies, students may be able to enhance competencies outside of the traditional healthcare degree skill set, such as math or writing skills.
The general studies component of this type of program could also give students the opportunity to explore a wider range of potential advanced degrees. This can be particularly advantageous for those who are pondering the possibility of pursuing jobs beyond the healthcare industry.
Concepts in Healthcare
Enrolling in a general studies program with a healthcare concentration exposes individuals to several fundamental concepts currently shaping the modern healthcare landscape. It's important to have a grasp of these concepts, as they can better prepare individuals to enter the healthcare industry with confidence.
Healthcare Industry Growth
Healthcare is often viewed as a somewhat recession-proof industry. People will always need quality health services, and there will always be a need for skilled professionals to provide dedicated care to patients and to ensure that healthcare organizations operate properly. The sector employs people who provide tactile, in-person care, which can be difficult to replace through automation and artificial intelligence.
The healthcare industry is growing quickly, thanks in part to an aging population and the prevalence of conditions that require increased care, such as obesity, and technological developments. In fact, the sector is growing so fast that the job market is having trouble keeping up, and there is an acute shortage of not only physicians but also nurses and other healthcare workers. The U.S. Bureau of Labor Statistics projects healthcare employment to grow about 14% between 2018 and 2028, faster than the average occupation, adding approximately 1.9 million new jobs during that time. This represents a third of the 8.3 million jobs that will be created over the next decade.
An Aging Population
The healthcare industry boom is partly fueled by an aging population, which requires increased care. Longer life expectancy means people are leading longer and more active lives, but it also means the percentage of older Americans is growing. In the United States, the number of people 65 and older grew from 35 million in 2000 to 54 million in 2020, or 12.4% and 16.3% of the total population, respectively. This number is expected to rise to 80 million in 2040. An aging population needs increased care. According to the American Medical Association, older patients need two to three more healthcare-related services than the rest of the population.
Obesity
According to the Centers for Disease Control and Prevention, in 2017-2018, 42.4% of adults and 18.5% of youth were obese. Obesity is on the rise and has been linked to heart disease and other conditions that are responsible for many preventable deaths in the United States. The rise in adult obesity has led to a rise in healthcare costs, as obese adults spend more on healthcare costs than other adults.
The combination of an aging population and the rise in obesity means patients need increasingly dedicated care and more professionals who can help them not only prevent and treat their ailments but also lead healthier and more productive lives.
Technological Developments
Technology has revolutionized everyday life, and the medical field is no exception. Technology has made it easier for doctors to access and share information to prevent, diagnose, and treat illness and to provide convenient and cost-effective solutions, such as telehealth and telemedicine. Procedures such as robotic surgeries are on the rise and can provide many benefits to patients, including shorter hospitalization times, smaller incisions, and fewer chances for human error.
Technology has allowed for a plethora of effective and innovative products, such as wearable medical devices and sensors, to emerge. These devices and other apps, smartphones, and smartwatches help support health and wellness for patients by monitoring health vitals and, in some cases, transmitting the data to a caregiver or physician for evaluation. Sensors are increasingly small and seamless. They can be easily integrated into clothing and personal items, and they can play an important preventive role by helping to detect problems earlier on. Some devices, such as smart gloves, go even further and help patients recover movement and mobility after an accident.
These technological innovations have led to new ways to make a difference in people's lives through healthcare. Professionals can work in research and development and can become entrepreneurs to create new products and services to benefit patients. Technology has also facilitated the growth of biotechnology and data science, as well as other fields.
Thanks to an aging and more active population, obesity and other growing health conditions, and a rapid evolution in technology, the healthcare industry is experiencing a boom and will be one of largest sources of employment in the U.S. in the next decade. A bachelor's degree in general studies with a concentration in healthcare can help provide a solid basis of knowledge in healthcare and other areas and teach professionals the skills they need to begin and grow their careers in the healthcare industry.
Take a Unique Path to the Healthcare Industry
There is more to healthcare than doctors and nurses treating patients. The industry is filled with unique opportunities that can allow individuals to contribute to the goal of keeping people healthy, whether it's overseeing trials for a potential medical breakthrough or teaching communities how to take care of themselves at home. Students who complete a general studies degree with a healthcare concentration have the necessary skills to pursue these roles and make a significant difference in the industry. Learn how Maryville University's online Bachelor of Arts in General Studies with a concentration in healthcare can help get you ready to explore these exciting career opportunities.
Recommended Reading
The Future of Healthcare: Trends, Technology & New Skills for Success
The Future of Public Health: Skills for Helping Communities Thrive
Sources
Association of American Medical Colleges, "New Findings Confirm Predictions on Physician Shortage"
Centers for Disease Control and Prevention, Adult Obesity Facts
Centers for Disease Control and Prevention, Childhood Obesity Facts
Centers for Disease Control and Prevention, "Prevalence of Obesity and Severe Obesity Among Adults: United States, 2017-2018"
Population Reference Bureau, "Fact Sheet: Aging in the United States"
Urban Institute, The U.S. Population Is Aging
U.S. Bureau of Labor Statistics, Employment Projections
Be Brave
Bring us your ambition and we'll guide you along a personalized path to a quality education that's designed to change your life.