How to Become a Video Game Designer
How to Become a Video Game Designer
How to Become a Video Game Designer
As of 2020, there are 2.7 billion video game players worldwide. The video game industry has grown substantially since it began in the 1970s. The global market is projected to be worth more than $200 billion by 2023, according to market insights firm Newzoo.
As the video game industry has evolved, game design has evolved with it. What began as designing for twitch-reflex arcade games has grown into creating densely detailed software for consoles, PCs, and mobile devices. With that progression, the role of video game designers has become drastically more complex.
A video game designer is essential for turning an idea into a product that players can interact with. From creating entire worlds to developing individual characters, video game designers can bring an endless number of ideas to life. To create content that can be played on a variety of platforms, video game designers should understand the elements of software design, digital media, and computer programming.
An individual who is passionate about video games and wants to learn how to become a video game designer should consider pursuing a degree in digital graphics and technology, such as Maryville University's online Bachelor of Fine Arts in Digital Media program.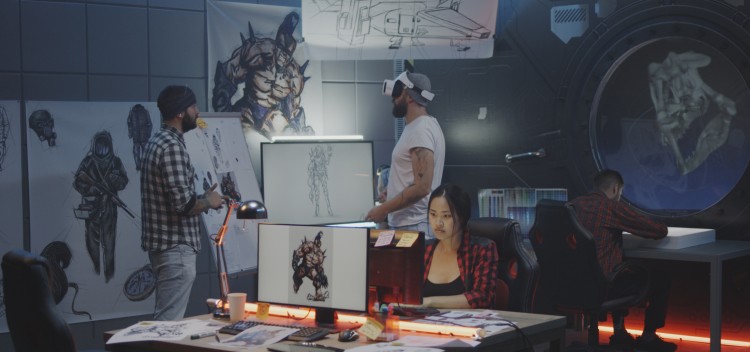 What Does a Video Game Designer Do?
A variety of factors make video game design an appealing career. Using creativity to build entertaining games can be particularly rewarding for those who enjoy being immersed in the world of gameplay. However, those who are interested in learning how to become a video game designer may be wondering what exactly video game designers do.
Game designers coordinate with a team of programmers, artists, and sound technicians to turn computer programming language code into a playable experience. Video game design is a collaborative field, with as many as 100 people on a development team for a large-scale project. Designers can have different levels of responsibility, including acting as project managers or overseeing bug testing. Video game designers brainstorm game concepts and design innovative characters, storylines, and gameplay. They may also specialize in user experience (UX) design; interface development; or character, map, or level design.
Video game designers create games that can be played on a variety of platforms. Mobile gaming has become the largest and fastest-growing form of gaming, according to Newzoo. However, many video game designers still work on big-budget games for consoles and PCs.
Steps to Become a Video Game Designer
According to the Entertainment Software Association, more than 200,000 people work in the video game industry. But how did they get there? For video game designers, the first step is to pursue a bachelor's degree in digital media or a similar field, such as computer science, computer engineering, or game design. Digital media courses such as principles of game design, motion graphics, icon and identity, and digital illustration can prepare students for a career in video game design.
While developing a foundation in game design and earning their degrees, students can gain hands-on experience by working on video game projects. They can apply to internships at video game design companies. Here, they will learn about industry trends and how to create game prototypes. Students can also venture into the thriving world of indie game design, where small groups work together to produce games without big-money corporate backing.
Even if aspiring game designers don't choose to gain practical experience while earning their degrees, they can begin their careers by working in entry-level web development, software design, or computer programming jobs.
Applicants for video game design positions should have experience as professionals or interns, and be able to present a portfolio of sample projects. They should also have strong technical, creative, interpersonal, and problem-solving skills, along with excellent verbal and written communication skills and a thorough understanding of coding languages and mathematical concepts.
Employment Outlook and Salary for Video Game Designers
Becoming a video game designer takes dedication and perseverance, and requires individuals to stay up to date on changes in the industry. The occupation offers many benefits, including the fact that the field is constantly evolving and expanding.
The employment outlook for video game designers has been positive and continues to grow. The U.S. Bureau of Labor Statistics (BLS) places video game designers under the category of software developers, which has a projected job growth of 22% between 2019 and 2029.
Another benefit of a career in video game design is its healthy salaries. According to the compensation website PayScale, the median salary for game designers as of September 2020 was approximately $65,000. Salaries can vary based on experience, education, job location, and type of company. For instance, video game designers might work for large multinational corporations — such as Nintendo, Sony, or Blizzard — or might design their own games and sell them to different publishers.
Earn Your Degree in Digital Media
Designing innovative and exciting video games for the entertainment industry can be a rewarding career for those who are passionate about digital media. As experts in software design and computer programming, video game designers have a unique career that can involve everything from pitching game concepts to designing worlds and characters. With a growing field and competitive salary, the job offers many advantages. Your career in video game design can begin with an online Bachelor of Fine Arts in Digital Media from Maryville University.
Be brave with us. Discover how a degree from Maryville University can position you to pursue your professional goals and teach you how to become a video game designer.
Recommended Readings
Must-Have Tools for Graphic Designers: What You'll Need
Video Game Jobs: How to Earn a Living in the Gaming Industry
What Is Digital Media? All You Need to Know About New Media
Sources
Better Team, Game Designer Job Description
Career Explorer, "What Does a Video Game Designer Do?"
The Entertainment Software Association, 2017 Economic Impact Report
Newzoo, The World's 2.7 Billion Gamers Will Spend $159.3 Billion on Games in 2020
PayScale, "Average Video Game Designer Salary"
Tech Jury, "43+ Out of This World Video Games Industry Statistics in 2020"
Be Brave
Bring us your ambition and we'll guide you along a personalized path to a quality education that's designed to change your life.