Maryville University's Cybersecurity Center of Excellence
Maryville University's Cybersecurity Center of Excellence
Maryville University's Cybersecurity Center of Excellence
These days, everything from traffic signals to transit systems are computer-controlled and while that exemplifies technological advancement, it also means there are certain vulnerabilities. That's why it's important for municipalities, businesses, universities, and military agencies to develop comprehensive strategies to study, monitor, prevent, and respond to cyber attacks. That's why Maryville University established the Cybersecurity Center of Excellence, a digital learning and interaction hub that connects cyber security students to real-world problems in the business and nonprofit spheres.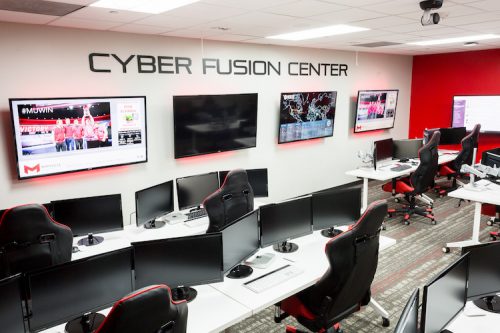 The Center offers resources for students to get the hands-on experience needed for developing crucial skills in computer forensics and ethical hacking, as well as other competencies in information security. It is managed by faculty experts and staffed by students who are enrolled in Maryville University's online Bachelor of Science in Cyber Security or online Master of Science in Cyber Security. The Center implements a variety of advanced technologies to detect and report security threats, such as telepresence robots that allow students to see and speak with clients in real time.
There are currently 35 students working out of the Center, and the university plans to expand the Center to accommodate at least 50 students.
Launch and Growth
In 2017, Maryville University President, Dr. Mark Lombardi created the school's first cyber security program in just eight weeks in response to the growing demand from local companies for more cyber security professionals. The cyber security program received more than $435,000 in grants from the PNC Foundation, allowing the Cybersecurity Center of Excellence to take shape.
Since its launch, the university's cyber security initiatives have helped drive Maryville's steady and impressive growth as a private, nonprofit, higher-learning institution. From an enrollment of only 1,846 students in 2007, the on-campus student population increased to 2,292 in the fall of 2017, marking a consistent enrollment growth of at least 2 percent per year.
Student-Focused Operations
The Center initiative allows students to handle the cyber security issues of St. Louis-area small businesses as part of their real-world training, all while being mentored by the Center's capable faculty members. The students run the hub and perform tasks according to their abilities and experience. Students may earn elective credits or meet an internship requirement by working in the Center. This makes it a training ground for aspiring cyber security professionals.
Undergraduate and graduate students value the concrete, real-world skills that the Center allows them to develop. While professionals and facility experts oversee some of the more intricate cyber security issues, students also get hands-on experience solving real-world problems.
Careers in cyber security require analytical and risk assessment skills, problem-solving competencies, and a keen attention to detail, according to the Bureau of Labor Statistics (BLS). Maryville University Cyber Security students hone these abilities thanks to the interactive, student-centered education, modern IT tools and mentorship at the Center.
BLS predicts that employment opportunities for information security analysts will grow at a faster rate than many other U.S. occupations through 2026. The agency predicts the number of information security experts and analysts will grow by 28 percent from 2016 to 2026, with an additional 28,500 jobs added to the economy by the end of that 10-year period.
Community Involvement
While the Cybersecurity Center of Excellence allows students to practice and develop workforce-ready skills in cyber security, the community of St. Louis has also benefited from its presence. Through the Center, startups and nonprofit agencies within the community are given cost-free IT security analysis and up-to-date knowledge on compliance requirements. The Center, which already serves about 50 pro bono beneficiaries, plans to increase its community involvement and expand the facility's physical space to double its current capacity.
The Center recognizes not only the intricate security threats that businesses face, but also the substantial costs of implementing effective cyber security solutions. Support from the Center has allowed nonprofit beneficiaries to safeguard donors' data, satisfy compliance requirements, and cut down on IT-related expenses.
As part of the PNC grant Maryville received in 2017, the Center also facilitated a coding camp for students in the Riverview Gardens School District and for Boys and Girls Club members in St. Louis. As many as 200 students from Riverview further refined their basic coding skills at Maryville in the first half of 2017.
The Mathews-Dickey Boys and Girls Club recognized its partnership with Maryville as a driving force behind its growth. Reliable cyber security has become indispensable in the club's operations as it prepares to expand its services nationally and internationally. The Cybersecurity Center of Excellence's free services have also helped the club benefit from significant cost savings, according to the organization's president, Wendell Covington Jr.
The Cybersecurity Center of Excellence plans to continue delivering cost-free solutions to local client beneficiaries while advancing its mission to provide educational and career development opportunities for new learners, aspiring experts, and professionals alike.
Sources:
Bureau of Labor Statistics, "Information Security Analysts"
Bureau of Labor Statistics, "Interview With a Cybersecurity Consultant"
Fox2Now St. Louis, "Maryville University and PNC Bank Partner for Cyber Security Training"
Maryville University, Cyber Fusion Center
Maryville University, "Cyber Fusion Center Provides Major Opportunities"
Maryville University, "Dr. Mark Lombardi"
Maryville University, Master's in Cyber Security Online Curriculum
Maryville University, Online Bachelor's in Cyber Security Curriculum
NEC, "Cyber Fusion Twining Physical and Virtual Security"
St. Louis Post Dispatch, "Education Revolution Taking Shape at Maryville University"
St. Louis Post Dispatch, "St. Louis Startups Benefit From $435,000 Maryville Grant to Boost Cyber Security Program"
Be Brave
Bring us your ambition and we'll guide you along a personalized path to a quality education that's designed to change your life.