Jobs in Cybersecurity: Next Steps After Your Bachelor of Science Degree
Jobs in Cybersecurity: Next Steps After Your Bachelor of Science Degree
Jobs in Cybersecurity: Next Steps After Your Bachelor of Science Degree
On a regular basis, we hear stories and read headlines about yet another cyber attack on a government agency or large corporation. In response to this growing threat, jobs in cybersecurity are proliferating across every industry. Organizations are trying their best to train and offer security tools to their employees. Still, the risk of cyber attacks seems higher than ever.
It's no surprise then that cybersecurity professionals are in high demand. Having completed a bachelor's degree in cybersecurity, you can apply to work in nearly any industry that deals with sensitive digital information.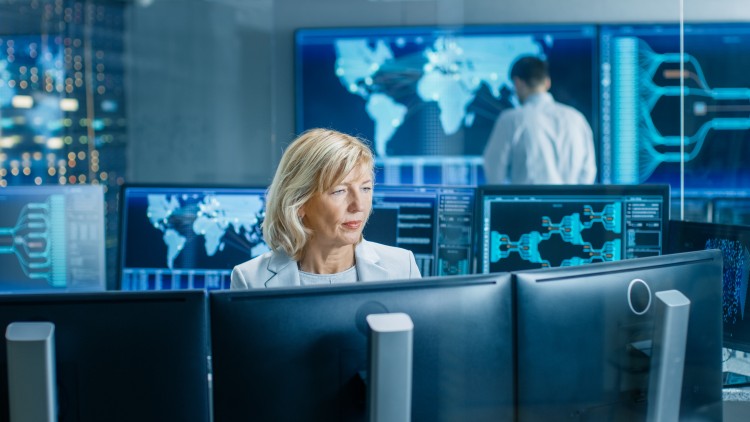 Cybersecurity Degree Job Outlook
The U.S. Bureau of Labor Statistics (BLS) projects positions for information security analysts are expected to grow 33% between 2020 and 2030 — more than four times the average for all other occupations.
More and more organizations are storing sensitive information in the cloud, often using third-party platforms, creating a sustained demand for cybersecurity experts for years to come. Banks, healthcare institutions, government entities, and beyond all rely on cybersecurity professionals to prevent data theft by hackers and create innovative ways to strengthen online protection.
Information security analysts, who represent just one profession in cybersecurity, earned a median annual salary of $102,600 as of May 2021 according to the BLS, and most had less than 5 years of prior work experience in a similar occupation.
Steps to Gain Experience for a Job in Cybersecurity
After earning a degree in cybersecurity, taking the following steps can help graduates advance their careers and increase their value in the industry.
Step 1: Cybersecurity Internships and Part-Time Work During Your Degree
Even before you graduate, you have opportunities to network and grow your technical skills through internships. The National Security Agency (NSA), for example, offers a Cyber Summer Program for undergraduate students from around the country who are interested in the role of cybersecurity and network security in various sectors. Students in the program work in teams to counter cyber-related security threats.
Private corporations such as Lockheed Martin, IBM, and Facebook also offer cybersecurity internships in which participants can monitor security events and participate in security inspections.
Step 2: Earn Certifications
According to a 2020 Cybersecurity Workforce Study, 63% of cybersecurity professionals are currently pursuing or plan to pursue a security-related certification. Why? The study found that on average, cybersecurity professionals who have certifications earn $18,000 more annually. Certified professionals also claim these credentials lead to greater career opportunities, as well as professional flexibility that helps with work-life balance.
One of the most popular and widely accepted certifications is that of Certified Information Systems Security Professional (CISSP). The CISSP is an ideal program for security practitioners and is often required for those in a supervisory role. To pass this exam, professionals must prove five years of experience in two or more cybersecurity domains.
Step 3: Attend Cybersecurity Seminars and Courses
As a cybersecurity professional, it's crucial to network and remain relevant as the field evolves. One means of doing that is by attending conferences, seminars, and courses. The acclaimed RSA Conference meets annually to discuss the latest technology and processes that cybersecurity experts use to keep their organizations safe and secure.
Post-graduate training, such as CISM (Certified Information Security Manager) certification training, can bolster employees' requests for higher pay and career advancement. CISM certification is internationally recognized and helps trainees become experts in information security governance, risk management, and other areas of cybersecurity.
Step 4: Grow Your Cybersecurity Network
While conferences offer networking opportunities, graduates should continue growing their professional network throughout the year. Even if you are not searching for a job, building these professional ties is key to demonstrating your workplace value and gleaning the latest updates from veteran security analysts. Whether using online tools such as LinkedIn or Meetup, or taking advantage of in-person opportunities, look for ways to stay current and connected in an industry that is constantly innovating.
Step 5: Earn a Master's Degree
Enrolling in an online master's degree in cybersecurity provides access to specialized technical training and leadership experiences. This, in turn, serves to prepare you for jobs in cybersecurity that offer more supervisory and complex management roles, as well as higher pay. Some graduate programs, such as Maryville University's online master's in cybersecurity, offer credentials such as CISSP, EC-Council Certified Security Analyst (ECSA), Certified Information Systems Auditor (CISA), Splunk Core Certified Power User, and other certifications.
Get Familiar with the Diversity of Cybersecurity Jobs
The future of cybersecurity will continue to provide opportunities for IT professionals, as governments and private corporations invest more time and money into these careers to ensure their citizens, clients, and data assets remain safe from malicious cyber attacks.
The Internet of Things (IoT) has brought convenience and digital synchronicity to our lives, but it has also increased our susceptibility to cyber attacks. With more devices going online, the need for cybersecurity will only continue to grow. If data protection interests you, discover the diversity of careers you can access with an online bachelor's, master's, or certificate in cybersecurity from Maryville University.
Recommended Reading
How to Prevent Cyberattacks: Top Ways to Protect Yourself
Types of Security Breaches: Physical and Digital
Work from Home Safety Tips for Online Security
Sources
ICS2, "Cybersecurity Workforce Study"
ICS2, "CISSP Recognized as Top Security Certification"
National Security Agency, "NSA Student Programs"
Start a Cyber Career. "5 Awesome Internships for Cybersecurity"
U.S. Bureau of Labor Statistics, Information Security Analysts
Be Brave
Bring us your ambition and we'll guide you along a personalized path to a quality education that's designed to change your life.