Public Information Officer Careers To Pursue After Graduating
Public Information Officer Careers To Pursue After Graduating
Public Information Officer Careers To Pursue After Graduating
As public information's reach and volume increase, so does the importance of public information officers. Thanks to the growth of social media, blogs, and citizen journalism, companies and government agencies are subject to coverage across media channels, a shortened news cycle, and rapidly changing public opinion. Public information officers can help these organizations to coordinate with media outlets and connect with valuable audiences. By establishing these relationships, the organizations can effectively maintain their brand image.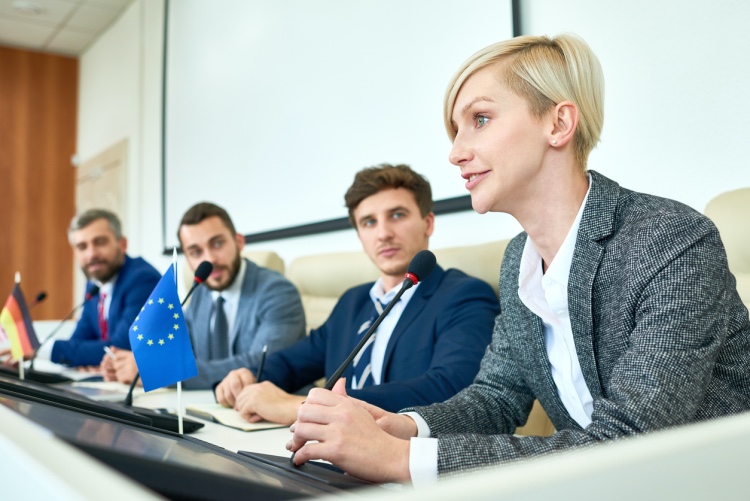 Communications students interested in public information officer careers should acquire the key skills and the right education to successfully pursue roles in this growing field.
What Is a Public Information Officer?
Public information officers work with high-level executives or government officials to devise strategies that enhance an organization's image. To execute these strategies, they may complete tasks such as holding press conferences; writing press releases and speeches; appointing spokespeople; and maintaining communications channels, like social media accounts. They may also conduct interviews and meet with constituents on their organization's behalf.
The U.S. Bureau of Labor Statistics (BLS) found that the largest employers of public relations managers in 2018 were religious, grant-making, and civic organizations, as well as state, local, and private educational institutions. Depending on their organizations' communication needs, public information officers may build relationships with media outlets, such as newspapers, TV broadcasters, and radio stations. They may also conduct market research to better understand audience behaviors and trends and collect data to build more effective communication strategies and campaigns.
Skills and Educational Requirements for Public Information Officer Careers
Certain skills are considered fundamental for success in a public information officer career. Professionals in this role should have strong oral and written communication skills as well as interpersonal skills for coordinating campaigns with high-level executives, media spokespeople, and constituents. Public information officers should be technically proficient and digitally savvy in using social media platforms, analytics software, and web application technologies. They should have strong leadership, organizational, and problem-solving skills for managing a wide range of media contacts and campaigns at once.
Professionals working with government bodies may need knowledge of social, political, and economic trends to inform campaigns and events that reach communities affected by these trends. They may also need a foundational understanding of the legal consequences of their work, such as when it involves releasing sensitive or previously undisclosed information.
Public information officers commonly hold a bachelor's degree in communication, journalism, or public relations, through which they gain knowledge of media strategy and hands-on experience in creating campaigns. Maryville University's online Bachelor of Arts in Communication program is designed to help individuals gain the knowledge and skills needed to be effective in a public information officer career. Students can choose between two concentrations — Strategic Communication or Emerging Media Strategy and Social Media — and complete internships and client-based coursework to build their experience with modern communication campaigns.
Public information officers should also be subject matter experts. For example, a public information officer working for the forestry department will need to have a foundational knowledge of land management and natural disasters, as well as areas of oversight and department infrastructure.
Beyond university education, prospective public information officers may become certified through the Public Relations Society of America or the International Association of Business Communicators, providing them with credentials and networking resources to further advance their careers.
The Role and Salary of a Public Information Officer
In helping organizations to maintain a positive image, public information officers assume daily responsibilities like planning new campaigns in coordination with key stakeholders. These campaigns may include digital advertising, print articles, and corporate events. Public information officers may conduct focus groups and surveys to better understand how audiences perceive their organizations and to improve future communication initiatives. They will be in constant contact with media relations professionals who can help them plan and distribute these campaigns. They may also be responsible for coordinating internal communications, such as email newsletters, quarterly reports, and client pitches.
According to the BLS, public relations managers earned an annual median salary of $114,800 in 2018 and public relations specialists employed by the government earned an annual median salary of $64,530. Education level, skills, and years of experience can affect this pay rate. As PayScale reports, skills in media relations, technical writing, web content management, and social media marketing can positively impact public information officer salaries.Whether the job is in the public or private sector is also a salary determinant. A 2018 Cato Institute study found that federal workers earned 80% more on average than private sector workers and 47% more than state and local government employees.
Navigating the Future of Media Communications
From 2018 to 2028, the number of public relations manager jobs is expected to grow by 8% and public relations specialist jobs are expected to grow by 6%, according to the BLS. Public information officer careers will continue to evolve as new technologies and content distribution channels emerge and audience behaviors and preferences fluctuate. Learn more about how Maryville University's online Bachelor of Arts in Communication program arms students with the digital skills and real-world experience they need to stay ahead of the curve and effectively lead organizations across the changing media landscape.
Recommended Readings
Digital Marketing Trends Marketers Need to Know
Future Communications Trends: An In-Depth Look
The Future of Media: Concepts and Trends for Communication Professionals
Sources
City of Philadelphia, Public Information Officer
Downsizing the Federal Government, "Reforming Federal Worker Pay and Benefits"
Houston Chronicle, "Job Description of a Public Information Officer"
Maryville University, Online Bachelor of Arts in Communication
Be Brave
Bring us your ambition and we'll guide you along a personalized path to a quality education that's designed to change your life.