Dr. Lombardi at SXSW Edu 2022: Access and Opportunity in Higher Education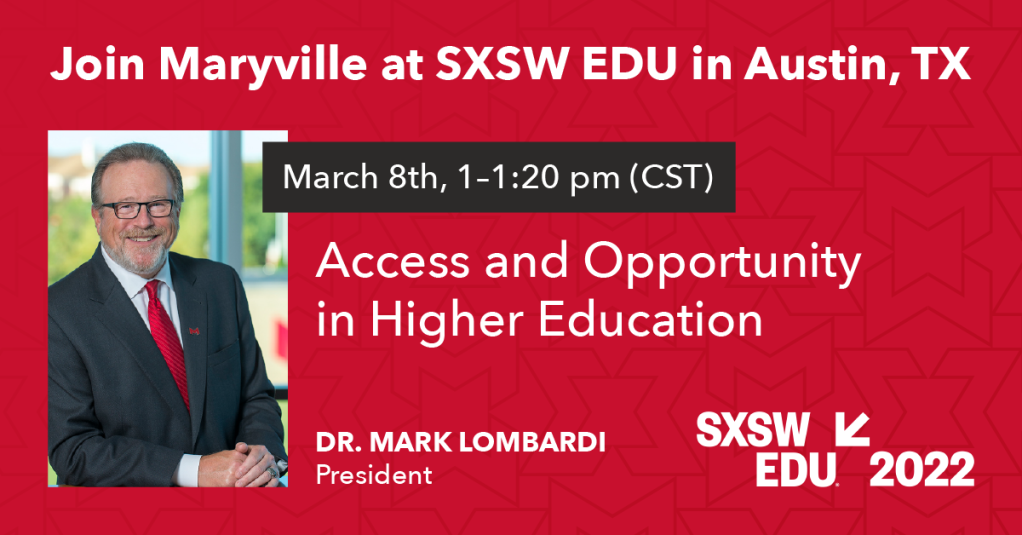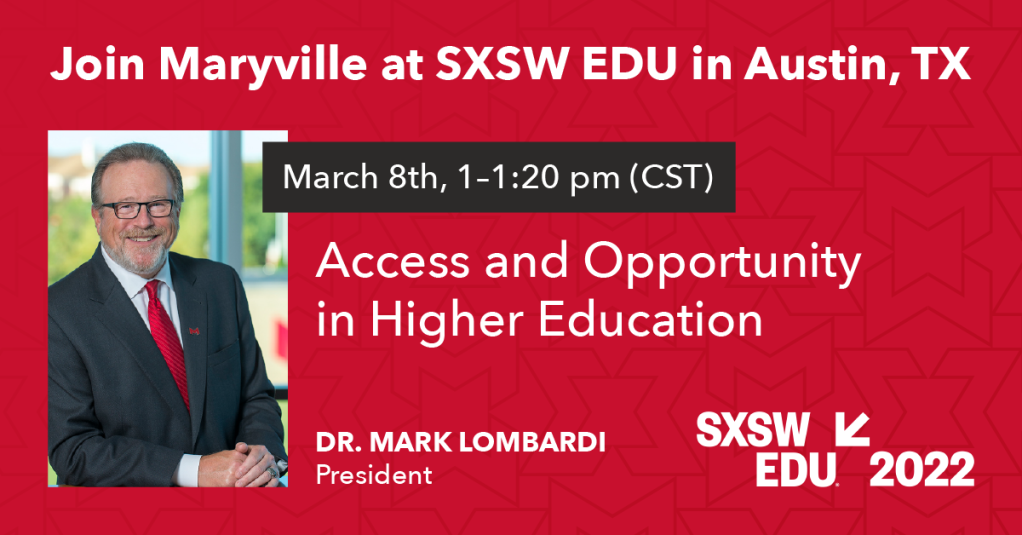 We are happy to announce Dr. Mark Lombardi, president of Maryville University, will be speaking at SXSW EDU 2022, one of the most influential conferences for educational thought leadership and innovation. It will take place in Austin, TX on March 8 at 1 p.m. CT.
His presentation, "Access and Opportunity in Higher Education," will cover Dr. Lombardi's vision of a revolutionized higher education model. In a discussion on topics like building stronger communities for students (both on campus and online), leveraging technology that enables them to learn where and how they prefer, and streamlining administrative processes through AI and blockchain, Dr. Lombardi takes more cues from startups and Amazon than from the Ivy League.
Throughout the session, Dr. Lombardi will explore a "New University" model post-pandemic, which centers around personalized technology-centric learning services to drive effectiveness and align outcomes with industry and commercial interests. This revolutionary design will further cultivate lifetime learners who can continually refine and augment their talents to meet the needs of a dynamic employment market and the jobs of the future.
Fostering innovation and learning within the education industry, the annual SXSW EDU Conference will take place on March 7-10, 2022 in Austin, TX and offer compelling sessions, in-depth workshops, engaging learning experiences, film screenings, future-focused competitions, an expo, and more. As this event aligns well with Maryville's mission, we are proud to take part in an event that believes education has the power to inspire, elevate, and change the future. Follow Dr. Lombardi as he joins a passionate community of educational leaders, innovative entrepreneurs and engaging storytellers as they share their unique stories, inspirations, and impactful ideas.
To purchase tickets to attend in person or online, please visit the SXSU EDU website. The session recording will become available for online badge holders.