Meal-Prep Tips and Recipe Ideas for Busy College Students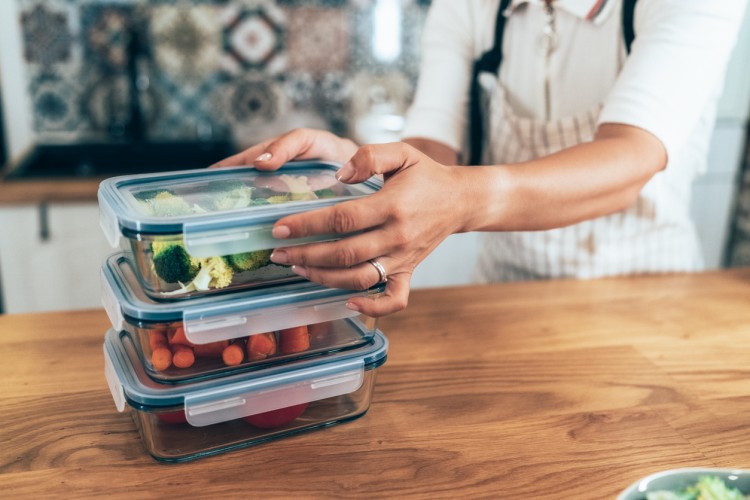 Are you an adult learner who struggles with meal planning? Do you strive to prepare nutritious, flavor-packed dishes, but you don't have an hour or more to dedicate to cooking each night? The good news is that prepping delicious grab-and-go meals has become easier than ever. It's also where meal prep comes in.
Simply stated, meal prep is a concept that involves preparing dishes ahead of time. In some instances, this might mean prepping dishes to eat over the course of several days. In others, it might mean starting a crock-pot meal in the morning that will be ready to eat at dinnertime.
Not only is it easy to do, but it can also help minimize stress and distraction on busy school nights. Below are just a few of the ways that meal prep can save you time, energy, and money.
Meal-Prep Tips
If you're new to meal prep, first you should dedicate time to organize your recipes, assess your grocery list, and consider your food groups. For example, just because it's easy to prepare poultry in a slow cooker or Instant Pot, do you really want to eat three types of chicken dishes in the upcoming week?
You might also want to stock up on pantry staples such as low-sodium broths, low-sodium canned tomatoes, olive or avocado oil, legumes, and whole grains, such as quinoa and brown rice. Remember, the healthiest plans incorporate a wide variety of grains and proteins and limit excess salt.
How Meal Prep Works
Get storage containers: Food-storage containers come in a variety of shapes and sizes. You can buy larger containers to store large batches of food (such as soups), or you can buy smaller, individual portion-sized containers that are designed to go directly from the fridge to the microwave.
Choose your game day: If you want to prepare several meals in advance, you'll need to block off time to do so. Or, if you want to prepare the ingredients for the meals you'll make throughout the week, such as slow-cooker or Instant Pot meals, you can block time to portion your proteins, spices, and produce.
Select your recipes: Dozens of websites aggregate recipes for meal preppers. Whether you're vegan, vegetarian, pescatarian, or none of the above, you're bound to find a long list of recipes that align with your palate.
Benefits of Meal Prep
Meal prepping is a lot easier than you might think, and it offers a number of benefits. Below are just a few of the reasons to give it a try.
Meal prep saves time: Prepping meals in advance saves you the time and effort of cooking daily. It can also free up time during jam-packed school and work days.
Meal prep saves money: Meal prep helps keep you organized. When you go to the grocery store, you'll know exactly what you need to buy based on the recipes you intend to prepare. This often leads to less food waste.
Planning ahead can reduce stress: Thinking about what you're going to cook every night takes up a lot of mental energy. Having precooked, ready-to-eat meals helps solve that problem.
Meal Prep Appliances Designed to Make Your Life Easier
When it comes to meal prep, two key appliances can make your life easier. You can find both online, at big-box retailers, and, in some cases, at your local grocery store.
Benefits of Instant Pot Meals
An Instant Pot, the most popular pressure cooker, is a multifunctional device that can be used to saute meats and vegetables, cook rice, steam vegetables, slow cook, and prepare a variety of meals in just 10-40 minutes. Most Instant Pots come in 3-, 6-, and 8-quart sizes. Some also come with air-fryer and sous-vide functions.
Benefits of Crock-Pot Meals
A crock-pot is an electric countertop slow cooker. Whereas Instant Pots are often used to prepare meals that will be ready within 10-40 minutes, crock-pots are used to prepare foods over a longer period of time. Most crock-pot meals are started in the morning, so they'll be ready to eat at dinnertime. These slow cookers come in a variety of sizes, from 4 to 10 quarts.
Simple Recipes for College Students
If you're interested in meal prep but not sure which recipes you'd like to try, below you'll find a sampling of what's available online.
Beef
Poultry
Pork
Instant Pot pulled pork: Pulled pork has a variety of uses, from sliders to tacos to quesadillas. This recipe takes just 10 minutes to prepare and 40 minutes to cook.
Slow-cooker Texas pulled pork: This Texas-style pulled-pork recipe requires minimal prep. When you're done, simply add everything to your crock-pot for five hours. It's a meal your entire family is bound to enjoy.
Instant Pot pork tenderloin: If pork tenderloin is more your thing, this may be the recipe for you. Not only is it easy and relatively foolproof; the result is absolutely succulent.
Fish
Vegan
Vegetarian
Instant Pot pumpkin walnut chili: This plant-based chili is packed with flavor and nutrients. It features black beans, red lentils, tomatoes, pumpkin, and other tasty vegetables and spices.
Instant Pot lemon vegetable risotto: Are you looking for a meatless meal that's not just flavorful and delicious but also takes only about 10 minutes to prep? If so, this vegetable-packed, dairy-free dish might be exactly what you're looking for.
Vegetarian crock-pot lasagna: Vegetarian crock-pot lasagna isn't just easy to make; it could become your new favorite slow-cooker recipe.
Saving Time, Stress, and Money Is Invaluable
If you're an adult learner who needs to prepare meals for yourself, you and your spouse, or a family of four, meal prep has a wide variety of benefits. If you're an aspiring adult learner but don't have time to attend on-campus lectures, find out how Maryville University's flexible, online degree programs can fit into your busy schedule.
Recommended Reading
Music to Help You Study: Best Playlists for Focus and Memory
Healthy Study Snacks for College Students
Psychological Benefits of Having Plants in Your House and Workspace
Sources
Cleveland Clinic, "A Beginner's Guide to Healthy Meal Prep"
Ecophiles, "6 Benefits of an Instant Pot Cooker"
Good Housekeeping, "A Beginner's Guide on How to Meal Prep Like a Pro"
Kitchn, "The Absolute Beginner's Guide to Meal Prep"
Metabolic Meals, "Meal Prep for Busy Moms: No Cooking Required"
Select Health, "7 Benefits of Meal Prepping"