Surprising Facts: Online and On-Campus Degrees
Of higher education's many transformations during the COVID-19 pandemic, one positive outcome has been the enhanced perception of the quality of remote learning and the value of online degree programs. Prior to the pandemic, some students and employers questioned the rigor and worth of online degrees when compared to those earned on campus.
Now, more prospective students are enthusiastically enrolling in online degree programs, while employers are hiring their graduates at a pace that will accelerate the growth of online learning and help realize its full potential.
Prospective students and individuals interested in advancing their education and exploring the differences between online and on-campus degrees will want to learn the facts about online education, the benefits of online college, and any potential drawbacks of an online versus a traditional degree.
No newcomer to online education, Maryville University has extensive experience with online learning and offers more than 65 accredited online bachelor's, master's, and doctoral degrees and certificate programs. If you're considering pursuing your degree online but have some questions about how online degrees compare with the traditional in-person variety, it makes sense to seek answers.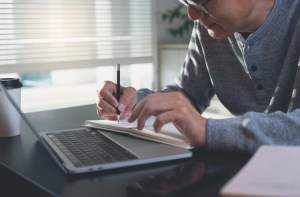 Online Degrees vs. On-Campus Degrees
Whether students want to learn online or on campus, they need to consider many factors before deciding on a degree program. First, all students should ask themselves, "What am I interested in studying?" While the question may seem elementary, with so many options out there to choose from, prospective students, especially undergraduates, often struggle to answer it.
Where do you see yourself in five years? What are your career aspirations? Once you've answered these basic questions — or at least begun to — it's time to start exploring the value of online vs. traditional degrees to see what they have to offer you. Practical considerations include the following.
Basic Fit
Do the degree programs offered align with your personal objectives? Factors to consider are the selection of program concentrations, admission requirements, cost, and location (if considering attending in person).
Cost
With the average cost of college in the United States topping $35,331 per year and student loan debt at a record $1.7 trillion, according to the Education Data Initiative, cost can be a deciding factor. The average per-credit price for online programs at the 198 private colleges reporting to U.S. News & World Report for the 2021-22 academic year was $513. That's much lower than the average per-credit tuition for on-campus programs at ranked private colleges, which was $1,287, for the 628 colleges that reported.
While not all schools charge less for online than in-person programs, savings on travel and expenses incurred living away from home can also be substantial, making an online degree program the more affordable choice for some students.
Flexibility
Most online degree programs are designed with flexibility in mind. Many offer multiple start dates throughout the year, and courses can be a blend of synchronous and asynchronous classes, meaning students can engage with coursework and prerecorded lectures at their convenience. Some classes are even 100% asynchronous.
Online programs are generally a good fit for professionals returning to school who can't or don't want to leave the full-time workforce — or forgo a salary — to pursue a degree or certificate. Family obligations may also factor into the decision to attend online or in person. However, many recent high school graduates also find online programs to be a good fit for them.
Time to Completion
Another advantage of online degree programs is that students are often able to progress at their own pace. Universities may offer full- or part-time completion, and specific time frames may depend on the degree being pursued.
Faculty and Staff
Online instruction has come a long way. While students may not be in the same room with faculty and staff, access to them — including office hours, study sessions, and online support — enables personal connections to form.
Engagement
A frequent complaint heard during the pandemic was that students weren't engaged and had trouble learning. But that wasn't the case for many college students. Well-designed online courses maximize student engagement by allowing plenty of time for students to interact with each other and their instructors through activities like online discussion sessions and group projects.
When deciding between an online and in-person program, students should think about the kind of learning environment that motivates them. Successful asynchronous learners are independent and self-directed and able to take greater responsibility for their coursework.
Accreditation
Before investing time and money in any degree program, students will want to make sure that the school and degree program are accredited by an agency recognized by the U.S. Department of Education.
Accreditation, the process by which higher education institutions and their programs are evaluated for quality and educational standards, is particularly important for online schools. It not only ensures students receive a quality education but also helps employers evaluate their qualifications. Employers often require evidence that applicants have received a degree from an accredited school or program.
Remember, it's important to do your due diligence before enrolling in any degree program.
Online Degrees vs. On-Campus Degrees: Facts and Falsehoods
Since online degrees' early and unfortunate association with disreputable, for-profit universities damaged their reputation, employers' perceptions have evolved — especially now that traditional colleges and universities are embracing online degree programs. Some common misconceptions and falsehoods about online degrees include:
False: Online Courses Are Easier Than Face-to-Face Campus Courses
At many colleges and universities, the professors and instructors who teach in-person courses also teach the online ones. This is the case at Maryville University, which sets the same standards for online students that it does for their on-campus counterparts.
Despite lingering fears of many students and faculty that online education generally does not measure up to the quality of in-person classes, students in online programs typically earn the same degree as on-campus students, and the curriculum for an online degree is usually very closely aligned with that of the on-campus program.
False: Students Enrolled in Online Courses Miss Out on Experiential Learning
Students have many opportunities to learn the practical skills they'll need after graduation. Many degree programs — such as those in nursing, social sciences, and business — require students to participate in a practicum, internship, or other type of fieldwork to apply their knowledge and skills in real-life situations. Depending on the degree, students will graduate with practical experience earned outside the virtual classroom.
False: Employers Don't View Online Degrees as Worthwhile
Online degrees are increasingly recognized as equal to traditional, on-campus programs, and are subject to the same quality and value standards. More than 60% of human resource managers view online credentials as generally equal in quality to in-person degrees, according to the Center for the Future of Higher Education and Talent Strategy.
As more students graduate with online degrees from accredited colleges and universities — and employers hire more of these graduates — the worth of online degrees will continue to be enhanced.
Should I Pursue an Online Degree?
Students wondering if they should pursue a degree online can be encouraged by the growing number of high-quality accredited online degree programs, rising enrollments in online programs, and employers' growing acceptance of online diplomas and certificates.
Whether you choose to pursue your education online or on campus will depend on many factors, but you're the most important one. What kind of learner are you? Are you a self-starter who dives into course material and enjoys working independently? Or do you thrive in a classroom environment surrounded by other students?
While online classes generally succeed at engaging students and fostering collaboration, some students want the on-campus experience. The good news is there are options for both kinds of students.
Explore Maryville University Online
Maryville University launched its first online degree programs in 2012 and has steadily expanded its offerings over the past decade, applying its virtual infrastructure, learning tools, and experience to new areas of study.
Interested in learning more about how earning an online degree is worth it? If you're ready to take the next brave step, explore Maryville's online bachelor's, master's, and doctoral degrees and certificate programs for more information about our offerings and our approach to academic excellence in online learning.
Recommended Reading
Maryville Online: The Maryville Approach
Maryville University Is Focused on the Future with Its Latest Tech-Focused Online Programs in Artificial Intelligence and Blockchain
Sources
The Best Schools, "Will Employers Take My Online Degree Seriously?"
Center for the Future of Higher Education and Talent Strategy, "Online Education in 2019: A Synthesis of the Data"
Education Data Initiative, "Average Cost of College & Tuition"
Education Data Initiative, "Student Loan Debt Statistics"
Forbes, "U.S. News Ranks Its Best Online College Programs for 2022"
Inside Higher Ed, "Student Performance in Remote Learning, Explored (Imperfectly)"
Inside Higher Ed, "What Have We Learned About Online Learning?"
U.S. News & World Report, "Discover 15 Online Learning Trends"