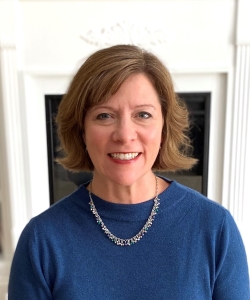 Suzanne Rohan Jones
Adjunct Professor of Psychology

College of Arts and Sciences
Academic Bio
Suzanne Rohan Jones is an adjunct professor in the Psychology Department at Maryville University with more than 20 years of experience in higher education. Prior to joining Maryville, Jones began her career as a career specialist for the University of Missouri-St. Louis before taking on the roles of assistant director of experiential education and adjunct instructor of behavioral and social sciences at Webster University.
Jones holds a Master of Science in Rehabilitation Psychology and Counseling from the University of North Carolina at Chapel Hill and a Master of Applied Industrial/Organizational Psychology from Colorado State University. Alongside her faculty position ay Maryville, she serves as a learning and development specialist for Graybar, an electrical supply firm.
Faculty Spotlight
"That's something I hear from all students: that faculty at Maryville are available. Students don't send a message and then never hear back ― they get responses really fast."
Maryville University has always been different from other schools. In fact, we've been challenging the status quo in education for nearly 150 years. But what makes us unique?
We sat down with Suzanne Jones, an adjunct professor in our psychology department, to discuss what makes Maryville's online programs perfectly suited to accommodate our students.
She believes Maryville's online learning platform and our approachable and accessible faculty are two factors that resonate highly with students. "We recognize that people have lives," Jones says. "A lot of students come to the online program because they have families and are working ― they need flexibility."
Because students often have personal and professional obligations, Jones says many Maryville professors are willing to work with students to help them finish lessons and get assignments turned in. "It's more important to me that you turn it in late rather than not at all," she says.
Engagement also is important to the student experience, and at Maryville, we provide that through our intuitive online learning platform. Because our faculty are focused on students first, they are available to participate in real time to keep the discussion moving forward.
"They have discussion boards which allow students to post their ideas and respond to their peers," Jones says. "To help facilitate the conversations, I will jump in discussion groups and respond. That really keeps the engagement going ― both for me to know what they're going through, and for each other."
Through her academic and professional experience, Jones has developed a unique skill set that enhances her classroom instruction with real-world experience. Career and organizational development are two focus areas in which she holds a particular depth of knowledge. This is backed by industry knowledge in areas such as program development, performance management, research, and succession planning — all of which are transferrable to the classroom and the workplace.
In addition to serving as an adjunct professor, Jones is also a lifelong learner with multiple degrees, including earning her most recent master's in August of 2020, which helps her to understand the student journey firsthand.
At Maryville, our faculty take pride in meeting our students' needs and understanding their perspective. That's just one way we're focused on your success above all else.
Click here to read the full interview with Professor Jones.
Classes Taught:
Abnormal Psychology (PSYC 321)
Human Development through the Lifespan (PSYC 254)
General Psychology (PSYC 101)
Careers in the Social Sciences (PSYC 210)
Psychology of Judgment and Decision Making (PSYC 3725)
Lifestyle and Career Development (COUN 5700)
Influences on Decision Making (INTD 101)
Areas of Expertise:
Career counseling
Academic advising
Leadership development
Psychology
Talent acquisition
Organization development
Virtual learning
Job search strategies
Adult learning theory
Employee motivation and recognition
Contact Info
Phone: 636-236-6269
Email: Sjones15@maryville.edu