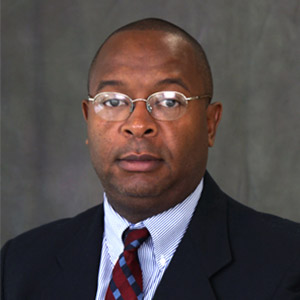 Chammie Austin
Associate Professor of Psychology
College of Arts and Sciences
Academic Bio
Chammie Austin, PhD, is an associate professor of psychology. Austin's wide range of expertise spans counseling, psychology, academia, and racial diversity. As a teaching scholar and researcher, Austin examines the impact of diversity on cognition, development, and behavior. Austin is an educator who trains counselors and clinicians to competently conduct cross-cultural counseling and coach marginalized individuals through barriers to achievement, such as survivor's guilt and impostor syndrome.
Austin is a published scholar who has produced thoughtful leadership on a variety of topics including discrimination in the 21st century, mental health in the media, biracial identity and self-esteem, race, social justice, inequality, and academic achievement. He has served as a guest speaker at numerous local and regional conferences.
Notable Publications and Placements:
Taylor, M. J., Merritt, S. M., & Austin, C. C. (2013). Negative affect, delinquency, and alcohol use among rural and urban African American adolescents: A brief report. Journal of Child & Adolescent Substance Abuse, 22, 69-84.
Austin, C.C. (2013). Book Review: Complex intersections: Forced choices in minority identification. [Review of Multiple Minority Identities: Applications for Practice, Research, and Training]. PsycCRITIQUES.
Austin, C.C. (2011). DVD Review: Invisibility or marginalization? African American males interface with psychotherapy. [Review of the DVD Working with African American Men]. PsycCRITIQUES.
Austin, C.C. (2011). Book Review: Beyond Baby Daddy: A New (Better) Understanding of African American Fatherhood. [Review of the book Black Fathers: An Invisible Presence in America]. PsycCRITIQUES.
Austin, C.C. (2010). Book Review: Is it really better to have loved and lost than to have not loved at all? [Review of the book Recovering Intimacy in Love Relationships: A Clinician's Guide]. PsycCRITIQUES.
Austin, C.C. (2010). Book Review: A matter of understanding: An examination of American Visible Racial/Ethnic (VREGs) and some non-VREG members. [Review of the book The Psychology of Ethnic Groups in the United States]. PsycCRITIQUES.
Awards
2002 Southern Region Education Board Dissertation Fellowship
1997- 2001 Lyman T. Johnson Fellowship
1994 Ronald E. McNair Scholarship
Classes Taught:
SOSC 495 Practicum in Psychology
Senior Seminar
Research Methods
PSYC 401 History and Systems of Psychology
PSYC 365 Multicultural Issues in Psychology
PSYC 254 Development through the Lifespan
PSYC 101 General Psychology
PSYC 474 Introduction to Clinical and Counseling Psychology
PSYC 321 Abnormal Psychology
PSYC 352 Counseling
Human Growth and Development
Psychology Capstone: Practicum
PSY 345 Counseling for the Helping Professions
PSY 6800 Ethics and Professional Issues
PSY 6030 Human Diversity
PSY 5810 Clinical Practicum
PSY 5860 Clinical Research
Areas of Expertise:
Clinical and counseling psychology
Psychology of racism, prejudice and oppression
Multicultural psychology
Ethics in psychology
Abnormal psychology/psychopathology
Group counseling
General psychology
Clinical supervision
Theories and techniques of counseling
Research methods
Academic achievement
Contact Info
Phone: 314-529-9459
Email: caustin@maryville.edu
Office: 3314 Reid Hall