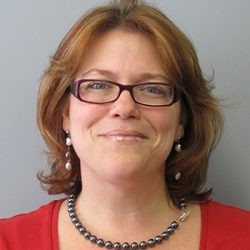 Catharine E. Mennes
Licensed Clinical Social Worker, Program Director, Associate Professor of Social Work
College of Arts and Sciences
Academic Bio
When you earn your online BSW from Maryville, you have the opportunity to learn from top social work professionals like Dr. Catharine Mennes — or Dr. Kate, as she's known by her students.
Dr. Kate was instrumental in designing our online BSW program, and she continues to serve as program director and associate professor. With her input, we created a program focused on promoting social work values like service, social justice, dignity of the individual, importance of human relationships, emotional intelligence, integrity and competence, and self-care.
Dr. Kate is a Licensed Clinical Social Worker. She has worked with populations struggling with addiction and exposure to HIV. She also has served in academic roles like director of field education, and she spent seven years doing research as the director of assessments for the Epidemiology and Prevention Research Group at Washington University's School of Medicine.
Dr. Kate brings more than 18 years of social work practice, research, and teaching experience to her classroom — and she's as enthusiastic about teaching tomorrow's social work professionals as she is about learning from their perspectives.