Online MBA in Emerging and Digital Media
Online MBA in Emerging and Digital Media
Online MBA in Emerging and Digital Media
The business world is increasingly digital. Media professionals can help lead through change
Organizations across industries increasingly rely on digital communication to drive growth — spurring an immediate need for experienced professionals with the unique expertise to deliver solutions. Earning your online MBA in Emerging and Digital Media from Maryville University can equip you with the in-demand skills that today's companies need through a specialized education in high-impact areas including:
Integrated marketing
Analytics
Search engine optimization
Leadership strategies

100% online with no campus visits required

No GMAT, GRE, or application fee

Degree completion in as little as one year

12 concentrations to customize your degree

Six start times per year

No previous experience in business required
Why choose Maryville for your online MBA in Emerging and Digital Media?
Maryville University's online MBA in digital media was developed with input from top employers in the industry to help busy learners like you build in-demand skills to thrive in this growing field.
Our flexible, user-friendly online experience empowers you to pursue your professional and educational goals on terms that make sense for you. Here, you can build real-world experience with state-of-the-art tools, so you can prepare for the careers that will drive the future of digital business. Furthermore, our programs are ranked among the best in the country.
Earn your MBA with no previous business experience required
Learn to employ state-of-the-art digital strategies and tools
Get personalized academic support and learn from faculty invested in your success
Benefit from powerful networking and mentorship opportunities
A few of our business partners include:
Ameren
Boeing
Centene
Centric Group
Edward Jones
Express Scripts
Maritz
Mercy Health
Rawlings
Scottrade
SSM Health
Suddenlink
What does our online MBA with a concentration in Emerging and Digital Media curriculum cover?
Our online MBA with a concentration in Emerging and Digital Media consists of 39 credit hours. You'll have the opportunity to supplement core courses in business with 12 credit hours in communication- and digital media-focused coursework. Build your digital media foundations in these courses:
Best Practices: Models and Systems
This course focuses on communication systems and models that have been developed by academics and applied by practitioners in strategic decision-making scenarios.
Integrated Marketing Campaigns
This course gives you the opportunity to innovate the creation, implementation, and evaluation of an advanced communication campaign for a client organization.
Digital Marketing Metrics and Analytics
This course examines the digital media metrics and analytics you'll need to measure and evaluate marketing communication campaigns.
Social Network and Search Engine Optimization
In this course, you can develop an understanding of direct and web marketing tactics and strategies that enable managers to make sound business decisions.
You can find more information about general MBA coursework on the curriculum page.
What careers can you pursue with your online MBA in Emerging and Digital Media?
An online MBA in digital media from Maryville can help prepare you for a variety of rewarding leadership positions — and our real-world curriculum can help you prepare to make a positive impact on day one.
Graduates can pursue in-demand, high-return positions like:
Marketing manager
$135,030*
Chief marketing officer
$178,000**
Project management specialist
$94,500*
Public relations manager
$119,860*
*Median salary data retrieved May 2021 from the BLS | **Median salary data retrieved January 2023 from PayScale.com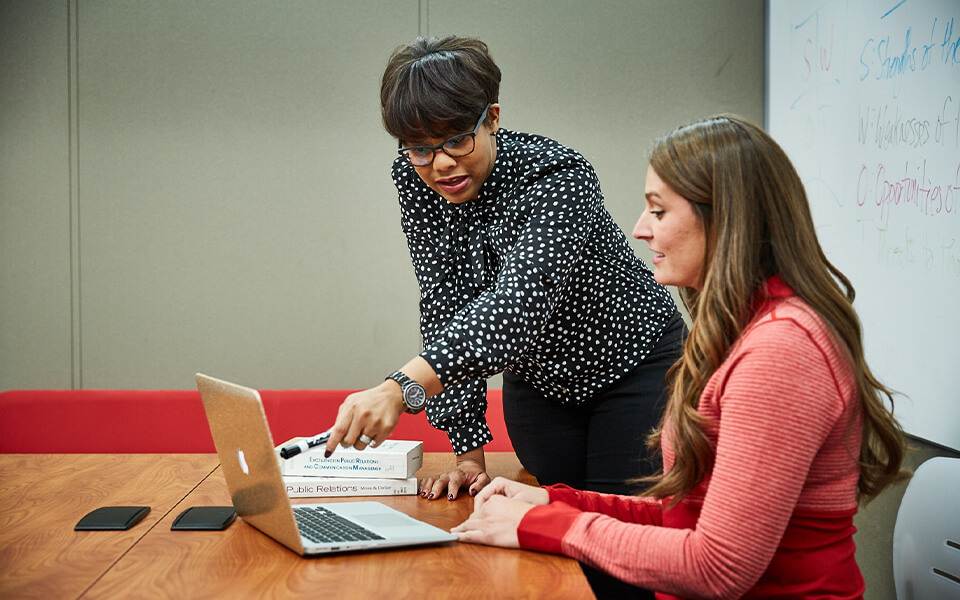 Learn from experienced industry leaders
Our instructors are respected business leaders with years of experience in the real world, and they bring their knowledge with them into the classroom. Their passion and expertise can help you graduate confident and prepared for your career in digital media.
Here, you'll have the chance to learn from professors with a wide range of digital media savvy who are truly invested in your career success. Want to learn more? Visit our faculty page.
Admission requirements for our online MBA in Emerging and Digital Media
At Maryville University, our students are our focus. That's why our online MBA in Emerging and Digital Media is open and accessible to anyone with the passion and drive to pursue a quality education. No GRE or GMAT is required, and you can apply with no application fee. Simply fill out our streamlined online application and include:
Bachelor's degree from an accredited institution
Official academic transcripts
A completed online application — no fee required
A personal letter explaining qualifications for graduate work
International applicants only: Official Test of English as a Foreign Language (TOEFL) with a score of 563 within two years of application
Start dates
Start at the time that's right for you by choosing one of six start dates. Choose from admission points at the beginning and middle of the spring, summer, and fall terms.
Credits to completion
The online MBA with a concentration in Emerging and Digital Media comprises 39 credit hours and can be completed in as few as 14 months. The program includes:
24 credit hours toward core business courses
12 credit hours toward the degree concentration
3 credit hours toward the capstone project
Cost per credit hour
At Maryville University, we are committed to providing top-quality graduate education at an affordable price. Tuition for our MBA in digital media is $714 per credit hour, or about $27,846 in total. For those who qualify, scholarships, financial aid, and other tuition assistance may be available.
You can learn more on our admissions page.
Apply to the online Master of Business Administration program at Maryville University.
Be Brave
Bring us your ambition and we'll guide you along a personalized path to a quality education that's designed to change your life.