How to Become a Training and Development Manager
How to Become a Training and Development Manager
How to Become a Training and Development Manager

Employee development is a critical strategic tool for businesses. Effective training and development programs allow organizations to hone their workers' knowledge and skills in ways that align with overall company culture and goals. These programs benefit both individual employees — by strengthening their skill sets and creating opportunities for career advancement — and organizations as a whole. By investing in their workforce, companies demonstrate that they value their employees, which often leads to increased employee engagement, productivity, and retention. According to LinkedIn's 2019 Workplace Learning Report, 94% of employees said they would remain with a company longer if it invested in their development.
A recent report from workplace website Comparably ranked U.S. companies on the strength of their professional development programs, as rated by employees. Apple, software development platform GitLab, and data aggregator LexisNexis were among the top-rated companies. Perhaps not surprisingly, these companies also experience high employee retention rates: GitLab's year-over-year retention rate is 85%, while Apple enjoys a retention rate just under 90%. Training and development managers are often tasked with leading employee development initiatives. Businesses rely on their expertise to craft training and development programs, develop program budgets, and manage training staff. Training and development managers are instrumental to the success of such programs, helping businesses and employees achieve their professional goals.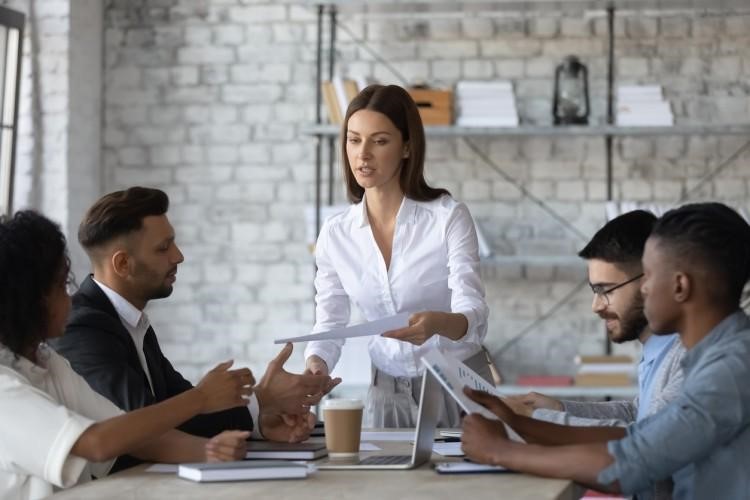 What Does a Training and Development Manager Do?
Training managers oversee and direct a business's training and development strategy. They plan, organize, and supervise programs that enhance employees' skills and knowledge. Accomplishing this entails a wide range of responsibilities.
Determining Training Needs
Managers often begin by assessing an organization's training needs, identifying gaps, and determining how employee development can help fill those gaps. Training needs can include improving industry knowledge or enhancing technical or soft skills.
Creating Training Programs
Once they've determined what the organization's needs are, training managers craft appropriate training programs. They frame the structure of the program and its content, creating and selecting the proper training materials. These can include videos, self-guided instructional manuals, and online applications. Training and development managers also maintain these programs, continually modifying them to adapt to the organization's changing needs and goals, and incorporating new techniques and technologies as needed.
Managing a Team
Training managers typically supervise a team of training and development professionals who specialize in different areas, including instructional designers, program developers, and instructors. These individuals then conduct the actual employee training, though managers may sometimes lead training courses as well. Training directors may also instruct department heads and other managers regarding training tactics they can use with their own teams. This is a critical piece of successful training and development programs, as it establishes a connection between development strategy and real-world practice.
Budgeting
Training managers are also often responsible for preparing and overseeing a company's training budget, and ensuring expenses adhere to that budget.
Steps to Become a Training and Development Manager
Training and development managers typically need a combination of education and related work experience to enter the profession. The right background will allow candidates to develop the skill set to achieve success.
1. Earn a Degree
Most training and development positions require at minimum a bachelor's degree. Common degrees include business administration, education, or a related field. Some employers also require candidates to have a master's degree, often in business administration, human resources management, or organizational development. A master's in business administration (MBA), in particular, can help individuals gain real-world knowledge and develop the business expertise to advance their career and move into more senior roles.
Coursework in instructional design and behavioral or educational psychology is also beneficial for job seekers.
2. Gain Experience
Relevant work experience is crucial as well. Employers typically want candidates to have some sort of management, teaching, human resources, or training and development experience. Many development managers begin their careers as training and development specialists, carrying out the programs that managers oversee. Some employers also prefer candidates who have work experience in the industry in which the company operates.
3. Develop Skills
Training and development managers are expected to have a diverse skill set, with a mix of interpersonal and technical skills. Some of the core competencies for this role include the following.
Communication: Training managers need to clearly convey information to a range of audiences, working with employees, supervisors, and executives in many different industries and professions. They also need to effectively train their own staff.
Instructional capabilities: A comprehensive understanding of the fundamentals of teaching and lesson planning is essential. Managers need to develop training courses and seminars, and often lead them as well.
Business operations: Aligning training programs with business goals is vital, so employee development managers should be well-versed in how businesses operate. They also should know how to plan and adhere to budgets.
Leadership: Managers typically supervise their staff and sometimes lead training programs. Understanding how to organize, motivate, and instruct those working for them is critical.
Training and Development Manager Salary and Job Outlook
Due to their pivotal role in helping an organization develop its workforce, salaries for this position are typically competitive. According to the U.S. Bureau of Labor Statistics (BLS), training and development managers earned a median annual wage of $115,640 in May 2020. Salaries can vary, depending on several factors, including the industry in which the organization operates. These were the top-paying industries for the role in May 2020:
Professional, scientific, and technical services: $135,780 median salary
Management of companies and enterprises: $123,020 median salary
Finance and insurance: $122,400 median salary
Education and experience can also have an impact on salary. While a bachelor's degree is generally the minimum requirement, some positions also require a master's degree, and these positions tend to offer higher salaries.
Employers generally prefer candidates with some work experience, typically in a related role, such as management or human resources. Candidates with multiple years of experience typically earn more than their less experienced counterparts. Location may also influence salaries. According to the compensation website PayScale, salaries for training managers in certain metropolitan areas — which tend to be more competitive markets for these roles — are higher than the national average.
Job Outlook
The job market for training and development managers is promising. Employment is projected to grow by 7% from 2019 to 2029, almost twice as fast as the average for all occupations, according to the BLS. Continuing education and skill development are required for many occupations, creating demand for professionals who can train workers and develop training materials. Employee development managers who can adapt their training methods to incorporate new technologies — such as visual simulations and mobile learning — will have a competitive advantage in the job market, particularly among organizations and industries with remote workers.
Building Business for the Future
Employee development is one of the most effective tools businesses have for achieving continued growth and productivity, and training and development managers are crucial to that end. They help organizations strengthen their employees' skill set, ensuring greater job satisfaction for workers, and ultimately placing companies in a better position to reach their goals. Maryville University's online MBA program can help students gain the knowledge and skills to help shape the training and development strategies of companies.
Learn more about the program and its concentrations in Management and Human Resources Management, and discover how it can help you pursue your professional goals.
Recommended Reading
Administering Effective Leadership: MHA vs. MBA
A Guide to Corporate Wellness Programs: Why Employee Health Matters
MBA Career Options: Paths to Success
Sources
Comparably, Best Companies for Professional Development 2020
EduMe, This is How Apple Improved Their Employee Retention Rate by 28%
LinkedIn, 2019 Workplace Learning Report
PayScale, Average Training & Development Manager Salary
Society for Human Resource Management, Developing Employees
Training, 6 Traits of a Successful Training Manager
U.S. Bureau of Labor Statistics, Training and Development Managers
Be Brave
Bring us your ambition and we'll guide you along a personalized path to a quality education that's designed to change your life.