Explore the Roles and Responsibilities of Managerial Accountants
Explore the Roles and Responsibilities of Managerial Accountants
Explore the Roles and Responsibilities of Managerial Accountants

If you're interested in furthering your career in accounting, there are a number of different paths you can follow. Certified public accountant, forensic accountant, auditor, and investment accountant are just a few of the roles you can choose to specialize in.
One of the more interesting occupations in the field is managerial accountant, which combines elements of leadership and accounting and plays a vital function in building the financial success of modern organizations.
Let's take a closer look at the various roles managerial accountants perform and what it takes to be successful in this position. Learn more about the dynamic accounting profession and responsibilities of a managerial accountant below.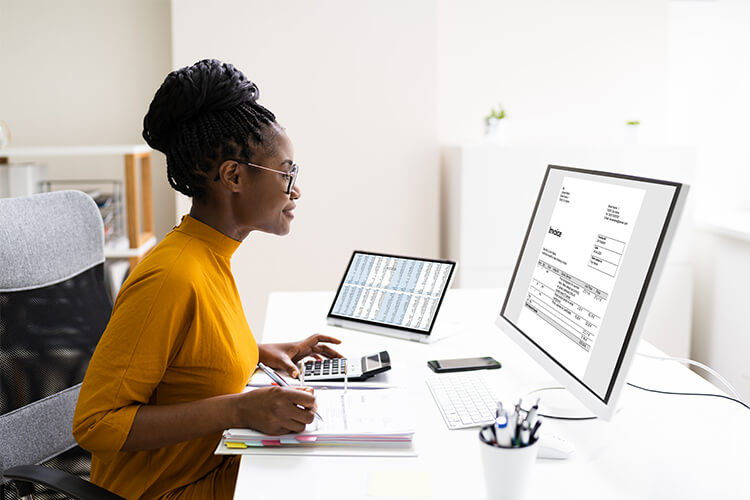 What Are the Responsibilities of Managerial Accountants?
At the highest level, managerial accountants work directly beneath the chief financial officer (CFO) and are responsible for helping manage a company's financial operations. Consistent with most accounting roles, there are different levels, and the job duties vary. As a managerial accountant you may be responsible for:
Producing and analyzing financial statements
Managing the accounting staff
Reporting back to the company's CFO
Helping oversee the company's general ledger
Helping create monthly budgets for company expense guidelines
Completing and reviewing tax returns
Assessing and providing input on internal controls and processes as they relate to the company's financial strategy
Creating and planning performance management systems
With the right attention to detail and analytical approach, you could play a large part in shaping a company's financial structure and strategy. As an added perk, landing a position like this could be your career ticket to the top, which means you may even earn yourself an executive position and that corner office you've been dreaming about. Although there's no guarantee, managerial accountant is one of the best positions to hold if CFO is your career goal.
Where Managerial Accountants Work
Landing your job as a managerial accountant starts with a great education. While some entry-level accounting roles only require a bachelor's degree, many higher-level positions call for a master's in accounting.
Much like the process to become a Certified Public Accountant (CPA), if your goal is to be a Certified Management Accountant (CMA) you must also pass a two-part certification exam offered by the Institute of Management Accountants. To be eligible for the certification, you'll need at least two years of work experience in the managerial accounting field.
In a 2019 diversity, equity, and inclusion research study co-authored by the IMA, women constituted 61.7% of all accountants in the United States, which is 11% higher than their total representation within the U.S. population. Gains were also made at the highest levels of industry, with women making up 13.9% of all Fortune 500 and S&P 500 companies at the time.
And as opportunities for women as managerial accountants steadily increase, the gender pay gap continues to move toward parity. In a diversity report released by Gleim, the median compensation for female management accountants in the Americas averaged slightly above 80% of the earnings of their male counterparts— a number that should continue to increase as more women enter the field.
Managerial Accountant Skills
As the accounting industry evolves, so do the skills required to be a successful managerial accountant. That means, in addition to having mathematics and reporting skills, this role will require you to be proficient in audits, compliance, financial planning and analysis, merger and acquisition activity, and strategic cost management. You'll also need a solid foundational understanding of financial rules and regulations, as well as a deep interest in the political, economic, and social influences in the accounting field.
If your career goal is to become a managerial accountant, then spend some time getting to know your company's mission, vision, and purpose. This will better equip you to make decisions that will guide the strategy and direction of the business. That's why it's important for the accounting and executive teams to function as a single unit as they collectively drive the company toward a successful future.
While some accountants have the luxury of operating semi-autonomously, managerial accountants may be responsible for writing reports, giving presentations to stakeholders, and leading a team of junior accounting employees. This highly integrated level of interaction will require you to develop and exhibit outstanding communication and leadership skills.
As the environment in which accountants work changes, so do the job expectations for managerial accountants. Businesses now have access to more data than ever before, and managerial accountants must be able to properly utilize complex tools and software for data analysis and reporting. Accountants must stay ahead of trends to ensure their companies are equipped for big-picture analysis and strategic planning.
Keeping ahead of trends also involves having a functional understanding of blockchain and cryptocurrency as the world's financial structure pivots toward a global infrastructure that is increasingly without borders. To be successful, you should be prepared to identify and adapt to advancements in industry best practices and technological innovation.
How a Master's Degree Can Help You Attain Your Career Goals
Professionals who pursue a managerial accounting role can be rewarded with a challenging and lucrative career. Beyond performing the basic functions of accounting, managerial accountants are trained to be effective leaders, clear communicators, smart decision-makers, highly skilled in mathematics and economics, and calm under pressure.
There are also financial benefits to furthering your accounting education. According to PayScale, the average salary for all accountants is $51,709, while the average salary for those with a master's degree in accounting jumps to $72,004. Furthermore, job satisfaction was rated a 5 out of 5 based on a survey of more than 2,000 master's degree holders.
Get Started Today
A career as a managerial accountant can be rewarding on many levels. You can play a vital role in building and maintaining an organization's financial health while being next in line for an executive promotion to chief financial officer.
An important first step is to earn a master's degree in accounting. If you're interested in a managerial accounting career you should consider the online Master of Science in Accounting from Maryville University. Maryville's 100% online accounting program can help you develop a combination of practical perspective and business knowledge that prepares you for the ever-changing world of advanced accounting.
Sources
Gleim, "Gender pay gap among CMAs"
Houston Chronicle, "Managerial Accountant's Role in Business Planning"
IMANET, "Diversifying U.S. Accounting Talent"
Investopedia, "What Management Accountants Do"
Payscale, "Average Accountant Salary"
Be Brave
Bring us your ambition and we'll guide you along a personalized path to a quality education that's designed to change your life.